Barron Trump Mengantuk jadi Target Bully di Medsos
Donald Trump`s Son Barron has been Spotted Yawning Again
Editor : Ismail Gani
Translator : Novita Cahyadi

PUBLISHED: Sabtu, 21 Januari 2017 , 20:17:10 WIB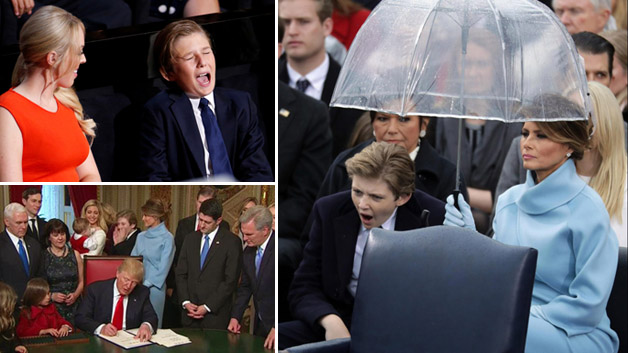 Ini adalah kedua kalinya Barron kedapatan berupaya menahan kantuk yang tertangkap kamera saat pidato pelantikan ayahnya pada November tahun lalu sebagai kandidat Partai Republik (Foto2: The Sun)
SEJARAH telah dibuat pada Jumat malam ketika sebagai Donald Trump dilantik menjadi Presiden AS ke-45.

Namun ketika mata dunia menyaksikan sang miliuner menyampaikan pidato pelantikannya, tidak semua orang tampaknya tertarik pada gembar-gembor sang presiden.

Putra bungsunya, Barron Trump, 10, tampak berupaya menahan kantuk ketika ayahnya dilantik sebagai Presiden.

Anak itu tampak seolah-olah ia membutuhkan tidur siang karena ia terlihat berulang kali menguap di samping ibunya.

Rasa kantuk hebat membuatnya harus berpegangan pada kursi karena menahan kantuk sambil duduk diam di sebelah ibunya, Melania.

Tingkah menggelikan Barron membuat pengguna Twitter bereaksi untuk memanfaatkan media sosial untuk mengomentari rasa kantuk bocah 10 tahun pada pidato perdana Presiden Trump di Capitol Hill.

Salah satu pengguna medsos menulis: "Barron Trump tertawa, menguap, dan dialah Game Boy Trump. Dia yang membuat saya terpikat pada Trump..."

Sementara yang lain bergurau: "Barron Trump menguap dengan bertolak belakang dengan 'kekuatan' di belakangnya!"

Ini adalah kedua kalinya Barron kedapatan berupaya menahan kantuk yang tertangkap kamera saat pidato pelantikan ayahnya pada November tahun lalu sebagai kandidat Partai Republik.

Setelah menjalani kampanye dan lebih dari 24 jam tanpa tidur, anak Trump tampaknya tidak bisa menahan kantuk.

Barron adalah anak pertama yang tinggal di Gedung Putih sejak anak Presiden John Fitzgerald Kennedy pada 1960 seperti dilansir The Sun.
HISTORY was made tonight as Donald Trump became the 45th President of the United States.

But while the eyes of the world watched on as the billionaire gave his inauguration speech, not everyone seemed to share his enthusiasm.

Trump's youngest son Barron, ten, appeared to be struggling to stay awake as his dad was sworn in.

The lad looked as though he needed a nap as he was spotted yawning in the audience.

The mini-me rocked in his chair in a bid to stay awake while sitting next to mum Melania.

Barron set Twitter alight as viewers took to social media to comment on the ten-year-old's sleepy-eyed glaze during President Trump's maiden speech on Capitol Hill.

One user wrote: "Barron Trump is laughing, yawning, and on his Gameboy. He's quickly becoming my favourite Trump."

While one joked: "Barron Trump's yawning in the background represents the "power" that is coming into force!"

It is the second time Barron has been spotted struggling to stay awake after he was caught yawning in front of cameras during his billionaire dad's acceptance speech in November last year.

After a long night at the rally and over 24 hours without sleep, Trump's son couldn't seem to keep his eyes open.

Barron is the first boy to live in the White House since JFK's son in the 1960s.