Raksasa Hollywood Kocar-Kacir pasca Skandal Seksual Harvey Weinstein Terungkap
Three Board Members of Harvey Weinstein`s Company Quit over Sexual Harassment Scandal
Editor : Ismail Gani
Translator : Novita Cahyadi

PUBLISHED: Minggu, 08 Oktober 2017 , 20:43:00 WIB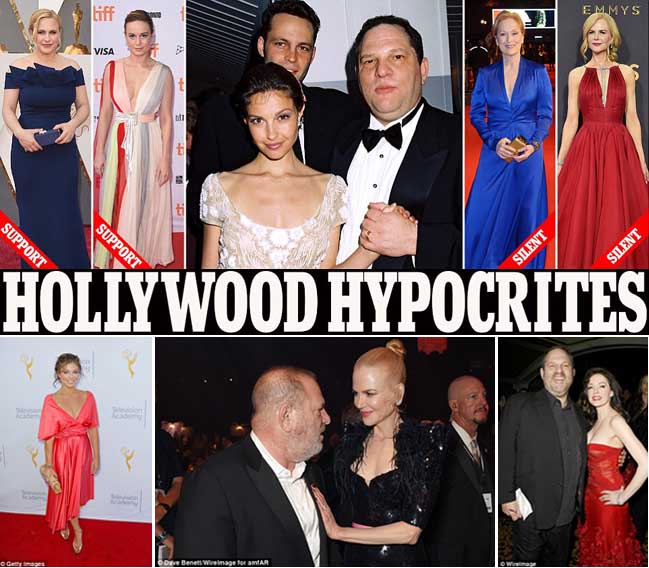 Foto2: MailOnline
SEPERTIGA dari sembilan dewan direksi dan komisaris di perusahaan Harvey Weinstein mengundurkan diri sebagai protes atau 24 jam setelah terkuaknya skandal pelecehan seksual terhadap sang 'raja Hollywood' mengakibatkan kekacauan di perusahaan.

Demi mengatasi dampak dari skandal, Weinstein Company juga mengadakan penyelidikan internal terhadap kabar atas dugaan perbuatan tercela oleh pendiri perusahaan dan memastikan sang bos berusia 65 tahun akan cuti tanpa batas waktu.

Dan menyusul klaim pelecehan seksual dari aktris Ashley Judd, dan Rose McGowan mengungkap fakta mengejutkan yang memecah kesunyian Hollywood.

Didorong rasa ingin tahu di mana 'bintang Hollywood' terlibat skandal ini, McGowan - yang diyakini telah mendapatkan 'uang tutup mulut' sebesar US$100.000 dari Weinstein setelah sebuah insiden di pertengahan dekade 1990an - tampaknya telah mengungkap kebisuan dari para bintang termahal Hollywood.

Memang, bintang termahal Hollywood seperti Meryl Streep dan Nicole Kidman dan Gwyneth Paltrow yang memanfaatkan ketenaran mereka untuk mendorong dan mendukung wanita yang bekerja dengan Weinstein untuk memilih bungkam.

Tiga wanita yang sama juga lebih dari bersedia untuk memasok fakta kepada penulis dan wartawan dengan kutipan memuji Weinstein selama bertahun-tahun dan menganggap betapa hebatnya dia bekerja sebagai aktor.

Kekurangan komentar Kidman barangkali adalah yang paling mencolok dari ketiganya saat ia baru saja keluar dari ajang penghargaan film untuk pertunjukan HBO-nya Big Little Lies dimana dia berulang kali berbicara tentang pentingnya memberdayakan wanita dan mendukung para korban pelecehan.

Mereka juga tidak sendirian dalam keheningan mereka, karena banyak wanita lain yang telah menyanyikan puji-pujian Weinstein saat berbicara menentang pelecehan juga membungkam pada Jumat siang, termasuk: Kate Hudson, Julianne Moore, Cate Blanchett, Renee Zellweger, Angelina Jolie, Salma Hayek, Penelope Cruz, Toni Collette, Minnie Driver dan Uma Thurman.

Mengingat jumlah tuntutan hukum yang telah diselesaikan perusahaan selama bertahun-tahun, tentu saja ada kesempatan beberapa wanita ini tidak dapat berbicara karena mereka menandatangani kesepakatan atau tidak mau membicarakan pengalaman pribadinya.

Weinstein telah mengindikasikan pada Kamis dalam pernyataan tertulisnya di mana dia mengakui perilakunya di masa lalu telah menyebabkan 'banyak sakit hati' bahwa dia sedang cuti.

Pada Jumat lalu, empat anggota dewan direksi termasuk saudara laki-laki Weinstein, Bob, mengatakan bahwa penting baginya untuk mendapatkan bantuan profesional saat mereka memastikan bahwa dia akan meninggalkan perusahaan yang dia dirikan.

Mereka membiarkannya tidak jelas berapa lama dia akan pergi, hanya mengatakan bahwa 'langkah selanjutnya bergantung pada kemajuan terapeutik Harvey, hasil penyelidikan independen Dewan Direksi dan keputusan pribadi Harvey sendiri'.

Memang, disarankan agar Bob Weinstein sendiri yang menanggapi berita dari New York Times yang secara mengejutkan mengungkap detail dakwaan pelecehan seksual terhadap saudaranya.

Menurut New York Post seorang mantan anggota staf mengatakan, 'Bob kepingin Harvey ditendang dari dewan direksi dan informasi dari dalam mengungkap tentang dugaan 'Bob yang memasok fakta dugaan skandal kepada New York Times.

Buntut dari pengungkapan skandal tersebut, infografis di Huffington Post pada Jumat malam mengungkap, bahwa Weinstein memojokkan seorang reporter New York dan memaksanya menyaksikan dia masturbasi di depan dirinya.

Lauren Sivan, yang sebelumnya adalah Fox News Reporter, mengklaim bahwa ketika dia bekerja dengan saluran kabel Long Island 12 satu dekade yang lalu, Weinstein bersikeras untuk melakukan tur dengannya di Socialista, sebuah klub malam miliknya.

Dia mengklaim bahwa dia diajak turun ke dapur dan mengusir para pegawai dan kemudian mencoba menciumnya. Ketika dia menolak, Weinstein bilang, 'Baiklah, bisakah Anda berdiri di sana dan diam saja'.

Sang raja film tersebut kemudian diduga melakukan masturbasi di depannya dan berejakulasi ke pot bunga terdekat.

Lauren Sivan mengatakan bahwa dia terpojok, terintimidasi dan sangat terkejut oleh ulah Weinstein seperti dilansir MailOnline.
ONE-THIRD of the nine-man board at Harvey Weinstein's company have resigned in protest 24-hours after allegations of sexual harassment against the movie mogul threw the firm into chaos.

Scrambling into damage-limitation mode the Weinstein Company also launched an internal probe into the claims against their disgraced co-founder and confirmed the 65-year-old would take an indefinite leave of absence.

And following the incendiary claims from actress Ashley Judd, Rose McGowan has slammed the women of Hollywood for their deafening silence.

Demanding to know where the 'ladies of Hollywood' were on this issue, McGowan - who is believed to have been paid a $100,000 settlement by Weinstein after an incident in the mid-1990s - appeared to attack the mute A-listers.

Indeed, A-list actresses like Meryl Streep and Nicole Kidman and Gwyneth Paltrow who have used their fame to encourage and support women and who have worked with Weinstein have said nothing.

Those same three women have also been more than willing to supply writers and journalists with quotes praising Weinstein over the years and taking about how wonderful he is to work with as an actor.

Kidman's lack of comment is perhaps the most glaring of the three as she just came off an awards season push for her HBO show Big Little Lies in which she repeatedly spoke about the importance of empowering women and supporting victims of abuse.

They are not alone in their silence either, as many other women who have sang the praises of Weinstein while speaking out against harassment also went mute as of Friday afternoon, including: Kate Hudson, Julianne Moore, Cate Blanchett, Renee Zellweger, Angelina Jolie, Salma Hayek, Penelope Cruz, Toni Collette, Minnie Driver and Uma Thurman.

Given the number of lawsuits that the company has settled over the years there is of course a chance that some of these women cannot speak because they signed a NDA or do not want to speak on account of their own personal experiences.

Weinstein had already indicated on Thursday in his written statement in which he acknowledged his behavior in the past had caused 'a lot of pain' that he was taking a leave of absence.

On Friday, four board members including Weinstein's brother Bob, said that it was 'important for him to get professional help' as they confirmed he was leaving the company he co-founded.

They left it unclear how long he would be gone, only saying that the 'next steps depend on Harvey's therapeutic progress, the outcome of the Board's independent investigation and Harvey's own personal decisions'.

Indeed, it has been suggested that it was Bob Weinstein himself who orchestrated the shocking New York Times story which detailed lurid allegations of sexual assault against his brother.

According to the New York Post a former staff member said, 'Bob's wanted Harvey out for years' and one insider said that 'Bob may even have fed this story' to the Times.

And as the backlash grew, graphic revelations appeared in the HuffPost on Friday evening, claiming that Weinstein cornered a New York reporter and forcibly made her watch him masturbate in front of her.

Lauren Sivan, formerly a Fox News Reporter, claims that when she worked with the cable channel Long Island 12 a decade ago, Weinstein insisted she take a tour with him in Socialista, a club he part-owned.

She claims he took her downstairs to a kitchen and cleared it of staff and then tried to kiss her. When she refused his advance he said, 'Well, can you just stand there and shut up'.

The movie mogul is then alleged to have masturbated in front of her and ejaculated into a nearby flower pot.

Sivan says she was trapped and intimidated and deeply shocked.