Zaskia Gotik Pilih Akhiri Pertunangan dengan Vicky Prasetyo
Zaskia Gothic Chose to End Her an Engagement with Vicky Prasetyo
Reporter : Roni Said
Editor : Ismail Gani
Translator : Novita Cahyadi

PUBLISHED: Kamis, 05 September 2013 , 20:52:00 WIB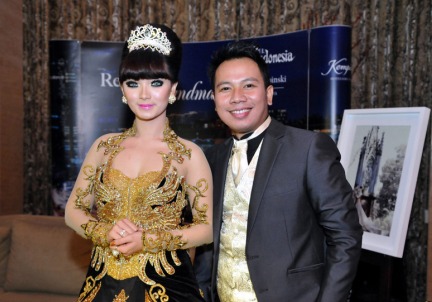 Zaskia Gotik dan Vicky Prasetyo saat mengumumkan pertunangan mereka (Foto: kapanlagi.com)
Jakarta (B2B) - Penyanyi dangdut, Zaskia Gotik memutuskan untuk mengakhiri pertunangannya dengan Vicky Prasetyo, pria yang melamarnya pada Minggu (1/9).

Keputusan itu diambilnya setelah banyak fakta terungkap tentang mantan tunangannya, khususnya status Vicky Prasetyo yang merupakan suami orang lain.

"Setelah tunangan, besok paginya sudah banyak berita miring. Saya ketemu orang saja nggak bisa, pekerjaan saya juga terganggu" kata Zaskia Gotik pada konferensi pers di kantor label rekaman Nagaswara di kawasan Kebon Sirih Jakarta, Kamis (5/9).

Zaskia mengaku pada awalnya ia merasa nyaman dan tenang selama berhubungan dengan Vicky Prasetyo, tapi setelah semua fakta terungkap ia mensyukurinya sebelum semuanya terlanjur.

"Setelah pertunangan saya, mendadak semua orang bicara. Tadinya saya nggak percaya. Syok dan sedih tapi sekarang bersyukur karena semua orang sudah ngasih tahu Neng," kata penyanyi dangdut ´goyang itik´ seraya meneteskan air mata.
Jakarta (B2B) - Dangdut singer, Zaskia Gotik decided to end her engagement with Vicky Prasetyo, as proposed on Sunday (1/9).

The decision was taken after a lot of facts revealed about her ex-fiance, Vicky Prasetyo particular status that is someone else´s husband.

"After the engagement, the next morning was a lot of news slant.´s Hard to meet other people, my work was interrupted" Zaskia Gotik said at a press conference at the office of record labels, Nagaswara in Kebon Sirih Jakarta, Thursday (5/9).

Zaskia admitted at first he felt comfortable and tranquil during a relationship with Vicky Prasetyo, but after it was revealed he was grateful all the facts before it´s too late.

"After my an engagement, suddenly everyone was talking. Initially I could not believe it. Shock and sadness but now grateful because everyone had told me," says dangdut singer ´rocking ducks´ while shedding tears.