Michael Herr, Penulis `Apocalypse Now` dan `Full Metal Jacket` Meninggal Dunia
Apocalypse Now and Full Metal Jacket Writer Michael Herr Dies at the Age of 76
Editor : Ismail Gani
Translator : Novita Cahyadi

PUBLISHED: Senin, 27 Juni 2016 , 21:26:34 WIB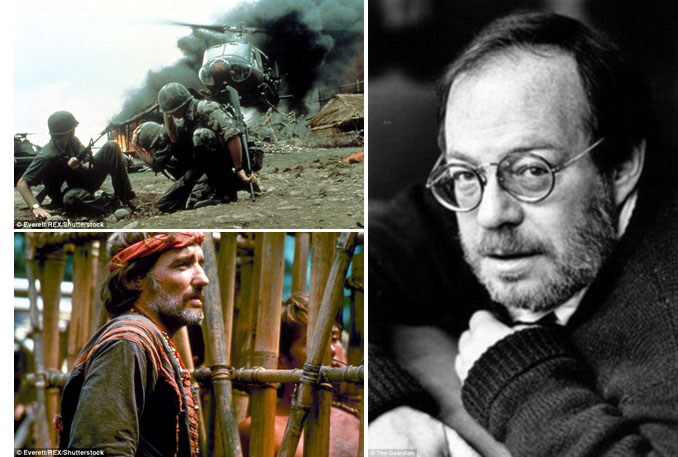 Cuplikan film Full Metal Jacket (kiri atas), mendiang Michael Herr dan cuplikan film Apocalypse Now (kiri bawah) Foto2: MailOnline
MICHAEL HERR, penulis dan nominator Oscar untuk kategori penulis naskah film yang mendokumentasikan kerusakan akibat Perang Vietnam melalui novel nonfiksi klasik, Dispatches dan menulis naskah cerita Apocalypse Now dan Full Metal Jacket, meninggal pada Kamis setelah lama sakit. Dia meninggal dunia pada usia 76.

Mendiang meninggal di bagian utara rumah sakit New York yang dikonfirmasi oleh penerbit Alfred A Knopf, yang merilis Dispatches pada 1977, dua tahun setelah AS meninggalkan Vietnam.

Berasal dari Syracuse, New York, Herr adalah bagian dari gelombang baru Jurnalisme bersama Tom Wolfe, Truman Capote dan Norman Mailer dan menganjurkan penerapan gaya sastra dan teknik untuk pelaporan tradisional.

Novel karyanya disetarakan dengan novel karya Tim O'Brien berjudul The Things They Carried, karya Neil Sheehan berjudul A Bright Shining Lie dan Stanley Karnow berjudul Vietnam: A History yang mengungkap sisi gelap peperangan.

"Jika Anda berpikir Anda tidak ingin membaca lebih lanjut tentang Vietnam, Anda salah,' kata kritikus John Leonard dari The New York Times yang mengulas Dispatches setelah dirilis.

'Dispatches melampaui politik, bukan sekadar retorika, melampaui 'pasifikasi' 'dan jumlah korban perang maupun dampak psikologis pada veteran perang seperti diungkap pemerintah. Materinya adalah ketakutan dan kematian, halusinasi dan pembakaran jiwa. Seolah-olah Dante telah pergi ke neraka dengan kaset rekaman Jimi Hendrix dan sekantong pil tidur. Perang rock-and-roll pertama kami.'

Herr lebih 20 kali melakukan perjalanan dan bekerja untuk majalah sebelum meyakinkan Redaktur majalah Esquire, Harold Hayes, pada 1967, untuk memberi dia kesempatan melakukan perjalanan ke Vietnam dan menulis kolom bulanan. Dia akhirnya tinggal lebih dari setahun, menghasilkan beberapa kolom pada saat itu, juga mengumpulkan materi untuk bahan tulisan "Dispatches," yang mengungkap secara berapi-api tentang fakta peperangan yang mengungkap kemarahan dan kekecewaan sebuah generasi.

"Saya terus berpikir tentang semua anak-anak yang berusia 17 tahun harus menonton film perang sebelum datang ke Vietnam dan harus menyia-nyiakan masa depan mereka," tulisnya dalam sebuah bab yang diawali dengan lirik lagu dari Bob Dylan, seperti dilansir MailOnline.

Herr meninggalkan seorang istri, Valerie; dua anak Catherine dan Claudia; dan saudara Steven Herr dan Judy Bleyer.
MICHAEL HERR, the author and Oscar-nominated screenplay writer who viscerally documented the ravages of the Vietnam War through his classic nonfiction novel Dispatches and through such films as Apocalypse Now and Full Metal Jacket, died Thursday after a long illness. He was 76.

His death in an upstate New York hospital was confirmed by publisher Alfred A. Knopf, which released Dispatches in 1977, two years after the U.S. left Vietnam.

A native of Syracuse, New York, Herr was part of the New Journalism wave that included Tom Wolfe, Truman Capote and Norman Mailer and advocated applying literary style and techniques to traditional reporting.

Dispatches is often ranked with Tim O'Brien's novel The Things They Carried, Neil Sheehan's A Bright Shining Lie and Stanley Karnow's Vietnam: A History as essential reading about the war.

'If you think you don't want to read any more about Vietnam, you are wrong,' critic John Leonard of The New York Times wrote when Dispatches came out.

'Dispatches is beyond politics, beyond rhetoric, beyond 'pacification' and body counts and the 'psychotic vaudeville' of Saigon press briefings. Its materials are fear and death, hallucination and the burning of souls. It is as if Dante had gone to hell with a cassette recording of Jimi Hendrix and a pocketful of pills: our first rock-and-roll war, stoned murder.'

Herr spent much of his 20s traveling and working for magazines before convincing Esquire magazine editor Harold Hayes, in 1967, to let him travel to Vietnam and write a monthly column. He ended up staying more than a year, producing few columns at the time, but gathering the material for what became "Dispatches," profane, impassioned and knowing reports that helped capture a generation's sense of outrage and disillusion.

'I keep thinking about all the kids who got wiped out by 17 years of war movies before coming to Vietnam and getting wiped out for good,' he wrote in a chapter prefaced with lyrics from a Bob Dylan song.

Herr is survived by his wife, Valerie; daughters Catherine and Claudia; and siblings Steven Herr and Judy Bleyer.