The Beatles Ternyata Pernah Istirahatkan Ringo Starr Dua Minggu
Jimmie Nicol Who Became a Beatle for Two Weeks
Editor : Ismail Gani
Translator : Novita Cahyadi

PUBLISHED: Minggu, 15 Januari 2017 , 22:56:57 WIB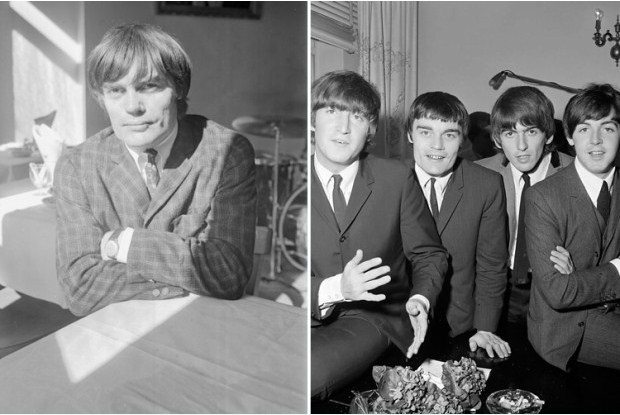 Jimmie Nicol (kiri) dan bersama John Lennon, George Harrison dan Paul McCartney (Foto2: The Sun)
TAHUKAH Anda bahwa The Beatles memiliki anggota kehormatan selama 13 hari?

Jimmie Nicol bergabung dengan band untuk tugas pendek pada 1964 - lantaran drummer Ringo Starr dirawat di rumah sakit karena mengidap tonsilitis.

Jimmie tidak hanya mendapat kesempatan untuk bermain dengan The Beatles selama puncak ketenaran mereka, tetapi ia juga mendapat kesempatan untuk bergaul dengan legenda musik John Lennon, Paul McCartney dan George Harrison.

Namun, hal itu hanya berlangsung selama dua minggu, dan kemudian semuanya kembali normal bagi Jimmie.

Keterlibatan Jimmie dimulai ketika Ringo Starr kolaps akibat tonsilitis pada tur The Beatles di Australia pada 1964.

Manajer band Brian Epstein, serta produser mereka George Martin mengambil keputusan darurat untuk menggunakan drummer pengganti ketimbang membatalkan tur konser.

George yang kemudian mengusulkan Jimmie Nicol - setelah sebelumnya dia mengajaknya pada rekaman bareng Tommy Quickly.

Jimmie muncul dalam konser Beatles pertama hanya 27 jam kemudian di KB Hallen di Kopenhagen, Denmark.

Sebelum menghentak panggung, ia tampil bergaya khas Beatle khususnya rambut dan bahkan mengenakan jas Ringo - meskipun celana yang terlalu pendek.

Paul McCartney teringat pernah menggoda Ringo melalui telegram dengan mengatakan: "Cepat sembuh Ringo, Jimmy mengenakan semua pakaian Anda."

Jimmy kemudian berkomentar tentang pengalaman singkat menjadi selebriti dadakan, dia bilang: "Sehari sebelum saya menjadi Beatle, gadis-gadis tidak

pada sifat berubah-ubah dari selebriti singkat, Jimmie ingat: "Sehari sebelum aku adalah Beatle, gadis-gadis tidak tertarik sama sekali."

"Sehari setelah itu, dengan jas dan gaya rambut Beatle, naik di belakang limusin dengan John dan Paul, gadis-gadis berteriak histeris dan berupaya menyentuh saya."

"Itu terasa sangat aneh dan cukup menakutkan."

Saat mengunjungi Belanda, Jimmie dan John Lennon diduga menghabiskan sepanjang malam di rumah bordil.

John mengatakan: "Ada foto-foto saya sedang ngelayap, keliling di Amsterdam pada malam hari, keluar dari lokalisasi prostitusi, dan warga setempat menyapa 'Selamat pagi John."

"Polisi mengantarkan saya ke tempat-tempat ini karena mereka tidak kepingin terjadi skandal besar. Ketika kami tiba di kota, kami santai saja - kami tidak pedulikan hal itu. Kami punya kok [cewek].

"Mereka lebih hebat. Kami tidak menyebut mereka groupies, maka; Saya sudah lupa apa kami memanggil mereka apa, kayaknya seperti 's ****'."

Pada titik ini, The Beatles menjadi lebih dibatasi oleh ketenaran mereka, dan harus menghabiskan sebagian besar waktu luang mereka di dalam hotel mereka.

Namun, Jimmie bisa berperilaku sebagai wisatawan bisa, katanya: "Saya sering pergi sendirian. Hampir tidak ada yang mengenal saya sehingga bisa ngayap."
"Di Hong Kong, saya pergi untuk melihat ribuan orang yang tinggal di kapal kecil di pelabuhan.

"Saya melihat para pengungsi di Kowloon, dan saya mengunjungi klub malam."

"Saya ingin melihat kehidupan. Anggota The Beatle tidak pernah bisa melakukan itu."

Secara total, Jimmie memainkan delapan pertunjukan - sampai Ringo kembali bergabung dengan grup di Melbourne, Australia.

Jimmie bahkan tidak mendapatkan kesempatan untuk mengatakan 'selamat tinggal' kepada The Beatles, karena mereka masih tertidur ketika ia pergi.

Sebaliknya, Jimmie diam-diam berjalan pergi dan semuanya kembali normal - seolah-olah ia tidak pernah menjadi bagian dari mereka dan 13 hari itu bagaikan mimpi seperti dilansir The Sun.
DID you know that The Beatles had an honorary member for 13 days?

Jimmie Nicol joined the band for a short stint in 1964 – after Ringo Starr was hospitalised with tonsillitis.

Jimmie not only got the opportunity to play with The Beatles during the height of their fame, but he also got the chance to hang around with music legends John Lennon, Paul McCartney and George Harrison.

However, this only lasted for two weeks, and then everything went back to normal for Jimmie.

Jimmie's whirlwind began when Ringo Starr collapsed with tonsillitis on the eve of The Beatles' 1964 Australian tour.

The band's manager Brian Epstein, as well as their producer George Martin urgently discussed the viability of using a stand-in drummer rather than cancelling the rest of the tour.

George happened to suggest Jimmie Nicol – as he had recently used him on a recording session with Tommy Quickly.

Jimmie appeared in his first Beatles concert just 27 hours later at the KB Hallen in Copenhagen, Denmark.

Before hitting the stage, he was styled with the distinctive Beatle mop-top hairstyle and even wore Ringo's suit – despite the trousers being too short.

Paul McCartney recalled teasingly sending Ringo a telegram saying: "Hurry up and get well Ringo, Jimmy is wearing out all your suits."

Commenting later on the fickle nature of his brief celebrity, Jimmie remembered: "The day before I was a Beatle, girls weren't interested in me at all.

"The day after, with the suit and the Beatle cut, riding in the back of the limo with John and Paul, they were dying to get a touch of me.

"It was very strange and quite scary."

Whilst visiting the Netherlands, Jimmie and John Lennon allegedly spent a whole night at a brothel.

John said: "There's photographs of me grovelling about, crawling about Amsterdam on my knees, coming out of whore houses, and people saying 'Good morning John'.

"The police escorted me to these places because they never wanted a big scandal. When we hit town, we hit it – we were not p***ing about. We had [the women].

"They were great. We didn't call them groupies, then; I've forgotten what we called them, something like 's****'."

At this point, The Beatles were becoming more restricted by their fame, and had to spend most of their free time inside their hotels.

However, Jimmie could behave much as any tourist could, he said: "I often went out alone. Hardly anybody recognised me and I was able to wander around.

"In Hong Kong, I went to see the thousands of people who live on little boats in the harbour.

"I saw the refugees in Kowloon, and I visited a nightclub.

"I like to see life. A Beatle could never really do that.'

In total, Jimmie played eight shows – until Ringo re-joined the group in Melbourne, Australia.

Jimmie didn't even get a chance to say 'goodbye' to The Beatles, as they were still asleep when he left.

Instead, Jimmie silently walked away and everything returned to normal – as if he had never been a part of them and the 13 days were a dream.