Matt Damon Punya Saudara Kembar? Netizen Heboh Lantaran Foto Pernikahan pada 1961
Photo of Man from 1961 Sends the Internet into a Spin Because He Looks Identical to Matt Damon
Editor : Ismail Gani
Translator : Novita Cahyadi

PUBLISHED: Jum'at, 07 Oktober 2016 , 23:26:51 WIB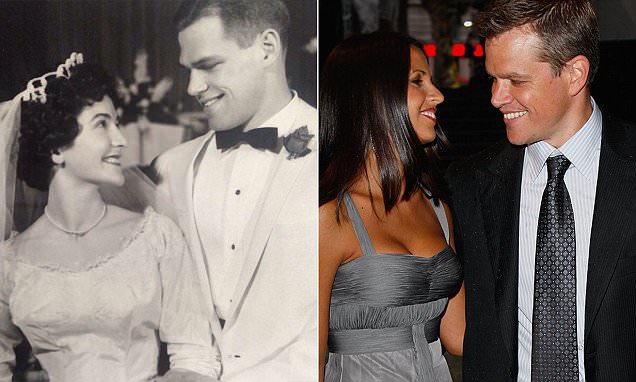 Foto yang diambil pada hari pernikahannya pada 1961, diunggah oleh anaknya melalui media sosial di Reddit dan banyak orang begitu yakin dengan foto yang mereka pikir itu benar-benar foto dari Matt Damon (Foto: MailOnline)
DARI LESUNG pipit ke garis rambut maupun cara dia tersenyum penuh cinta pada istrinya, pria ini terlihat, garis tegas pada wajahnya menunjukkan kemiripan dengan Matt Damon.

Namun orang yang dimaksud di atas bukan bintang film Hollywood tetapi sebenarnya seorang pria berusia 75 tahun dari Seattle.

Foto yang diambil pada hari pernikahannya pada 1961, diunggah oleh anaknya melalui media sosial di Reddit dan banyak orang begitu yakin dengan foto yang mereka pikir itu benar-benar foto dari aktor pemeran film Bourne Identity.

Foto yang diunggah disertai nama 'Coffeeandtrout', dia menulis: "Orang tua saya 'di hari pernikahan, Februari 1961. Saya pikir ayah saya terlihat seperti Matt Damon.'

Dia mengatakan foto itu diambil di 'pinggiran Seattle' dan bahwa mereka tetap bahagia menikah hingga ibunya meninggal tahun lalu.

'Ayah saya masih berusaha menyesuaikan diri. Mereka tumbuh besar bersama-sama," tambahnya.

Foto tersebut kemudian menjadi heboh di media sosial karena sebagian dari mereka yakin bahwa sosok di foto adalah Matt Damon, yang menikah dengan Luciana Barroso, atau foto itu diunggah oleh sang aktor.

'Duderds' menulis: 'Hasil tes DNA menyatakan ... Anda adalah Matt Damon!'

'Throwingfurtheraway_' menulis: 'Apakah ... kamu Matt Damon?' 'Hedgehogknight' menambahkan: "Dia f*****g Matt Damon! '

Namun dia bersikeras bahwa itu tidak mungkin baik untuk dirinya sendiri atau ayahnya menjadi aktor karena keduanya lebih tua dari Matt, yang kini berusia 45 tahun.

Dia mengatakan ayahnya bertubuh jangkung tingginya 182 cm pada hari pernikahannya namun kini menyusut di bawah 180 cm - lebih tinggi dari Matt Damon yang diperkirakan tingginya 175 cm seperti dilansir MailOnline.

Dia memuji ayahnya sebagai 'sosok yang menyenangkan, mendapatkan, setidaknya sebagai seorang ayah'.

Lain lagi komentar dari 'ForkedUpChef', yang membandingkan ibunya dengan aktris Elizabeth Taylor, menambahkan: 'Tentunya saya harap Anda mengetahui kesamaan gen mereka.'

Namun menanggapi pujian tentang penampilan orang tuanya, dia mengaku gen-gen utama ibunya rusak lantaran 'tembakau, alkohol, gulma dan memancing'.
FROM THE dimple to the hairline to the way he is smiling lovingly at his wife, this man looks, he bears more than a passing resemblance to Matt Damon.

But the man in question is not a Hollywood movie star but in fact a 75-year-old man from Seattle.

The photograph, taken on his wedding day in 1961, was shared by his son on Reddit where some people were so convinced by the picture that they thought it actually was a photograph of the actor.

Posting under the name 'Coffeeandtrout', he wrote: 'My parents' wedding day, February 1961. I think my dad looks like Matt Damon.'

He said the picture was taken in 'suburban Seattle' and that they remained happily married until his mother passed away last year.

'Dad's still trying to adjust. They were great together,' he added.

The picture sent some people into a frenzy who were convinced that it really was Matt Damon, who is married to Luciana Barroso, or that it had been posted by the actor himself.

'Duderds' wrote: 'The DNA test results are in... you are the Matt Damon!'

'Throwingfurtheraway_' wrote: 'Are... are you Matt Damon?' 'Hedgehogknight' added: 'He's f*****g Matt Damon!'

But he insisted that it would be impossible for either himself or his father to be the actor because they are both older than Matt, who is 45.

He said his father was six foot on his wedding day but that now he is five foot 11 - taller than the actor, who is believed to be five foot ten.

He said his father is 'as close as you could get, at least as a dad'.

'There's no way you are ugly with those parents,' wrote 'Rapturecity113'.

One person, 'ForkedUpChef', compared his mother to Elizabeth Taylor, adding: 'Sure hope you scored those genes.'

But responding to compliments about his parents' looks, he said he 'ruined those genes with tobacco, alcohol, weed and flyfishing'.