Tunisia Susul Lebanon Larang Putar Film `Wonder Woman`, Bioskop Indonesia `Show Must Go On`
Tunisia Follows Lebanon in Banning Wonder Woman Screenings because Lead Actress Gal Gadot is Israeli
Editor : Ismail Gani
Translator : Novita Cahyadi

PUBLISHED: Sabtu, 10 Juni 2017 , 03:48:43 WIB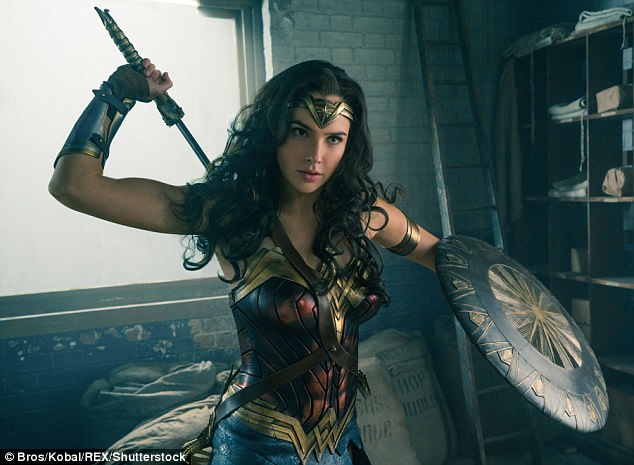 adalah mantan prajurit wanita di militer Israel dan telah menyatakan dukungannya kepada kebijakan militer Israel menghadapi Jalur Gaza, sebuah wilayah pesisir Palestina yang dikelola oleh kelompok militan Hamas (Foto: MailOnline)
FILM produksi Hollywood Wonder Woman dinyatakan terlarang di Tunisia karena pemeran utama adalah aktris asal Israel. Sementara Indonesia tampaknya tidak melakukan langkah serupa dan film tersebut pekan-pekan ini diputar di sejumlah bioskop di Jakarta.

Film tersebut ditarik sebelum pemutaran perdana pada 8 Juni setelah ada gugatan hukum yang menyebut pemeran Wonder Woman sebagai 'pendukung Zionis.'

Tunisia mengikuti Lebanon dan Aljazair melarang film tersebut karena Gadot asal Israel dan hubungan masa lalu dengan militer negara tersebut.

Asosiasi Pengacara Muda Tunisia mengajukan gugatan hukum tersebut.

Pengadilan Tunisia mengabulkan gugatan atas pemutaran film tersebut setelah memeriksa gugatan hukum tersebut, demikian laporan Jerusalem Post.

Setelah gugatan hukum dikabulkan, pemutaran film dihapus dari situs pemesanan tiket.

Gadot adalah mantan prajurit wanita di militer Israel dan telah menyatakan dukungannya kepada kebijakan militer Israel menghadapi Jalur Gaza, sebuah wilayah pesisir Palestina yang dikelola oleh kelompok militan Hamas.

Dalam sebuah posting yang dibagikan secara luas di halaman Facebook-nya, Gadot memuji militer Israel selama perang Gaza-Israel 2014, mengirimkan doa kepada tentara Israel yang mempertaruhkan nyawa mereka melindungi negara saya dari tindakan mengerikan yang dilakukan oleh Hamas.

Dia juga sebelumnya adalah Miss Israel sebelum memulai karir aktingnya. Dia juga tampil film Fast and Furious namun film tersebut tidak pernah dilarang diputar di Lebanon.

Lebanon yang secara resmi berperang dengan Israel juga melarang film tersebut. Negara menerapkan undang-undang yang memboikot produk dari Israel dan melarang warga Lebanon untuk bepergian atau berhubungan dengan warga Israel.

Sebuah festival film di Aljazair juga menyingkirkan Wonder Woman dari daftar jadwal putar.

Wonder Woman dijadwalkan diputar sesuai jadwal selama bulan suci Ramadhan di bioskop di Oman pada 22 Juni dan Bahrain pada 29 Juni.

Film ini didasarkan pada karakter komik DC, Wonder Woman seperti dilansir MailOnline.
HOLLYWOOD movie Wonder Woman has been banned in Tunisia due to the leading actress' Israeli heritage.

The film was pulled before the first screenings on June 8 after a lawsuit called Gail Gadot a 'champion Zionist.'

Tunisia joins Lebanon and Algeria in banning the film due to Gadot's Israeli heritage and past links to the country's military.

The Tunisian Association of Young Lawyers put forward the lawsuit.

The Tunisian courthouse has halted release of the film while it examines the lawsuit, reports the Jerusalem Post.

Following the decision, screenings of the film were removed from cinema booking websites.

Gadot was a soldier in the Israeli army and has in the past expressed support for Israel's military policies against the Gaza Strip, a coastal Palestinian territory run by the militant Hamas group.

In a widely shared post on her Facebook page, Gadot has praised Israel's military during the Gaza-Israel 2014 war, sending prayers to Israeli soldiers 'who are risking their lives protecting my country against the horrific acts conducted by Hamas.'

She was also previously Miss Israel before starting her acting career. She appeared in reprisals of the Fast and Furious however none of these films were banned in Lebanon.

Lebanon which is officially at war with Israel has also banned the film. It has a decades old law that boycotts Israeli products and bars Lebanese citizens from travelling or having contact with Israelis.

A film festival in Algeria also removed Wonder Woman from its scheduled list.

Wonder Woman is set to open as scheduled during the Muslim holy month of Ramadan across cinemas in Oman on June 22 and Bahrain on June 29.

The movie is based on the DC comics character, Wonder Woman earning Gadot critical acclaim.