Berulah di G7, Presiden Trump jadi Target Kegusaran Pengguna Twitter
Twitter Users put Their own Hilarious Spin on already Iconic Photograph at G7
Editor : Ismail Gani
Translator : Novita Cahyadi

PUBLISHED: Selasa, 12 Juni 2018 , 00:16:00 WIB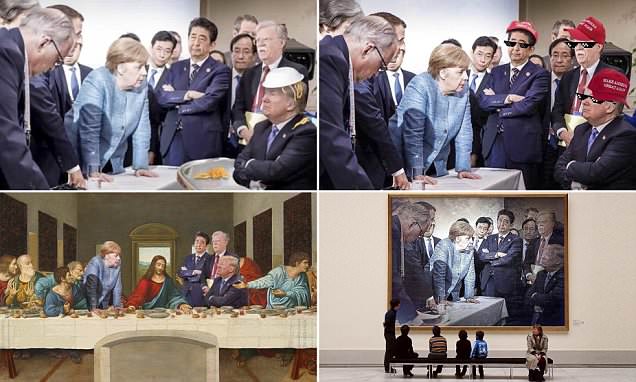 Foto tersebut kemudian dibandingkan dengan lukisan gaya Barok, memperlihatkan Merkel berdiri di tengah foto seraya bersandar di meja di depan Trump duduk, lengannya. (Foto2: MailOnline)
MEDIA SOSIAL dibanjiri dengan meme-meme yang menggelikan dari foto ikonik tentang suasana pertemuan G7 akhir pekan lalu, yang memperlihatkan Kanselir Jerman Angela Merkel yang berdiri dengan ´pede´ menghadapi Presiden AS Donald Trump yang keras kepala.
Foto resmi, karya fotografer resmi Berlin pada pertemuan di Charlevoix di Kanada, Jesco Denzel, diposting online oleh pemerintah Jerman.
Foto ikonik ini tampaknya bakal memenuhi buku-buku sejarah, menyiratkan kegiatan KTT G7 menemui jalan buntu akibat ulah Presiden Trump.
Tak pelak hal itu mendorong pengguna media sosial membombardir foto tersebut pada Sabtu, beberapa jam sebelum Trump mengambil keputusan anti klimaks sehingga memicu kemarahan pengguna media sosial.
Foto tersebut kemudian dibandingkan dengan lukisan gaya Barok, memperlihatkan Merkel berdiri di tengah foto seraya bersandar di meja di depan Trump duduk.
Gambar, yang menggambar perbandingan dengan lukisan Baroque, menunjukkan Merkel berdiri di tengah gambar yang bersandar di meja sebelum Trump duduk, lengannya menggambarkan sikapnya yang menentang keputusan Trump.
Merkel, yang tampak jengkel tergantung pada interpretasi yang melihat, diapit oleh Perdana Menteri Inggris Theresa May dan Presiden Prancis Emmanuel Macron, wajah mereka sebagian besar dikaburkan.
Perdana Menteri Jepang Shinzo Abe melihat dengan ekspresi lelah dan lengannya disilangkan.
Sejumlah meme memilih melakukan edit foto untuk melecehkan Trump seperti menumpahkan semangkok spaghetti di kepalanya dan aneka kreativitas pengguna media sosial untuk menunjukkan kegeraman pada presiden keras kepala tersebut seperti dilansir MailOnline.
SOCIAL MEDIA has been flooded with amusing memes of an already iconic photo from the weekend´s G7 summit showing a determined Angela Merkel facing off with an intransigent Donald Trump.
The official photo, taken by Berlin´s official photographer at the gathering in Charlevoix in Canada, Jesco Denzel, was posted online by the German government.
It appears destined for the history books, summing up the deep fractures left by a disastrous G7 summit.
But it set social media alight when it was posted on Saturday, hours before Trump ripped up the hard-fought summit agreements in an angry tweetstorm.
The image, which drew comparisons to a Baroque painting, shows Merkel standing at the centre of the image leaning across a table before a seated Trump, his arms crossed in defiance.
Merkel, looking focused or exasperated depending on the viewer´s interpretation, is flanked by British Prime Minister Theresa May and French President Emmanuel Macron, their faces largely obscured.
Japan´ Prime Minister Shinzo Abe looks on with a world-weary expression and his arms crossed.
A number of memes saw the image edited to show the US president as a petulant child - including one with Trump overturning a bowl of spaghetti on his head and another clutching a teddy bear as Merkel sternly looks on.