Hollande Pelototi `Ibu Negara` Disaksikan Gundik dan Ibu dari Empat Anaknya
Hollande was Pictured Locking Eyes with First Lady... Inches Away from `Mistress` and the Mother of His Children
Editor : Ismail Gani
Translator : Novita Cahyadi

PUBLISHED: Minggu, 19 Januari 2014 , 00:03:00 WIB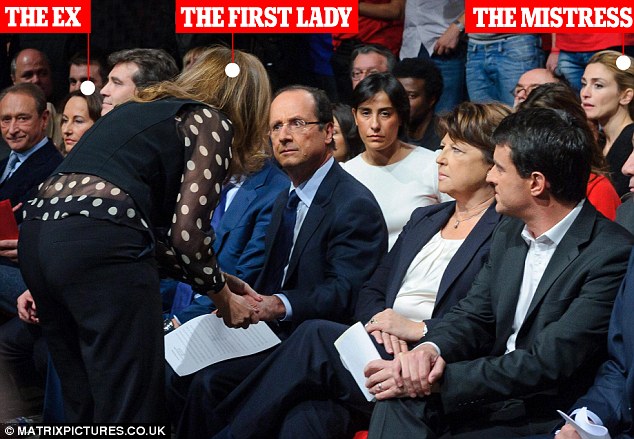 Dalam foto dari kampanye Hollande di Pilpres Prancis 2012, ia berjabat tangan dengan Valerie Trierweiler sang gundik, kekasih barunya Julie Gayet, mantan kekasihnya Segolene Royal (Foto: Mail Online)
INILAH foto pertama dari Presiden Prancis, Francois Hollande dan tiga wanita terdekatnya yakni kekasihnya, gundiknya dan mantan kekasihnya yang juga ibu dari empat anaknya.

Dalam foto dari kampanye Hollande di pemilihan presiden 2012, ia terlihat berjabat tangan dengan Valerie Trierweiler yang diduga sebagai gundiknya, kekasih barunya aktris Julie Gayet, dan mantan kekasihnya Segolene Royal yang hanya berjarak beberapa meter.

Foto tersebut mengungkap bahwa ´First Lady´ Trierweiler menelan ´pil pahit terlampau banyak´ karena secara ´dingin dan kejam´ Hollande ingin membuangnya, seperti dilansir Mail Online.

Wanita usia 48 tahun ini disebut-sebut menelan pil pahit setelah mencuat fakta kepada publik tentang kebohongan Presiden berusia 59 tahun tentang hubungan gelapnya dengan wanita lain.

Setelah itu nona Trierweiler (tidak menikah dengan Hollande) terbaring satu pekan di rumah sakit, namun pemimpin partai Sosialis Prancis belum menjenguknya, meskipun telah mengirim ´cokelat dan bunga´.

Rincian tersebut dimuat dalam dalam edisi terbaru Le Point yang, bersama dengan publikasi lain ´disukai´ oleh nona Trierweiler, mengakibatkan liputan tentang skandal cinta sang presiden terus berkembang di Perancis.

"Dia menelan pil pahit terlalu banyak," seperti dikatakan seorang sumber kepada majalah Paris. "Namun, dia tidak pernah ingin mencoba bunuh diri."

Sumber itu melanjutkan dengan menggambarkan Hollande sebagai sosok yang ´dingin dan kejam´ ketika ia mengakui perselingkuhannya dengan Julie Gayet, aktris Prancis berusia 41 tahun.
THIS IS the first picture of President Francois Hollande and all three of his women - his girlfriend, his mistress and the mother of his four children.

In the photograph from Hollande´s 2012 presidential campaign, he is seen shaking hands with Valerie Trierweiler as his alleged mistress, actress Julie Gayet, looks on, with his ex-partner Segolène Royal a few feet away.

The picture emerged as it was revealed that First Lady Trierweiler took 'one pill too many' because the 'cold and ruthless' Hollande wanted to dump her.

The 48-year-old is said to have taken pills following the public revelation of the 59-year-old President's deceit with another lover.

By tomorrow Ms Trierweiler will have spent an entire week in hospital, yet the Socialist head of state has not visited her, instead sending 'chocolates and flowers'.

Such details are contained in the latest edition of Le Point which, along with other publications 'favoured' by Ms Trierweiler, has led coverage of the growing scandal in France.

'She took a pill too many,' one source tells the Paris magazine. 'However, she never wanted to attempt suicide.'

The source goes on to describe Mr Hollande as being 'cold and ruthless' when he confessed to his affair with Julie Gayet, the 41 year old Paris actress.