Pakar Kimia Korut Ditangkap terkait Pembunuhan Saudara Tiri Kim Jong Un
North Korean Chemistry Expert Suspected of Killing Kim Jong-un`s Half-brother is Arrested
Editor : Ismail Gani
Translator : Novita Cahyadi

PUBLISHED: Senin, 20 Februari 2017 , 06:11:00 WIB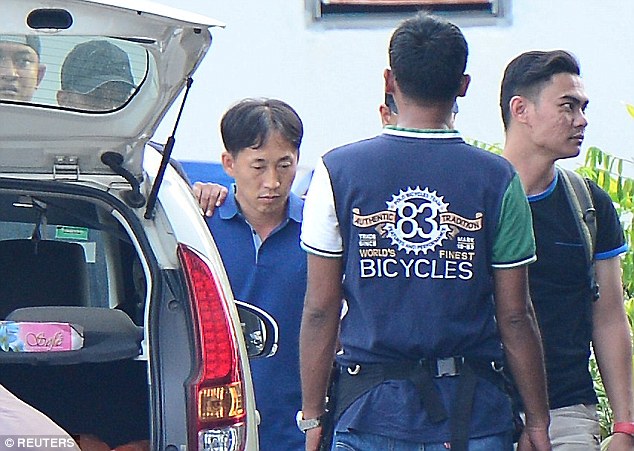 Ri Jong-chol, 47, yang menempuh pendidikan kedokteran dan kimia di Pyongjang ditahan di Kuala Lumpur sehubungan dengan pembunuhan tersebut (Foto: MailOnline)
POLISI Malaysia menangkap seorang ahli kimia Korea Utara sehubungan dengan pembunuhan saudara tiri Kim Jong-un, Kim Jong Nam.

Ri Jong-chol, 47, yang menempuh pendidikan kedokteran dan kimia di Pyongjang ditahan di Kuala Lumpur sehubungan dengan pembunuhan tersebut.

Polisi juga memburu empat warga Korea Utara yang terbang dari Kuala Lumpur pada hari yang sama saat Jong Nam dibunuh.

Keempat tersangka diyakini telah menjadi bagian dari skuad pembunuh yang dikirim untuk membunuh saudara tiri dari diktator di negara komunis tersebut.

Polisi Malaysia sejauh ini menangkap empat orang - termasuk ahli kimia - sehubungan dengan penyelidikan pembunuhan.

Kim Jong Nam diyakini telah dibunuh oleh komplotan menggunakan racun cair yang langsung bereaksi di dalam tubuhnya.

Salah satu dari mereka yang ditahan telah diketahui identitasnya oleh polisi Malaysia sebagai Ri Jong-chol, 47, dari Pyongyang.

Hal ini dapat dimengerti Jong-chol sebagai sarjana kimia dan farmasi dari sebuah universitas Korea Utara pada tahun 2000, kemudian bekerja dalam kegiatan penelitian kimia di India.

Seorang sumber di kepolisian mengatakan terlalu dini untuk menyimpulkan bahwa Jong-chol terkait dengan racun cair yang diyakini telah digunakan untuk membunuh Kim Jong-nam.

"Dia sedang diperiksa dan dia juga ditanyai tentang keberadaan tiga orang lain yang masih buron."

Polisi khawatir, bagaimanapun, bahwa tiga pria lainnya - dikabarkan menjadi bagian dari geng empat orang yang bekerja dengan dua wanita dalam pembunuhan Kim - diperkirakan sudah melarikan diri dari Malaysia.

Petugas cabang khusus mempelajari rekaman CCTV dari Bandara Kuala Lumpur, di mana Kim diserang pekan lalu, diduga tersangka berjumlah tiga orang berusia antara 30 dan 50 yang menumpang pesawat lain dari maskapai di Asia Tenggara segera setelah kejadian tersebut seperti dilansir MailOnline.
MALAYSIAN police have arrested a North Korean chemistry expert in connection with the murder of Kim Jong-un´s half brother Kim Jong Nam.

Ri Jong-chol, 47, who studied medicine and chemistry in Pyongjang was detained in Kuala Lumpur in connection with the murder.

Police are also hunting four North Korean men who flew out of Kuala Lumpur the same day Jong Nam was assassinated.

The four suspects are believed to have been part of a hit squad sent to murder the despotic leader´s half brother on the tyrant´s orders.

Malaysian police have so far arrested four people - including the chemistry expert - in connection with the murder probe.

Kim Jong Nam is believed to have been murdered in a plot using a fast-acting liquid poison.

One of those arrested has been named by Malaysian police as Ri Jong-chol, 47, from Pyongyang.

It is understood Jong-chol graduated in chemistry and medicine from a North Korean university in 2000, later working in chemistry research in India.

A police source said it was too soon to conclude that Jong-chol was behind the liquid poison believed to have been used to kill Kim Jong-nam.

´He is being quized on this and he is also being questioned about the whereabouts of three accomplices who are still at large.´

Police fear, however, that three other men - said to be part of a gang of four men working with two women in Kim´s murder - might have already escaped from Malaysia.

Special branch officers studying CCTV footage from Kuala Lumpur Airport, where Kim was attacked last week, have allegedly pinpointed three men aged between 30 and 50 who boarded a flight to another South East Asian country immediately after the incident.