Presiden Vladimir Putin Tampilkan Sosok `Good Guy` untuk Kalender 2017
The Russian President Tries to Maintain His Hardman Image for Bizarre 2017 Calendar
Editor : Ismail Gani
Translator : Novita Cahyadi

PUBLISHED: Rabu, 02 November 2016 , 01:47:01 WIB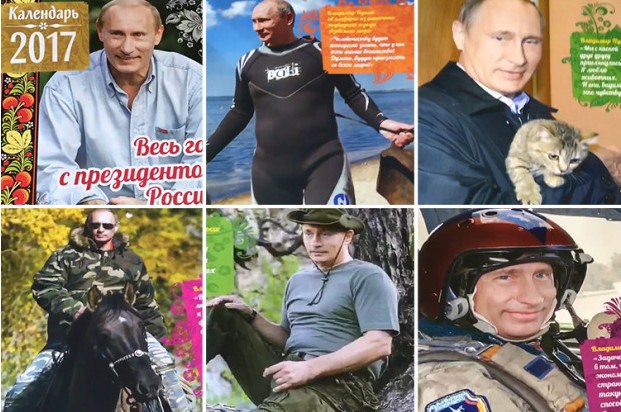 Foto2: The Sun
VLADIMIR Putin berupaya menepis kekhawatiran Perang Dingin baru antara Moskow dan Barat - dengan merilis kalender yang disebut media Barat sebagai 'ngeri-ngeri lucu'.

Orang kuat Rusia ini menjadi model yang unik pada kalender 2017.

Kalender dicetak di atas kertas mengkilat (glossy) dan menampilkan Vlad, panggilan Putin, dalam berbagai pose.

Penguasa bertangan besi 64 tahun mungkin menjadi penyebab ketakutan di Barat, tapi dia menunjukkan sisi lain suka diemong di salah satu gambar, lembut memegang anak kucing.

Halaman lain memperlihatkan Putin kembali sebagai orang kuat saat dia memakai kamuflase dan duduk di pohon, di atas kuda dan berada di pesawat jet tempur.

Dan di salah satu foto mengungkap lebih banyak, tentang mantan mata-mata KGB mengenakan pakaian selam dan bersiap mencebur ke laut.

Koresponden BBC Rusia Steve Rosenberg mengungkap tentang kalender tersebut di Twitter.

Banyak yang memberi komentar melalui media sosial.

Seseorang menulis: "Saya menilai kalender tersebut sebagai hal yang mengganggu dan rasa ingin tahun menjadi satu."

Sementara yang lain bercanda: "Saya sedang menunggu untuk melihat apa yang Kim Jong Un lakukan terhadap hal ini."
Putin terkenal memanfaatkan foto-foto dirinya untuk memperlihatkan dirinya sebagai orang kuat Rusia.

Yang paling terkenal adalah foto dirinya naik kuda telanjang dada.

Dia juga memperlihatkan kemampuan judo dengan membanting lawannya dalam sebuah latihan.

Rusia saat ini berselisih dengan AS atas dukungannya terhadap diktator Suriah Bashar al-Assad.

Hubungan antara kedua kekuatan dunia memburuk secara dramatis setelah konvoi bantuan kemanusiaan dibom dalam perjalanan ke Aleppo, yang mengakhiri gencatan senjata.

AS menyalahkan Moskow atas serangan tersebut seperti dilansir The Sun.
VLADIMIR Putin has brushed off fears of a new Cold War between Moscow and the West – by releasing a cringe-worthy calendar.

Russia's strongman president is the subject of the bizarre 2017 almanac.

It comes complete on glossy paper and features Vlad in a variety of poses.

The 64-year-old iron man might be the cause of fear in the West, but he shows off his cuddly side in one of the images, gently holding a kitten.

Other pages see Putin return to his hardman image as he wears camouflage and sits in a tree, on horseback and at the controls of a fighter jet.

And in one of the more revealing numbers, the ex-KGB spy strips down to a skin-tight lycra wet-suit as he goes for a dip.

BBC Russia correspondent Steve Rosenberg revealed the cringe-worthy calendar on Twitter.

Many met it with a mix of emotions.

One wrote: "I'm torn between finding that disturbing and vaguely wanting one."

While another joked: "I'm waiting to see what Kim Jong Un's is like before I order mine."

Putin is famous for using staged photoshoots to portray himself as a strongman.

The most notorious was a picture of him riding topless on horseback.

He has also been snapped performing throws during judo bouts.

Russia is currently at loggerheads with the US over his support of embattled Syrian dictator Bashar al-Assad.

Relations between the two deteriorated dramatically after an aid convoy was bombed on its way to Aleppo, ending a fragile ceasefire.

The US blamed Moscow for the attack.