Kamuna Sugar Limited Raih Pinjaman US$93 Juta dari Linetrust
Kamuna Sugar Limited Get a Loan US$93 Million of Linetrust
Reporter : Gusmiati Waris
Editor : Cahyani Harzi
Translator : Dhelia Gani

PUBLISHED: Selasa, 02 Mei 2017 , 01:05:32 WIB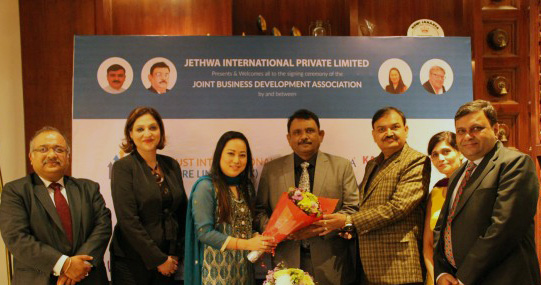 Foto: istimewa
Jakarta (B2B) - Perusahaan manufaktur gula dari India, Kamuna Sugar Limited dengan kapasitas produksi 5.000 TCD menandatangani perjanjian pinjaman sebesar US$93 juta dalam bentuk utang dukungan aset jangka panjang dengan Linetrust International Offshore Limited.

Direktur Linetrust, Seeme Mukhtar mengatakan dunia menjadi saksi transformasi India untuk menjalankan program make in India dan ini fase awal untuk menjadikan Kamuna Sugar menjadi salah satu produsen gula India terdepan.

"Pertumbuhan ekonomi India terus tumbuh di bawah pemerintahan Narendra Modi, didukung pengaruh partai Bharatiya Janata Party yang kembali diperhitungkan di Uttar Pradesh," kata Seeme Mukhtar melalui keterangan tertulisnya belum lama ini.

Managing Director Kamuna Sugar Limited, Pradeep Kumar Asthana mengatakan industri gula akan menuju ke arah yang lebih baik, begitu pula regulasi pajak barang dan jasa akan mendorong pertumbuhan industri gula, didukung pertambahan daya listrik oleh pemerintah India dan Linetrust mendukung pendanaan biaya rendah.

"Perluasan Capex akan membantu produksi perusahaan sehingga dapat menambah marjin pendapatan, perusahaan pun mampu berkompetisi dengan kompetitor yang lebih besar sebagai dampak dari biaya produksi yang lebih rendah," kata Pradeep.

Direktur Linetrust, Timothy Clark mengatakan dana pinjaman bagi Kamuna merupakan bagian dari upaya perusahaan mendukung pertumbuhan ekonomi India, serta mendukung perusahaan mempromosikan konsep Make in India yang digagas oleh Narendra Modi.

"Keahlian kami dalam bisnis gula akan mendukung memberi solusi dengan nilai-nilai positif bagi industri gula untuk jangka panjang," kata Sundeep VN Singhana, Direktur EquityDebt Consultants.
Jakarta (B2B) - Indian sugar manufacturing firm Kamuna Sugar Limited with a production capacity of 5,000 TCD signed a loan agreement of US $ 93 million in long-term debt support from Linetrust International Offshore Limited.

Director of Linetrust Seeme Mukhtar said the world will see transformation of make-in India program, as the initial phase to make Kamuna Sugar one of India's leading sugar producer.

"India's economic growth shows a positive trend in Narendra Modi administration, and influence of the Bharatiya Janata Party in Uttar Pradesh," Mr Mukhtar said in written statement recently.

Managing Director of Kamuna Sugar Limited, Pradeep Kumar Asthana said the sugar industry in the future will be better, as well as regulation of goods and services tax will encourage the sugar industry, supported by additional electric power by government, and Linetrust supports low cost financing.

"The expansion of Capex will help the company's production to increase its revenue margin, the company can compete with its major competitors, the impact of lower production costs," Mr Asthana said.

Director of Linetrust, Timothy Clark said support for Kamuna is part of the company's efforts to support India's economic growth, and supporting the Make program in India was initiated by Narendra Modi.

"Our expertise in the sugar business will support providing solutions with long-term positive values for the industry," said Consultants Director of EquityDebt, Sundeep VN Singhana.