Atap Gereja di Nigeria Rubuh Tewaskan 160 Jemaat
Nigeria Church Collapse Leaves at Least 160 Dead
Editor : Ismail Gani
Translator : Novita Cahyadi

PUBLISHED: Senin, 12 Desember 2016 , 16:57:19 WIB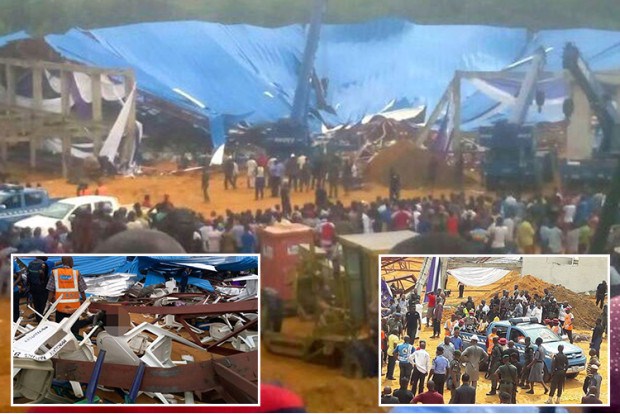 Bangunan kerap runtuh di Nigeria karena tindakan korupsi dengan kontraktor menggunakan bahan sub-standar dan menyuap inspektur untuk mengabaikan standar gedung dan suap untuk mendapat IMB (Foto2: The Sun)
SEDIKITNYA 160 jemaat tewas setelah atap gereja runtuh di Nigeria. Insiden mengerikan terjadi kemarin di kota Uyo, ibukota negara bagian Akwa Ibom penghasil minyak di selatan Nigeria, sebagian besar warganya menganut Kristen.

Direktur rumah sakit setempat mengatakan saat ini kamar-kamar jenazah di kota tersebut 'kepenuhan' jasad korban setelah tragedi di gereja Reigners Bible Churc International.

Banyak korban tewas berada di kamar jenazah milik pribadi, namun beberapa keluarga yang putus asa secara diam-diam mengambil jenazah kerabat ke rumah mereka karena penuh sesak - dan beberapa tidak memiliki fasilitas pendingin.

Para pekerja bergegas untuk memperbaiki gereja pada waktunya untuk hari Sabtu, yang tampaknya terisi penuh untuk pentahbisan pastor Akan Weeks menjadi Uskup.

Gereja masih dalam pembangunan saat penyangga baja jatuh menimpa jemaat disusul atap gedung runtuh, korban tewas pun berjatuhan.

Saksi Ukeme Eyibio, 27, tengah memarkir mobilnya di luar gereja untuk menelepon ketika dia mendengar suara yang semula dipikirnya adalah bom - sebelum menyadari gereja rubuh.

Dia mengatakan: "Banyak jenazah yang terperangkap di bawah reruntuhan, potongan-potongan tubuh, darah berceceran di seluruh tempat begitu pula dengan tas dan sepatu korban terserak."

Dia dan tiga orang lainnya menyeret keluar sepuluh orang dari reruntuhan, termasuk seorang pria yang kakinya terperangkap di bawah gelagar baja.

Dia menambahkan: "Saya bergegas ke mobil saya, mengeluarkan dongkrak mobil dan dipakai untuk mengganjal gelagar baja sebelum menarik kakinya."

"Kami berhasil menyelamatkan dia tapi banyak korban tewas di sekitar kami."

"Saya jadi trauma tidak bisa tidur semalaman atas kengerian dan selalu teringat di benak saya."

Gubernur Udom Emmanuel juga berada di gereja ketika bencana terjadi, tapi entah bagaimana lolos tanpa cedera.

Juru bicara gubernur, Ekerete Udoh, mengatakan pemerintah negara bagian akan mengadakan penyelidikan untuk menyelidiki apakah ada masalah dengan standar konstruksi.

Bangunan kerap runtuh di Nigeria karena tindakan korupsi dengan kontraktor menggunakan bahan sub-standar dan menyuap inspektur untuk mengabaikan standar gedung dan suap untuk mendapatkan izin mendirikan bangunan.

Pada 2014, 116 orang tewas ketika sebuah penginapan di komplek Gereja Sinagog ambruk di Lagos, ibukota Nigeria.

Dua insinyur sipil, Joshua dan wali gereja dituduh melakukan pelanggaran pidana dan pembunuhan disengaja setelah pihak koroner menemukan bangunan runtuh akibat kesalahan konstruksi yang disebabkan oleh desain dan rangka bangunan.

Namun negara bagian Lagos berupaya membawa kasus tersebut ke pengadilan namun digagalkan oleh lemahnya bukti-bukti hukum seperti dilansir The Sun.
AT LEAST 160 worshippers have been killed after a church roof collapsed in Nigeria. The horrific incident happened yesterday in the town of Uyo, the capital of oil-producing Akwa Ibom state in the largely Christian south of the country.

A local hospital director told today how mortuaries in the city are 'overflowing' with bodies after the tragedy at Reigners Bible Church International.

Many victims are in private mortuaries, but some desperate families are secretly taking bodies of relatives to their homes because they are so overcrowded – and some don't have refrigeration facilities.

Workers had been rushing to finish the church in time for Saturday, which was apparently filled to capacity for the consecration of pastor Akan Weeks into a Bishop.

It was still under construction when metal girders crashed onto worshippers and the corrugated iron roof caved in, trapping bodies.

Witness Ukeme Eyibio, 27, had parked his car outside to make a phone call when he heard a noise that he thought was a bomb – before realising the church had disappeared.

He said: "There were trapped bodies, parts of bodies, blood all over the place and people's handbags and shoes scattered".

He and three other people dragged out ten people from the wreckage, including a man whose legs were trapped under a steel girder.

He added: "I rushed to my car, got out the tire jack and used that to get the beam off his legs.

"We managed to get him out but we saw others dying all around us.

"I'm so traumatized I could not sleep last night for the horrors repeating themselves in my mind."

State governor Udom Emmanuel was also inside when disaster struck, but somehow escaped unharmed.

The governor's spokesman, Ekerete Udoh, said the state government will hold an inquiry to investigate if anyone compromised building standards.

Buildings often collapse in Nigeria because of endemic corruption with contractors using sub-standard materials and bribing inspectors to ignore shoddy work or a lack of building permits.

In 2014, 116 people died when a multi-story guesthouse of the Synagogue Church of All Nations collapsed in Lagos, Nigeria's commercial capital.

Two structural engineers, Joshua and church trustees have been accused of criminal negligence and involuntary manslaughter after a coroner found the building collapsed from structural failures caused by design and detailing errors.

But Lagos state government efforts to bring them to court have been foiled by repeated legal challenges that have delayed a trial.