Presiden Donald Trump Masuk Gedung Putih Langsung Bekerja
Donald Trump Enters the Oval Office for the First Time as President
Editor : Ismail Gani
Translator : Novita Cahyadi

PUBLISHED: Sabtu, 21 Januari 2017 , 16:59:31 WIB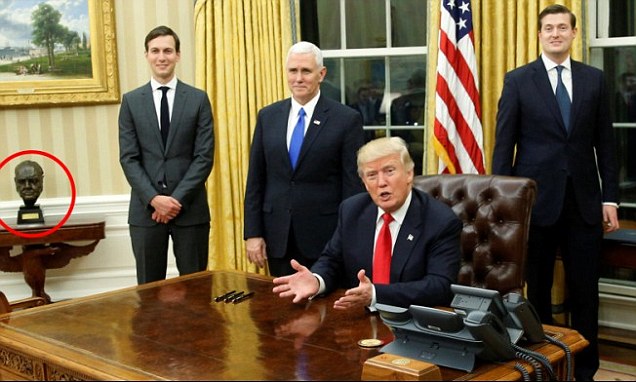 Dia mengubah dekorasi Oval Office, menukar tirai merah menjadi warna emas dan meletakkan kembali di tempat semula patung mantan PM Inggris Winston Churchill (lingkaran merah) Foto: MailOnline
PRESIDEN Donald Trump tidak membuang waktu untuk bekerja pada Jumat malam, dia langsung menuju ke Oval Office untuk menandatangani perintah eksekutif pertamanya sejak berkuasa di Gedung Putih.

Dia menggunakan meja the Resolute Desk untuk meneken penunjukan Jenderal James Mattis sebagai Menteri Pertahanan dan perintah lain untuk 'meringankan beban program kesehatan Obamacare'.

Dia telah membuat perubahan untuk dekorasi Oval Office, menukar tirai sebelumnya merah menjadi warna emas dan meletakkan kembali di tempat semula patung mantan perdana menteri Inggris Winston Churchill.

Kemudian, ia menghadiri pesta inagurasi dengan first lady sebelum menikmati malam pertamanya sebagai presiden di 1600 Pennsylvania Avenue.

Presiden Trump memerintahkan agar setiap instansi pemerintah yang menerapkan atau memberlakukan ketentuan 'Obamacare' untuk memberikan keringanan, menangguhkan, pembebasan dan penundaan untuk meminimalkan atau menghilangkan biaya yang terkait dengan pelaksanaan skema asuransi kesehatan yang diteken Presiden Obama.

Perintah tersebut juga berlaku kepada instansi terkait untuk berusaha sekuat tenaga untuk 'memberikan fleksibilitas yang lebih besar untuk Amerika dan bekerja sama dengan mereka dalam melaksanakan program kesehatan."

'Dan perintah tersebut tampaknya bertujuan menghapus batas-batas geografis yang dilakukan oleh negara-negara bagian untuk menerapkan asuransi kesehatan, perintah tersebut membutuhkan dukungan lembaga federal untuk 'mendorong pengembangan pasar bebas dan terbuka dalam perdagangan antarnegara untuk penyediaan layanan kesehatan dan asuransi kesehatan, dengan tujuan mencapai dan menerapkan pilihan maksimum untuk pasien dan konsumen.'

Beberapa saat sebelumnya Trump menandatangani keputusan pemerintah yang menetapkan James 'Mad Dog' Mattis sebagai Menteri Pertahanan dan John Kelly sebagai Menteri Homeland Security.

Kedua menteri adalah jenderal pensiunan Korps Marinir AS, dan sebelumnya yang dilantik adalah Wakil Presiden Mike Pence seperti dilansir MailOnline.
PRESIDENT Donald Trump wasted no time getting to work on Friday night, heading straight to the Oval Office where he signed his first executive orders since arriving at the White House.

He christened the Resolute Desk by signing an order to confirm General James Mattis as Secretary of Defense and another order to 'ease the burden of Obamacare'.

He has already made changes to the Oval Office decor, swapping its formerly crimson drapes for gold curtains and putting back in its former place a bust of former British prime minister Winston Churchill.

Later, he attended three inaugural balls with the first lady before spending his first night at 1600 Pennsylvania Avenue.

President Trump's Obamacare order directs every government agency that implements or enforces the 'Obamacare' law to grant waivers, deferments, exemptions and delays in order to minimize or eliminate any costs associated with implementing Obama's signature medical insurance scheme.

It also orders agencies to bend over backwards in order to 'provide greater flexibility to States and cooperate with them in implementing healthcare programs.'

And in a nod to Trump's oft-stated goal of erasing geographic boundaries that established state-specific monopolies for insurers, his order requires federal agencies to 'encourage the development of a free and open market in interstate commerce for the offering of healthcare services and health insurance, with the goal of achieving and preserving maximum options for patients and consumers.'

Moments earlier Trump had signed government commissions making James 'Mad Dog' Mattis the secretary of Defense and John Kelly the Homeland Security secretary.

Both men are retired U.S. Marine Corps generals, and were sworn in moments earlier by Vice President Mike Pence.