Gelombang Radio Khusus jadi Penangkal Drones yang Dipersenjatai di Afghanistan
British Troops Targeted by Drones in Afghanistan are being Protected by a New Radio Wave
Editor : Ismail Gani
Translator : Novita Cahyadi

PUBLISHED: Minggu, 23 Juli 2017 , 17:10:00 WIB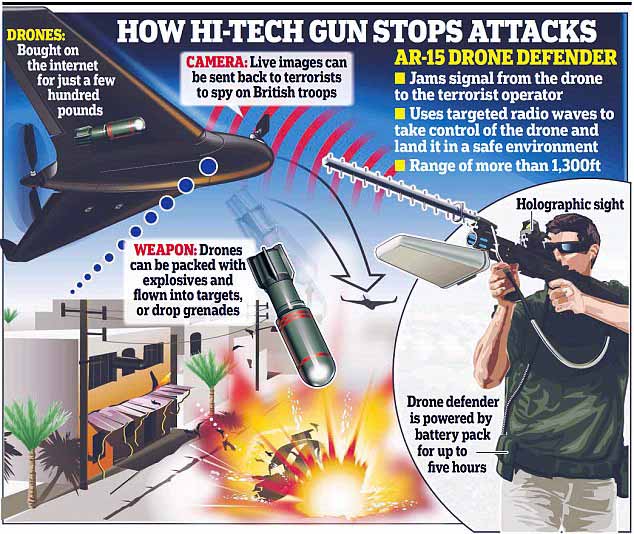 ISIS mulai menggunakan drone kamera yang dipersenjatai granat di Irak untuk meledakkan pasukan Irak dan menargetkan pengungsi yang berusaha melarikan diri dari Mosul (Ilustrasi & Data: MailOnline)
PASUKAN Inggris yang menjadi target dari pesawat tanpa awak (drones) di Afghanistan dilindungi oleh senjata baru yang memanfaatkan gelombang radio untuk menghindari incaran drones dari udara.

Puluhan drones dikirim melalui pangkalan yang merupakan markas bagi tentara Inggris dan AS yang melakukan misi keamanan di ibukota Kabul.

Sejauh ini drone, dari tipe yang bisa dibeli dengan mudah melalui toko online, hanya digunakan untuk memata-matai pasukan.

Namun drones dikhawatirkan dapat diadaptasi untuk membawa bahan peledak - sebuah taktik yang sudah digunakan oleh ISIS di Irak.

Ketika pesawat tak berawak di Afghanistan terlihat di New Kabul Compound, mereka dinonaktifkan oleh tentara AS yang menggunakan Pelumpuh Drone AR-15, yang terlihat seperti senapan dengan mekanisme antena ke depan dan memiliki jangkauan hampir 400 meter.

Jangankan menembakkan, pancaran gelombang radio dapat mengganggu sinyal yang mengendalikan pesawat tak berawak, kemudian memaksa drones jatuh ke tanah.

Mayor Paul Martin, dari Batalion 1 Irlandia dari Resimen Kerajaan, mengatakan bahwa telah terjadi penembakan drone dalam dua tahun terakhir di atas kompleks Kabul yang menjadi markas dari 150 tentara Inggris.

Belum diketahui, bagaimana jadinya, apabila drones dikirim oleh warga sipil atau pemberontak.

Komandan resimen, Letnan Kolonel Graham Shannon, mengatakan: "Mereka bisa jadi merupakan anak-anak kaya yang menjadi orang jahat."

Ada beberapa petugas khusus pelumpuh drones di pangkalan dimana dari Divisi Lintas Udara ke-82 Amerika Serikat yang dilatih untuk menggunakannya.

Pasukan Inggris memiliki mekanisme pertahanan lain namun tidak dapat mengungkapkan lebih jauh karena alasan keamanan.

Sersan Mayor David Dyess, seorang Marinir AS di markas tersebut, mengatakan sehubungan dengan penggunaan drones oleh ISIS di Irak: "Dimulai di satu tempat dan akhirnya bermigrasi. Drone dengan bom akan datang ke sini dalam beberapa bulan ke depan. '

Mayor Paddy Pratt, kepala operasi Inggris untuk Pasukan Keamanan Kabul, mengatakan: "Kami memiliki banyak penampakan pesawat tak berawak dan kami telah mengembangkan strategi serangan balik. Jika dan ketika ada drones yang mengudara untuk menyerang, kami akan menyiagakan pasukan penangkal untuk melumpuhkan pesawat tanpa awak tersebut.

Dia menambahkan: "Drones ada di seluruh dunia. Kami menyadarinya, kami siap untuk melawannya.

'Ada saran bisa (menjadi musuh), atau bisa jadi pria dewasa yang menerima drones itu sebagai hadiah.'

ISIS mulai menggunakan drone kamera yang dipersenjatai granat di Irak untuk meledakkan pasukan Irak dan menargetkan pengungsi yang berusaha melarikan diri dari Mosul.

Pesawat tak berawak membawa cukup banyak bahan peledak untuk membunuh atau melukai dalam radius empat meter, menurut para ahli.

Pilot RAF ditugaskan untuk memburu perangkat persenjataan tersebut di tengah kekhawatiran bahwa mereka dapat digunakan untuk menemukan lokasi pasukan Inggris dan melumpuhkan mereka seperti dilansir MailOnline.
BRITISH troops targeted by drones in Afghanistan are being protected by a new weapon that uses radio waves to zap the unmanned aircraft out of the sky.

Dozens of drones have been sent over a base which is home to UK and US soldiers carrying out a security mission in the capital Kabul.

So far the drones, of the type that can be bought easily online, have only been used to spy on the troops.

But it is feared they could be adapted to carry explosives – a tactic already being used by Islamic State in Iraq.

When the drones in Afghanistan are spotted over the New Kabul Compound they are disabled by US soldiers using the AR-15 Drone Defender, which looks like a rifle with an antenna mechanism to the front and has a range of more than 1,300ft.

Instead of firing bullets, its radio waves disrupt the signal controlling the drones, forcing them to fall to the ground.

Major Paul Martin, of the 1st Battalion The Royal Irish Regiment, said there had been 68 drone sightings in the past two years over the Kabul compound where a total of 150 British troops are based.

It is not clear, however, if the drones are being sent by civilians or insurgents.

The regiment's commanding officer, Lt Col Graham Shannon, said: 'They could be rich kids or they could be the bad guys.'

There are several Drone Defenders on the base which US soldiers from the 82nd Airborne Division are trained to use.

UK troops have other defence mechanisms but were not able to share the details for security reasons.

Sergeant Major David Dyess, a US marine on the base, said in reference to Islamic State's use of drones in Iraq: 'It starts in one place and eventually migrates. Drones with bombs will be coming here in the next couple of months.'

Major Paddy Pratt, the UK chief of operations for the Kabul Security Force, said: 'We've had multiple sightings of drones and we've developed a counter drone strategy. If and when there is a sighting they would then deploy the Defender to try to engage the drone.'

He added: 'They are readily available across the world. We are aware of it, we are well equipped to be able to counter it.

'There is a suggestion it could (be the enemy), or it could be grown men who receive the drone as a present.'

Islamic State started using camera drones armed with grenades in Iraq to blast Iraqi forces and target refugees trying to flee Mosul.

The drones carry enough explosive to kill or injure within a 16ft radius, according to experts.

RAF pilots were tasked with hunting down the weaponised devices amid fears they could be used to find the locations of UK troops and target them.