Obama Perintahkan Bom Irak untuk Hantam ISIS Cegah Genosida
Obama to Bomb Iraq to Save Thousands of Non-Muslims
Editor : Ismail Gani
Translator : Novita Cahyadi

PUBLISHED: Jum'at, 08 Agustus 2014 , 18:11:00 WIB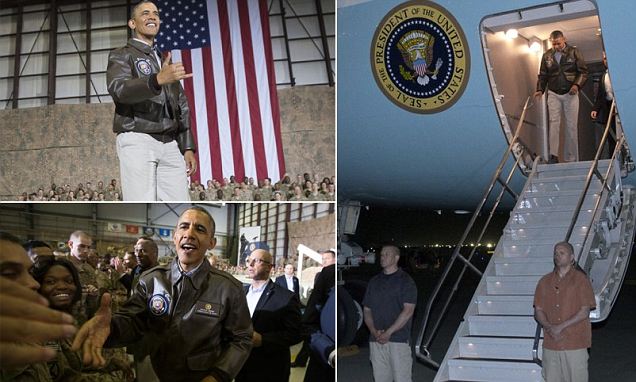 Obama mengatakan mungkin ada puluhan ribu warga sipil yang mengungsi. Dia menuduh ISIS berusaha "menghancurkan secara sistematik seluruh rakyat itu yang akan menimbulkan genosida." (Foto2: MailOnline)
Arbil, Irak (B2B) - Presiden Amerika Serikat Barack Obama memerintahkan pesawat-pesawat tempur kembali ke langit Irak untuk mengirim pangan kepada para pengungsi dan jika perlu melancarkan serangan udara untuk menghentikan apa yang disebutnya kemungkinan genosida.

Missi pertama armada udara AS adalah mengirim pangan dan air kepada ribuan warga minoritas Yazidi yang dikepung para petempur Negara Islam Irak dan Suriah (ISIS), sedangkan puluhan ribu warga Kristen Irak juga melarikan diri, seperti dilansir Yahoo News.

Obama juga mengizinkan militer melancarkan serangan-serangan bertarget untuk mendukung pasukan Irak menghambat gerak maju gerilyawan atau melindungi para penasehat PBB yang bekerja di lapangan.

Dia mengatakan pesawat-pesawat tempur AS juga dapat menyasar para anggota ISIS jika mereka bergerak ke kota Arbil, tempat AS memiliki fasilitas diplomatik dan penasehat untuk pasukan Irak.

"Kita akan tetap waspada dan melakukan tindakan jika mereka mengancam fasilitas-fasiltas AS di Irak, termasuk konsulat di Arbil dan Kedutaan Besar di Baghdad," katanya.

Seorang staf senior pertahanan AS mengonfirmasikan misi itu telah mengirim "makanan penting dan air untuk ribuan warga Irak," mengacu warga Yazidi yang terperangkap di tempat terbuka di Gunung Sinjar, Irak utara. Akan ada lagi pengiriman bantuan jika diperlukan, kata seorang pejabat lain AS kepada wartawan.

Obama mengatakan mungkin ada puluhan ribu warga sipil yang mengungsi. Dia menuduh ISIS berusaha "menghancurkan secara sistematik seluruh rakyat itu yang akan menimbulkan genosida."

Presiden AS itu mengaku AS tidak dapat bertindak setiap saat yang dianggap adanya ketidakadilan, tetapi menegaskan, "Kita dapat bertindak, secara hati-hati dan bertanggung jawab untuk mencegah kemungkinan terjadinya tindakan genosida.

"Inilah apa yang kita sedang lakukan di gunung itu. Saya, demi alasan itu, mengizinkan serangan udara yang ditargetkan jika perlu untuk membantu pasukan di Irak saat mereka berperang dalam mematahkan pengepungan dan melindungi para warga sipil yang terperangkap di sana," tambahnya.

Obama mengatakan "pasukan Amerika tidak akan kembali berperang di Irak karena di sana tidak ada solusi militer Amerika bagi krisis lebih luas di Irak".
Arbil, Iraq - President Barack Obama has ordered US warplanes back into Iraqi skies to stop jihadists from moving into autonomous Kurdistan and carrying out a potential genocide against displaced minorities.

The US air armada´s first mission was to drop food and water to thousands of people who have been hiding from the Sunni extremist militants in a barren northern mountain range.

Three years after he ended eight years of US occupation, US President Barack Obama announced late Thursday he had authorised limited air strikes against the Islamic State (IS) group.

Many people who have been cowering in the Sinjar mountains for five days in searing heat and with no supplies are Yazidis, a minority that follows a 4,000-year-old faith.

Obama accused the IS, which calls Yazidis "devil-worshippers", of attempting "the systematic destruction of the entire people, which would constitute genocide".

He also justified possible air strikes because of the jihadist threat to Washington´s Kurdish allies, following a lightning advance that saw the Sunni extremists move within striking distance of Arbil.

Panic had begun to grip the Kurdish capital after IS thrust into the Nineveh plains separating their main hub of Mosul and the autonomous territory over the past two days.

"We plan to stand vigilant and take action if they threaten our facilities anywhere in Iraq, including the consulate in Arbil and embassy in Baghdad," Obama said.

Senior US officials, however, denied a Kurdish claim that US warplanes had already struck jihadist targets.

The Kurdish peshmerga, short of ammunition and stretched thin along a huge front, have been forced to retreat in the face of brazen assaults by the jihadists.