Pemerintah Spanyol Ingatkan `Referendum Catalan` Ancam Uni Eropa
Spanish Ambassador Warns of `Drama for Europe´ if Catalan Independence Vote Goes
Editor : Ismail Gani
Translator : Novita Cahyadi

PUBLISHED: Minggu, 01 Oktober 2017 , 18:48:00 WIB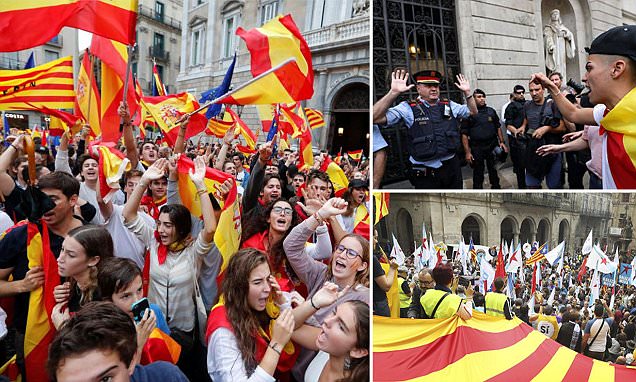 Ada 5,3 juta pemilih terdaftar tapi Puigdemont dikritik karena tidak dapat menjelaskan seperti apa hubungan antara Catalan (Foto2: MailOnline)
DUTA BESAR Spanyol untuk Inggris memperingatkan 'drama untuk Eropa' jika pemilihan umum untuk kemerdekaan Catalan berlanjut, menyikapi aksi ribuan pengunjuk rasa di Barcelona melakukan referendum kemerdekaan yang dinyatakan 'ilegal' oleh pemerintah.
Carlos Bastarreche, duta besar Spanyol untuk Inggris menyebut referendum tersebut sebagai 'kudeta' yang menurutnya hasil pemilihan umum akan berdampak jangka panjang yang buruk terhadap stabilitas Eropa dan memicu tuntutan separatisme Skotlandia untuk memisahkan diri dari Inggris.
Pemerintah Spanyol menganggap referendum sebagai aksi ilegal, Mahkamah Konstitusi di Spanyol telah menangguhkannya lebih dari tiga pekan lalu.
Namun separatis regional menyatakan akan terus melakukan pemungutan suara, dengan menduduki sekolah sepanjang pekan lalu sehingga mereka dapat menggunakannya sebagai tempat pemungutan suara yang memicu persengketaan.
Kepolisian Catalan diperintahkan untuk mengosongkan bangunan pada Minggu pukul 6 pagi.
Sementara ribuan warga Catalan berbaris di pusat kota Barcelona dan Madrid untuk membela persatuan dalam negara Spanyol, menuntut agar para pemimpin Catalan dikirim ke penjara.
Para pemrotes mengenakan baju warna merah dan kuning - warna regional dan nasional - bernyanyi, 'Jangan biarkan mereka membodohi Anda, Catalonia adalah Spanyol', di tengah seruan kepada presiden regional Carles Puigdemont untuk mengundurkan diri.
Mr Puigdemont, 54, secara terbuka memilih daerah otonom dari Spanyol, yang merupakan hal penting untuk berkontribusi pada ekonomi negara tersebut.
Pada Sabtu, Puigdemont mengatakan bahwa dia dan para pendukungnya tidak akan 'melepaskan' hak mereka, menggambarkan usaha Madrid untuk melarang referendum sebagai 'represi otoriter' dan 'jatuhnya demokrasi'.
Dalam sebuah wawancara dengan AFP dia bersikeras bahwa pemerintahannya memiliki 'segala sesuatu yang berlaku agar semuanya berjalan normal'.
Ada 5,3 juta pemilih terdaftar tapi Puigdemont dikritik karena tidak dapat menjelaskan seperti apa hubungan antara Catalan.
Dalam sebuah wawancara dengan Associated Press, Menteri Luar Negeri Alfonso Dastis menuduh pemerintah Catalan mencoba mempromosikan sistem eksklusif yang bertentangan dengan tujuan dan cita-cita Uni Eropa.
Dastis mengatakan bahwa partai CUP radikal, yang menopang pemerintahan separatis Catalonia, 'mengadopsi sikap Nazi-seperti dengan menunjuk pada orang-orang yang menentang referendum tersebut dan mendorong orang lain untuk melecehkan mereka.'
Dia membela keputusan pemerintah Spanyol sebagai 'benar-benar ilegal' untuk menyebarkan ribuan bala bantuan polisi ke Catalonia untuk mencegah berlangsungnya pemungutan suara seperti dikutip MailOnline.
THE SPANISH ambassador to UK has warned of 'drama for Europe' if Catalan's independence vote goes forward, as thousands march in Barcelona over the 'illegal' independence referendum.
Carlos Bastarreche, the Spanish ambassador to UK has called the referendum a 'coup d'etat' explaining that an independence result will have a long lasting affect on European stability and reignite Scottish separatism.
The Spanish government considers the referendum illegal, the country's Constitutional Court having suspended it more than three weeks ago.
But regional separatists have vowed to go ahead with balloting, occupying at least 160 schools throughout the weekend so that they can be used as polling stations for tomorrow's disputed vote.
The Catalan police force are under orders to empty the buildings by Sunday at 6am.
Meanwhile thousands of Catalans are marching in downtown Barcelona and Madrid in defence of Spanish unity, demanding that Catalan leaders be sent to jail.
Protesters wrapped in red and yellow - regional and national colours - chanting, 'Don't let them fool you, Catalonia is Spain', amid calls for regional president Carles Puigdemont to step down.
Mr Puigdemont, 54, openly favours the autonomous regions break from Spain, which is a crucial to contributor to the country's economy.
On Saturday Mr Puigdemont said he and his supporters would not 'give up' their rights, describing Madrid's attempts to ban the referendum as 'authoritarian repression' and 'the fall of democracy'.
In an interview with AFP he insisted that his government had 'everything in place so that everything takes place normally'.
There are 5.3million registered voters but Mr Puigdemont has been criticized for not being able to explain what a Catalan independence would look like.
In an interview with the Associated Press, Foreign Minister Alfonso Dastis accused the Catalan government of trying to promote an exclusionary system that runs counter to the goals and ideals of the European Union.
Mr Dastis said the radical CUP party, which shores up Catalonia's separatist-minded government, was 'adopting Nazi-like attitudes by pointing at people that are against that referendum and encouraging others to harass them.'
He defended the Spanish government's decision as 'totally justified' to deploy thousands of police reinforcements to Catalonia to prevent the vote.