Dunia Bergolak Kecam Putusan Presiden Trump Akui Yerusalem Ibukota Israel
Muslims Stage `Day of Rage` around the World Against Trump`s Decision
Editor : Ismail Gani
Translator : Novita Cahyadi

PUBLISHED: Jum'at, 08 Desember 2017 , 20:37:00 WIB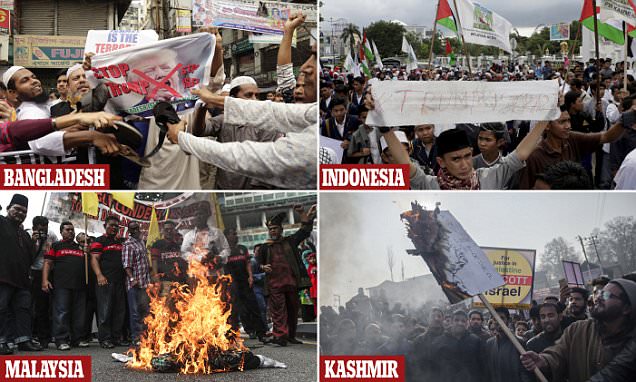 Di Kuala Lumpur, Malaysia, para pemrotes membakar patung Trump di luar kedutaan AS sementara di Iran, ratusan orang berkumpul di ibukota, Teheran, meneriakkan ´kematian ke Amerika´ dan ´kematian orang Israel´ (Foto2: MailOnline)
DEMONSTRASI besar terjadi di Turki, Bangladesh, Indonesia, Malaysia dan Kashmir hari ini, dan ratusan orang Palestina bentrok dengan pasukan keamanan Israel di Tepi Barat.

Para pemrotes melemparkan batu ke pasukan Israel, yang membalas dengan gas air mata dan peluru karet sementara kerumunan besar berkumpul di luar Masjid Al Aqsa di Yerusalem, sebuah lokasi penting di kota suci tersebut dan ribuan warga juga turun ke jalan-jalan di Gaza.

Pihak berwenang Israel telah mengerahkan ratusan polisi tambahan sementara tentara berupaya memecah konsentrasi massa untuk mencegah kerusuhan.

Di Kuala Lumpur, Malaysia, para pemrotes membakar patung Trump di luar kedutaan AS sementara di Iran, ratusan orang berkumpul di ibukota, Teheran, meneriakkan 'kematian ke Amerika' dan 'kematian orang Israel'. Ribuan orang juga berunjuk rasa di Istanbul seperti dilansir MailOnline.
DEMONSTRATIONS have taken place in Turkey, Bangladesh, Indonesia, Malaysia and Kashmir today and hundreds of Palestinians have clashed with Israeli security forces in the West Bank.

Protesters threw stones at Israeli troops, who responded with tear gas and rubber bullets while huge crowds rallied outside Jerusalem's Al Aqsa Mosque, a flashpoint site in the holy city and thousands have also taken to the streets in Gaza.

Israeli authorities have deployed hundreds of extra police while soldiers have had all leave cancelled in preparation for the unrest.

In Kuala Lumpur, Malaysia, protesters burnt an effigy of Trump outside the US embassy while in Iran, hundreds rallied in the capital, Tehran, chanting 'death to America' and 'death to Israel'. Thousands also marched in Istanbul.