Dilema AS terhadap Korea Utara, Trump Siapkan Tujuh Opsi Hadapi Kim Jong Un
What Should the West Do? Trump Says `All Options are on the Table`
Editor : Ismail Gani
Translator : Novita Cahyadi

PUBLISHED: Rabu, 30 Agustus 2017 , 20:55:00 WIB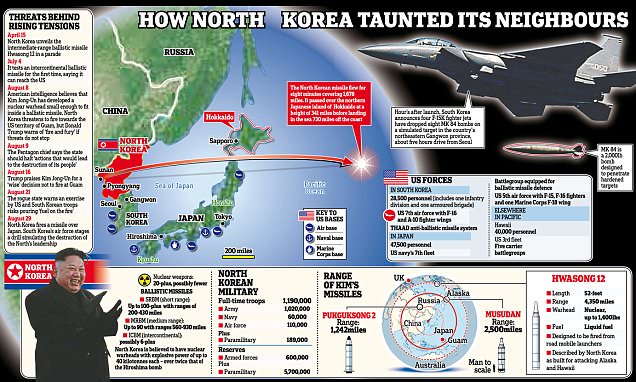 Infografis: MailOnline
KETIKA ketegangan mendadak terkait program rudal nuklir Korea Utara nampaknya mereda, sang diktator kemarin kembali melakukan manuver yang memicu kontroversi - dengan meluncurkan rudal yang mampu membawa hulu ledak nuklir ke Jepang.

Peluncuran roket adalah disebut sebagai tindakan provokasi yang berlebihan.

Seperti yang telah kita lihat, Korea Selatan menanggapi manuver musuh bebuyutannya dengan menampilkan senjata di dekat perbatasannya dengan Korea Utara, sementara Presiden Trump mengumumkan bahwa ia menerima pesan Kim Jong-un 'keras dan jelas' dan menegaskan bahwa 'semua opsi akan ditempuhnya'.

Pernyataan Trump dalam pidatonya sebagai ungkapan 'marah' yang ditujukan pada Pyongyang pada awal bulan ini, namun ancaman tersebut tersirat. Muncul pertanyaan: berapa lama Gedung Putih terombang-ambing.

Washington berupaya membujuk Kim mengurungkan niatnya. Sekretaris Negara AS, Rex Tillerson, percaya bahwa kesediaan China untuk mendukung sanksi ekonomi baru yang lebih keras dari PBB terhadap sekutu lamanya adalah pembatasan terhadap Pyongyang.

Namun peluncuran terbaru ini tidak hanya mencampakkan kedaulatan Jepang dengan penghinaan, ini menegaskan bahwa Kim Jong-un memiliki rudal dengan potensi untuk mencapai busur luas Pasifik Barat, termasuk basis AS seperti Guam. Kota-kota besar di China juga berada dalam jangkauan.

Sebuah negara kecil dengan populasi kecil namun miskin, bertindak serampangan dan bukan hanya menguji nyali Donald Trump dan AS, namun Dewan Keamanan PBB, yang juga bertemu dalam sidang darurat kemarin.

Ini adalah satu hal bagi para pemimpin global untuk mengatakan 'semua opsi ada di atas meja', cukup lain untuk memilih serangkaian tindakan untuk menghentikan Korea Utara tanpa memulai perang nuklir di Asia Timur - dan, mungkin juga, Perang Dunia III.

Namun di sisi lain, Presiden Trump - dan harap diingat, ada empat jenderal di tim puncaknya sekarang - harus bertindak untuk mengajar Korea Utara dan rezim nakal lainnya dengan kemampuan nuklir atau aspirasi untuk tidak mendorongnya terlalu jauh.

Dinasti Kim telah menginvestasikan segalanya untuk mendapatkan senjata nuklir untuk melindungi rezimnya. Peluncuran terbaru ini merupakan peringatan lain bahwa ia akan melakukan apa pun untuk tetap berkuasa.

Untuk menghadapi mentalitas berisiko tinggi seperti itu, beberapa orang di Washington mulai berpikiran yang tidak terpikirkan. Namun untuk saat ini, pilihan lain yang berhenti memicu Armagedon lebih mungkin terjadi seperti dilansir MailOnline.
JUST WHEN simmering tensions over North Korea's nuclear missile programme seemed to be easing, its unpredictable dictator yesterday upped the ante in brazen style — sending a missile capable of bearing a nuclear warhead over Japan.

It was an act of outrageous provocation.

As we have seen, South Korea responded with a display of firepower near its border with the North, while President Trump announced he'd received Kim Jong-un's message 'loud and clear' and repeated that 'all options are on the table'.

His words didn't have the impact of that 'fire and fury' speech aimed at Pyongyang earlier this month, but the threat is implied. Which begs the question: just how long can the White House go on sabre-rattling?

Washington had persuaded itself that Kim was backing down. The U.S. Secretary of State, Rex Tillerson, believed that China's willingness to back new, tougher UN economic sanctions against its old ally were a restraint on Pyongyang.

But the latest launch not only flouts Japan's sovereignty with utter contempt, it confirms that Kim Jong-un has missiles with the potential to reach a wide arc of the Western Pacific, including U.S. bases such as Guam. Major Chinese cities are also within range.

A small, poor but reckless and belligerent nuclear-tipped country is testing not only Donald Trump and the United States, but the UN Security Council, which met in emergency session yesterday, too.

It is one thing for global leaders to say 'all options are on the table', quite another to choose a line of action that stops North Korea without setting off a nuclear war in East Asia — and, quite probably, World War III.

But at some point, President Trump — and remember, there are four generals in his top team now — must act to teach North Korea and any other rogue regime with nuclear capabilities or aspirations not to push it too far.

The Kim dynasty has invested everything it has to obtain nuclear weapons to safeguard its regime. This latest launch is yet another warning that it will stop at nothing to stay in power.

To counter such a high-risk mentality, some in Washington are beginning to think the unthinkable. But for the moment, other options that stop short of triggering Armageddon are more likely.