Presiden Donal Trump Tiba di Singapura Jelang KTT dengan Kim Jong Un
Donald Trump Arrives in Singapore Five Hours for Historic Summit
Editor : Ismail Gani
Translator : Novita Cahyadi

PUBLISHED: Minggu, 10 Juni 2018 , 22:40:00 WIB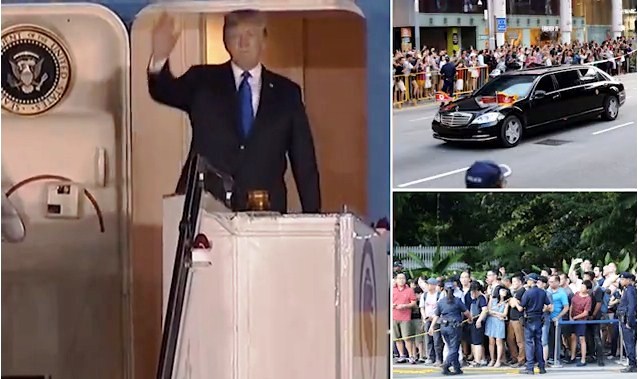 Setelah 21 jam perjalanan yang melelahkan termasuk pengisian di Yunani, Trump mendarat di pangkalan udara militer Paya Labar Air Base, Minggu malam (Foto2: MailOnline)
SETELAH menggagas dirinya sebagai negosiator terbesar di dunia dengan kemampuan yang tak tertandingi untuk meningkatkan posisi tawar dengan Korea Utara, Donald Trump akan melakukan ´skakmat´ pekan ini sebagai salah satu keputusan penting dari kesepakatan berisiko tinggi: menundukkan nuklir Korea Utara.
Presiden AS tiba di Singapura hari ini untuk pembicaraan yang dapat mengubah jalannya sejarah dan memberinya Hadiah Nobel Perdamaian, jika berhasil meyakinkan negara yang paling terisolasi di dunia untuk mengakhiri perlombaan senjata paling mematikan bagi umat manusia.
Setelah 21 jam perjalanan yang melelahkan termasuk pengisian di Yunani, Trump mendarat di pangkalan udara militer Paya Labar Air Base, Minggu malam.
Dia melambaikan tangan kepada pers yang menantinya, dan mengatakan kepada wartawan di dekatnya dia merasa ´sangat baik´ tentang pertemuannya pada Selasa pagi waktu setempat dengan Kim Jong-un.
Setelah percakapan singkat dengan pejabat pemerintah Singapura yang datang untuk menyambutnya, Presiden AS itu bergegas masuk dalam iring-iringan mobilnya untuk mengakhiri malam pertamanya di Singapura dalam privasi hotel bintang limanya.
Besok, ia bertemu dengan Perdana Menteri Singapura Lee Hsien Loong, mengikuti jejak Kim, yang duduk bersama kepala negara tuan rumah KTT hari ini.
"Kita akan meraih sukses besar," kata Presiden Trump dengan berani memprediksikan pada Kamis di sebuah konferensi pers Gedung Putih tentang hasil pertemuannya seperti dilansir MailOnline.
´Dulu, ini bisa diselesaikan dengan cara yang jauh lebih mudah dan jauh lebih berbahaya. Tapi ternyata tidak. Jadi saya akan menyelesaikannya, dan kami akan menyelesaikannya.´
AFTER PITCHING himself as the world´s greatest negotiator with an unmatched ability to drive a bargain, Donald Trump will have his shot this week at one of the white whales of high-stakes deals: a North Korean nuclear accord.
The U.S. president arrived in Singapore today for talks that could change the course of history and earn him the Nobel Peace Prize, if successful in convincing the world´s most isolated nation to end its pursuit of mankind´s most deadly weapons.
After a grueling 21 hours of travel that included a refueling stop on a Greek island, Trump touched down at Paya Labar Air Base on Sunday evening.
He gave a short wave to the press, and told journalists nearby he was feeling ´very good´ about his meeting on Tuesday morning local time with Kim Jong-un.
Following a short conversation with Singapore government officials sent to greet him, the U.S. president sped off in his motorcade to conclude his first evening in Singapore in the privacy of his five-star hotel.
Tomorrow, he meets with Singapore Prime Minister Lee Hsien Loong, following in the footsteps of Kim, who sat down with the head of the summit´s host nation today.
´We´re going to have a great success,´ President Trump boldly predicted on Thursday at a White House news conference of the outcome of his summit.
´A long time ago, this could have been solved in a lot easier manner and a lot less dangerous manner. But it wasn´t. So I´ll solve it, and we´ll get it done.´