Korut Ancam Serang AS, Permintaan Bunker Naik Pesat di Amerika
Nuclear Bunkers Report `Crazy` Surge in Demand across America as Tensions Rise with North Korea
Editor : Ismail Gani
Translator : Novita Cahyadi

PUBLISHED: Rabu, 16 Agustus 2017 , 22:43:00 WIB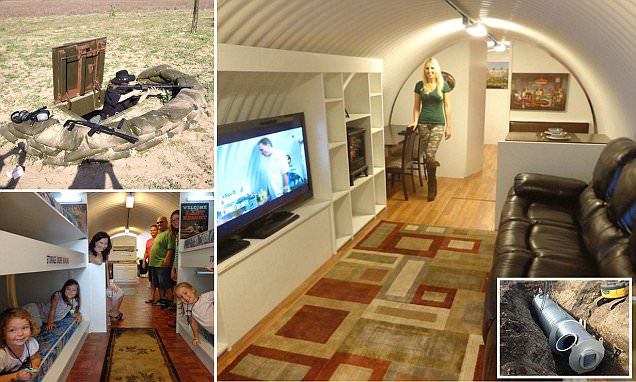 Beberapa kamar memiliki ruang bersama dengan TV layar lebar, beberapa ruang dapur, tempat tidur nyaman (Foto: MailOnline)
PEMILIK perusahaan pembuat tempat berlindung dari serangan bom (bunker) mengaku permintaan konsumen meningkat 'tajam' setelah ketegangan AS dengan Korea Utara meningkat.

Ron Hubbard, presiden dari Atlas Survival Shelters, mengatakan bahwa dia 'tidak pernah mengalami hal ini sebelumnya' ketika semua orang berdatangan untuk memesan.

Perusahaan yang berbasis di Montebello, California - baru-baru ini melaporkan penjualan di North Carolina, Tennessee, Texas, Louisiana, Washington, Oklahoma, Arizona dan California meningkat.

Berbicara kepada Fox 11, katanya: 'Ini semua gara-gara Korea Utara, saling mengolok antara Kim Jong-un dan Donald Trump menjadi berita dunia, maksud saya kedua orang ini membuat ancaman serius,' katanya.

"Kami mencoba memproduksi tempat penampungan secara massal dan benar-benar menyimpannya dalam persediaan."

Harga bunkernya berkisar dari Rp133 juta (US$10.000) hingga Rp1,3 miliar (US$100.000) melebihi harga rumah.

Bunker dibangun di kedalaman enam meter di bawah tanah dan pembeli apabila memilih untuk bisa tinggal di dalamnya sampai satu tahun.

Perusahaannya telah melihat peningkatan perhatian yang tiba-tiba sebelumnya - termasuk saat ISIS berkuasa dan di tengah teori konspirasi bahwa dunia akan berakhir pada 2012 - namun ketakutan di Korea Utara telah mendorong gelombang terbesar.

Sementara di Texas, perusahaan bunker lain - Rising S Shelters - juga telah melihat lonjakan penjualan.

Pemilik Clyde Scott mengatakan: "Saya berani bilang penjualan naik 200 persen. Jadi minggu ini saja kami jual delapan. Biasanya saya hanya jual satu sekitar dua minggu, kami jual sekitar delapan unit per minggu sekarang. Korea Utara adalah satu-satunya alasan kenaikan yang saya lihat. '

Scott mengatakan bahwa bunker terlaris berukuran 3 x 15 meter (10ft x 50ft) harganya sekitar Rp1,5 miliar (US$110.000).

Dia mengatakan bahwa pelanggannya dulu adalah orang-orang Kristen yang fanatik khawatir pemerintah akan melepaskan senjata dan properti mereka tapi sekarang dia melihat basis pelanggan yang lebih beragam.

Perusahaannya dilaporkan pula membangun sebuah bunker untuk Kim dan Kanye West - meskipun ia menolak untuk mengonfirmasi hal itu.

Sementara Hubbard - berbicara dengan Bloomberg - mengatakan pasar Jepang diibaratkan sebagai 'berlari kencang seperti babi liar.'

'[Jepang sebagai pasar] tidak ada untuk saya enam bulan yang lalu, tujuh bulan yang lalu. Ini cukup banyak dimulai saat Kim Jong-un mulai menguji semua rudal balistik jarak jauhnya.'

Di situs Atlas Survival Shelter, berbagai tempat penampungan ditawarkan.

Beberapa kamar memiliki ruang bersama dengan TV layar lebar, beberapa ruang dapur, tempat tidur nyaman dengan linen bertema bendera Texas dan bahkan sebuah terowongan yang dirancang untuk menghalangi sinar gamma yang juga berfungsi ganda sebagai sarang senapan mesin yang bisa dipertahankan.

Bunker yang lebih mahal bahkan termasuk ruang cuci dan sofa kulit seperti dilansir MailOnline.
THE OWNER of a firm that builds bomb shelters has said demand for his products has become 'crazy' in the wake of North Korea's rising nuclear aggression.

Ron Hubbard, the president of Atlas Survival Shelters, said he has 'never seen anything like' the current clamoring for his bunkers.

The company - based in Montebello, California - has recently reported sales in North Carolina, Tennessee, Texas, Louisiana, Washington, Oklahoma, Arizona and California.

Speaking to Fox 11, he said: 'It's all North Korea, the banter going back and forth between Kim Jong-un and Donald trump is making world news, I mean these guys are making serious threats,' he said.

'We're trying to mass produce shelters and actually keep them in stock.'

Prices for his bunkers range from a budget $10,000 option to a luxury $100,000 home away from home.

The shelters are installed 20 feet underground and buyers can, if they choose, stay in them for up to a year.

His firm has seen sudden increases in attention before - including when ISIS came to power and amid conspiracy theories that the world would end in 2012 - but the North Korean scare has prompted the biggest surge yet.

Meanwhile in Texas, another bunker firm - Rising S Shelters - has also seen sales surge.

Owner Clyde Scott said: 'I would say sales are up 200 per cent. So this week alone we sold eight. I normally sell about two a week, we are selling about eight a week right now. North Korea is the only reason for the increase I've seen.'

Scott said is bestseller is a 10ft by 50ft bunker costing about $110,000.

He said his customers used to be ring-wing Christians worried about the government coming to take away their guns and property but now he's seeing a more diverse customer base.

His company reportedly built a bunker for Kim and Kanye West - though he refuses to confirm it.

Meanwhile Hubbard - speaking to Bloomberg - said the Japanese market is 'going wild hog right now'.

'[Japan as a market] was non-existent for me six months ago, seven months ago. It pretty much started when Kim Jong-un started testing all of his long range ballistic missiles.'

On the Atlas Survival Shelters website, a wide variety of shelters are offered.

Some feature a common room with a widescreen TV, plenty of kitchen space, comfortable beds with Texas flag-themed linen and even a tunnel designed to block gamma rays which also doubles up as a defensible machine gun nest.

The more expensive bunkers even include a laundry room and leather sofas.