Kim Jong-un Gertak AS dengan Rudal Terbaru Mampu Jangkau LA
North Korean Dictator Personally Inspects His Latest Long-range Weapon
Editor : Ismail Gani
Translator : Novita Cahyadi

PUBLISHED: Senin, 15 Mei 2017 , 23:27:25 WIB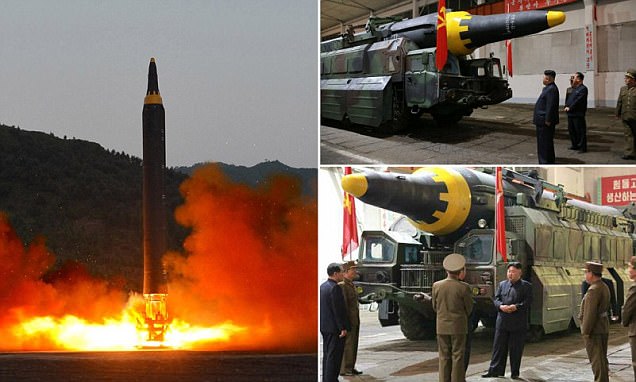 Setelah uji coba tersebut dianggap sukses, Kim terlihat tertawa dan merayakannya dengan para pejabat tinggi sebelum bersumpah untuk melakukan lebih banyak uji coba nuklir dan rudal (Foto2: MailOnline)
KIM JONG-UN tengah memeriksa rudal balistik barunya yang dia klaim dapat membawa hulu ledak nuklir sebelum menjalani uji coba pada Minggu.

Diktator Korea Utara tersebut menyiapkan senjata mematikan, yang dinamai Hwasong-12, di lokasi peluncurannya di wilayah Kusong dalam sejumlah foto yang diterbitkan oleh media pemerintah.

Setelah uji coba tersebut dianggap sukses, Kim terlihat tertawa dan merayakannya dengan para pejabat tinggi sebelum bersumpah untuk melakukan lebih banyak uji coba nuklir dan rudal.

Rudal tersebut menempuh perjalanan lebih dari 400 mil sebelum jatuh di Laut Jepang di lepas pantai Rusia, menurut Kantor Berita Korea Utara (KCNA).

Hwasong-12, rudal balistik jarak menengah, memiliki jangkauan terpanjang dari sejumlah senjata yang berhasil diuji oleh rezim Kim, pejabat pemerintah memperkirakan jangkauan maksimumnya mencapai 2.500 mil.

Kim mengklaim bahwa senjata rudal terbaru tersebut mampu mencapai daratan Amerika Serikat dalam 'jangkauan serangan terjauh' meskipun Los Angeles berada sekitar 5.000 mil dari lokasi peluncuran yang berlangsung pada Minggu.

Korea Utara mencoba mengembangkan rudal balistik antar benua, yang diberi nama Taepodong, meski hasil uji coba belum dapat diverifikasi.

Kim dikabarkan telah merangkul para pejabat pemerintah di bidang penelitian roket setelah peluncuran tersebut, dikatakan bahwa mereka bekerja keras untuk mencapai target luar biasa, seperti dilaporkan media pemerintah.

Korea Utara menembakkan rudal balistik yang mendarat di laut dekat Rusia pada Minggu dalam sebuah peluncuran yang disebut Washington sebagai pesan ke Korea Selatan, beberapa hari setelah presiden baru dilantik dan menyebut rencana untuk merangkul melibatkan Pyongyang dalam dialog bilateral.

Menurut KCNA: "Uji coba ditujukan untuk memverifikasi spesifikasi taktis dan teknologi dari roket balistik yang baru dikembangkan yang mampu membawa hulu ledak nuklir berat ukuran besar."

"Jika AS dengan canggung mencoba memprovokasi Korea Utara, maka hal itu tidak akan luput dari bencana terbesar dalam sejarah, kata Kim, yang sangat memperingatkan AS agar tidak mengabaikan atau salah menilai kenyataan bahwa wilayah operasi daratan dan Pasifik berada dalam jangkauan Korea Utara. Jangkauan serangan rudal dan kemampuan ledak yang kuat untuk melakukan serangan balasan ke ASbahwa ia memiliki semua sarana kuat untuk melakukan serangan balasan," kata KCNA seperti dilansir MailOnline.
KIM JONG-UN has been pictured inspecting his new ballistic missile which he claims can carry a nuclear warhead before it was test-fired on Sunday.

The dictator gave the projectile, dubbed Hwasong-12, a once-over at its launch site in the Kusong region in images published by state media.

After the launch was deemed a success, Kim was seen laughing and celebrating with officials before vowing to carry out more nuclear and missile tests.

The missile travelled more than 400 miles before crashing into the Sea of Japan just off the Russian coast, according to the state-backed North Korean Central News Agency and South Korean analysts.

Hwasong-12, an intermediate-range ballistic missile, has the longest range of any weapon successfully tested by Kim's regime, with officials estimating it has a maximum range of 2,500 miles.

Kim claims the new weapon puts the United States mainland within 'sighting range for strike', though Los Angeles is located around 5,000miles from the launch site used on Sunday.

North Korea is attempting to develop inter-continental ballistic missiles, named Taepodong, though a successful test of one has yet to be verified.

Kim was said to have hugged officials in the field of rocket research after the launch, saying that they worked hard to achieve a great thing, state media reported.

The North fired the ballistic missile that landed in the sea near Russia on Sunday in a launch that Washington called a message to South Korea, days after its new president took office pledging to engage Pyongyang in dialogue.

According to KCNA: 'The test-fire aimed at verifying the tactical and technological specifications of the newly developed ballistic rocket capable of carrying a large-size heavy nuclear warhead.'

'If the U.S. awkwardly attempts to provoke the DPRK, it will not escape from the biggest disaster in the history, Kim said, strongly warning the U.S. should not to disregard or misjudge the reality that its mainland and Pacific operation region are in the DPRK's sighting range for strike and that it has all powerful means for retaliatory strike,' KCNA said.