Penentang Kemerdekaan Katalan di Barcelona Beri Salut a la Fasis Hitler
Thousands March at a Rally after Spain`s Catalonia Referendum
Editor : Ismail Gani
Translator : Novita Cahyadi

PUBLISHED: Minggu, 08 Oktober 2017 , 23:55:00 WIB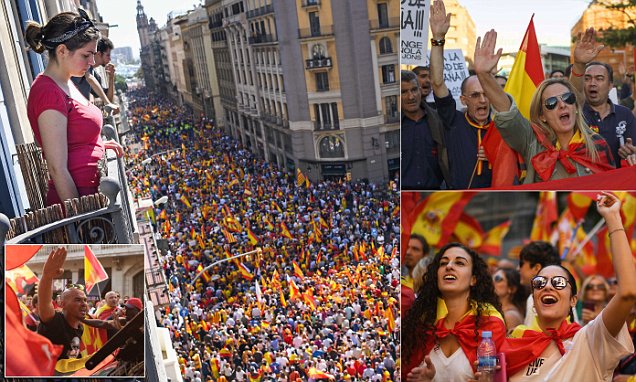 Foto-foto mengejutkan yang terungkap kemarin memperlihatkan pengunjuk rasa anti kemerdekaan Katalan yang dimotori Falange membawa bendera Spanyol seraya memberikan penghormatan a la fasis (Foto2: MailOnline)
RIBUAN pengunjuk rasa pendukung persatuan Spanyol melakukan demonstrasi besar-besaran di pusat kota Katalan, mereka berkumpul untuk menentang referendum kemerdekaan pekan lalu.

Mereka memadati jalan-jalan di ibukota Katalan, Barcelona - yang kondisinya kian memanas karena ketegangan sejak pemungutan suara - para demonstran mengibarkan bendera Spanyol, meneriakkan 'Viva España' dengan meneriakkan yel-yel seraya bernyanyi diikuti tepuk tangan yang bergema di sepanjang jalanan kota.

Pemimpin separatis memohon pendukung mereka untuk tinggal di rumah di tengah kekhawatiran bahwa demonstrasi besar dapat saja berubah menjadi tindakan anarkis, mengingat polisi Spanyol dikhawatirkan membiarkan tindakan anarkis.

Ada kekhawatiran meluasnya aksi anarkis yang berkembang menjadi tindak kerusuhan setelah 10 kelompok sayap Kanan mengonfirmasi tentang unjuk rasa besar di Barcelona tengah.

Kelompok yang berpartisipasi seperti Falange, partai fasis era Franco, dan Demokrasi Nasional dari kelompok sayap Kanan yang dikenal dengan retorika ekstrim dan tindak anarkis.

Foto-foto mengejutkan yang terungkap kemarin memperlihatkan pengunjuk rasa anti kemerdekaan Katalan yang dimotori Falange membawa bendera Spanyol seraya memberikan penghormatan a la fasis.

Sabtu malam, otoritas Katalan yang mulai kewalahan melarang pengunjuk rasa membawa simbol-simbol fasis yang mengingatkan nasionalis radikal Spanyol bahwa tindakan agresi tidak akan ditolerir seperti dilansir MailOnline.
THOUSANDS of unionist protestors are staging a massive show of force in the Catalan heartlands in defiance of last week's independence referendum.

Dominating the streets of Catalonia's capital, Barcelona - which has been simmering with tension since the vote - demonstrators waved Spanish flags, chanted 'Viva España' and broke into coordinated waves of applause that echoed along the broad avenues of the city.

Separatist leaders begged their supporters to stay at home amid concerns that the huge march could easily descend into violence, justifying even more brutal crackdowns on the region by Madrid.

There were further fears of unrest after at least 10 feared far-Right groups confirmed that they were attending the massive demonstrations in central Barcelona.

This included Falange, the Franco-era fascist party, and the Democracia Nacional, a far-Right organisation known for its extreme rhetoric and violence.

Explosive pictures from yesterday's anti-independence protest in Madrid appeared to show a number of Falange thugs lining up by the Spanish colours, giving a fascist salute (pictured inset left).

Last night, desperate Catalan authorities banned protestors from carrying fascist symbols in a barely-concealed warning to radical Spanish nationalists that aggression would not be tolerated.