Rusia Mulai Serangan Udara ke Suriah, Targetnya Milisi Pemberontak Bukan ISIS
Russia Begins Air Strikes in Syria but Targets Anti-government Rebels Instead of ISIS
Editor : Ismail Gani
Translator : Novita Cahyadi

PUBLISHED: Kamis, 01 Oktober 2015 , 03:14:14 WIB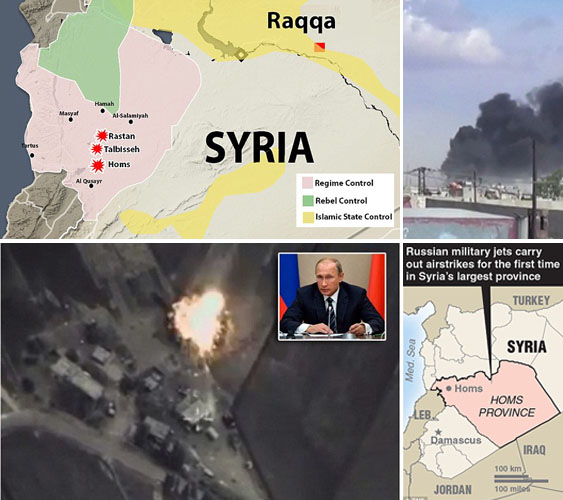 Serangan militer membuat gusar Washington yang menuduh Moskow mendestabilisasi wilayah tersebut lebih jauh - AS tampaknya hanya mendapat info tentang waktu serangan. Setidaknya 27 warga sipil tewas dalam serangan (Foto2: MailOnline)
RUSIA memulai serangan udara di Suriah setelah memperingatkan AS untuk memindahkan pesawatnya ... tapi targetnya adalah pemberontak anti pemerintah dan bukan ISIS - termasuk CIA yang mendukung para pemberontak setelah menerima rudal anti tank Amerika.

Moskow mengawali serangannya pada tiga provinsi untuk mendukung Presiden Assad. Namun seluruh wilayah target kini dikuasai para pemberontak moderat yang didukung oleh pasukan koalisi pimpinan AS.

Serangan militer membuat gusar Washington yang menuduh Moskow mendestabilisasi wilayah tersebut lebih jauh - AS tampaknya hanya mendapat waktu serangan. Setidaknya 27 warga sipil tewas dalam serangan, kata kelompok pemantau.

Jet Rusia memulai serangan udara di Suriah setelah tampaknya hanya memberikan AS waktu satu jam untuk memindahkan pesawat dan pejabat dari wilayah yang menjadi target serangan.

Kementerian Pertahanan Rusia mengatakan telah mengerahkan 20 kali penerbangan ke Suriah hari ini yang memicu keprihatinan bahwa Rusia hanya menargetkan pemberontak anti-pemerintah, banyak dari mereka didukung oleh pasukan koalisi, bukan kawasan yang dikuasai ISIS yang menjadi target.

Laporan menunjukkan bahwa CIA - mendukung pasukan pemberontak anti pemerintah yang menerima misil AS juga menjadi target serangan.

Sebuah kelompok pemberontak Suriah yang didukung Barat menegaskan bahwa setidaknya salah satu pejabat terkemuka telah tewas dalam serangan udara di pusat provinsi Homs.

Kelompok itu mengatakan bahwa Iyad al-Deek - seorang perwira angkatan darat Suriah yang membelot setelah revolusi Suriah berubah menjadi perang pada 2011 - meninggal dalam serangan udara di utara pedesaan Homs, seperti dilansir MailOnline.
RUSSIA begins air strikes in Syria after warning the US to remove its planes... but targets anti-government rebels instead of ISIS - including 'CIA-backed rebel group receiving American anti-tank missiles'

Moscow has started blitzing three provinces in support of President Assad. But all the areas targeted are held by moderate rebels backed by coalition.

Strikes have infuriated Washington who accused Moscow of destabilising the region even further - U.S. apparently only given hour notice of strikes. At least 27 civilians had been killed in the strikes, says monitoring group.

Russian jets have begun airstrikes in Syria after apparently only giving the U.S. an hour to remove its planes and officials from the area.

The Russian Defence Ministry said it carried out about 20 flights over Syria today but concerns were raised that they were only targeting anti-government rebels, many of whom are backed by the U.S.-led coalition, instead of ISIS-held areas.

Reports suggest that a CIA-vetted Syrian Rebel group that was receiving U.S. missiles was also among the targets.

A Western-backed Syrian rebel group confirmed that at least one of its leading officers had been killed in the airstrikes in the central Homs province.

The group said that Iyad al-Deek - an officer in the Syrian army who defected soon after the Syrian revolution turned into a war in 2011 - died in an airstrike in the rural north of Homs.