Radio Australia Kecam Schapelle Corby Bergaya Selebriti, 175 Ribu Followers Instagram Hengkang
`Who Do You Think You Are, Taylor Swift or Something?` Radio Host Slams Corby for Acting Like a Celebrity
Editor : Ismail Gani
Translator : Novita Cahyadi

PUBLISHED: Rabu, 31 Mei 2017 , 03:02:07 WIB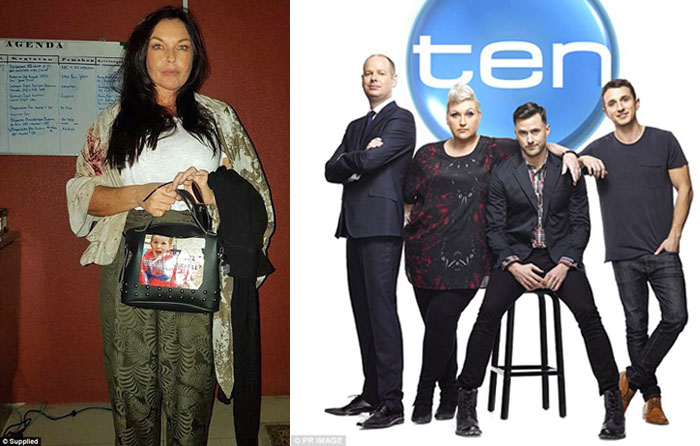 Schapelle Corby (kiri) dan penyiar radio Meshel Laurie (ke-2 kiri) di foto kanan bersama mitranya di Radio Ten Australia (Foto2: MailOnline)
PENYIAR radio Meshel Laurie mengecam keras lagak dan gaya Schapelle Corby dan keluarganya yang bertingkah laku layaknya selebriti.

Meshel mengejek liputan media tentang narapidana penyelundup narkoba yang kembali ke Australia dalam sebuah segmen radio Matt & Meshel KIIS101.1 pada Selasa pagi.

Mitranya Matt Tilley, mengecam sikap negara memperlakukan Corby layaknya selebriti kondang Australia.

"Negara ini, saya cuma bisa heran," katanya.

"Jika kita akan mengeluarkan banyak masalah dari Schapelle, yang menyelundupkan narkoba ke Bali dan masuk penjara dan sekarang dia pulang. Siapa peduli?'

Dia juga mengecam keluarganya karena bertindak sombong saat menghadapi wartawan, merujuk pada sebuah video Corby yang diunggah di Instagram.

Dia merujuk pada cuplikan televisi yang disiarkan langsung tentang dua van hitam di jalan tol yang kehilangan jejak setelah terkecoh oleh Corby setelah pulang ke Australia.

'Video dia dan [adiknya] Mercedes, bikin dia ge-er, 'kita semua menonton di TV dan semua orang mengira Anda berada di mobil itu tapi sebenarnya kita di sini,' kata Meshel.

"Maksudku, menurutmu siapa dirimu? Anda pikir Anda Taylor Swift atau siapa, mengepalkan tangan di kamar hotel Anda?

"Anda adalah pedagang obat terlarang yang keluar dari penjara. Siapa peduli?'

Dia menambahkan: 'Ayo, Australia, tumbuh dewasa. Apakah kita benar-benar sedih bahwa sekarang kita akan menjadikan Schapelle Corby sebagai selebriti?

'Sudahkah kita kehabisan orang berbakat di Bachelor? Tidak bisakah kita mendapatkan selebriti yang tepat lagi, orang-orang yang berbakat? '

Kecaman tersebut membuat jumlah followers di Instagram Colby yang dalam beberapa hari hampir mencapai 175.000 - dan mereka kemudian memilih unfollow alias meninggalkan sang mantan narapidana.

Dan Meshel bukan satu-satunya yang lelah dengan liputan deportasi Corby ke Australia.

Hari ini pembawa acara Karl Stefanovic berbicara tentang bagaimana keluarga Corby membuat media terlihat seperti 'idiot'.

"Saya sadar berminat, tapi mengapa oh mengapa oh mengapa?" katanya pada acara Senin pagi

Corby menghindari wartawan dalam 48 jam pertamanya di tanah kelahiran dan video klip di halaman Instagram-nya diyakini merupakan pertama kalinya dia menunjukkan dirinya sejak dia kembali ke Australia seperti dilansir MailOnline.
RADIO host Meshel Laurie has slammed Schapelle Corby and her family for acting like celebrities.

Meshel let rip about the media circus surrounding the convicted drug smuggler's return to Australia in a segment on KIIS101.1's Matt & Meshel show on Tuesday morning.

Speaking to co-host Matt Tilley, she bemoaned the state of Aussie celebrities.

'This country, I can't even,' she said.

'If we're going to make such a big deal out of Schapelle, who smuggled drugs into Bali and went to jail and now she's home. Who cares?'

She also blasted her family for acting smug about evading reporters, referencing a video Corby posted on Instagram.

It shows her watching live television footage of two black vans on a motorway leading media on a false trail after she flew in from Bali.

'The video of her and [sister] Mercedes, so up herself because, 'we're all watching the video on TV and everyone thinks you're in those cars but really we're here',' Meshel said.

'I mean, who do you think you are? You think you're Taylor Swift or something, big balling it in your hotel room?

'You're a convicted drug trafficker who got out of jail. Who cares?'

She adds: 'Come on, Australia, grow up. Are we really that sad that we're now going to make Schapelle Corby a celebrity?

'Have we run out of molls on The Bachelor? Can't we get proper celebrities again, people who are talented?'

Her tirade leads her co-host to marvel at the amount of Instagram followers Corby has racked up in a few days – nearly 175,000 – and then promptly unfollow her.

And Meshel isn't the only one tired of the coverage Corby's deportation to Australia is getting.

Today show host Karl Stefanovic spoke about how her family had made the media look like 'idiots.'

'I realise there's interest, but why oh why oh why?' he said on Monday morning's show.

Corby eluded journalists in her first 48 hours back on home soil and the clip on her Instagram page is believed to be the first time she has shown herself publicly since her return to Australia.