Liburan Termahal di Dunia! Raja Salman Habiskan US$100 Juta Berlibur Satu Bulan
The World`s Most Expensive Holiday! How Saudi King Blew $100million on Month-long Summer Break
Editor : Ismail Gani
Translator : Novita Cahyadi

PUBLISHED: Rabu, 23 Agustus 2017 , 05:51:00 WIB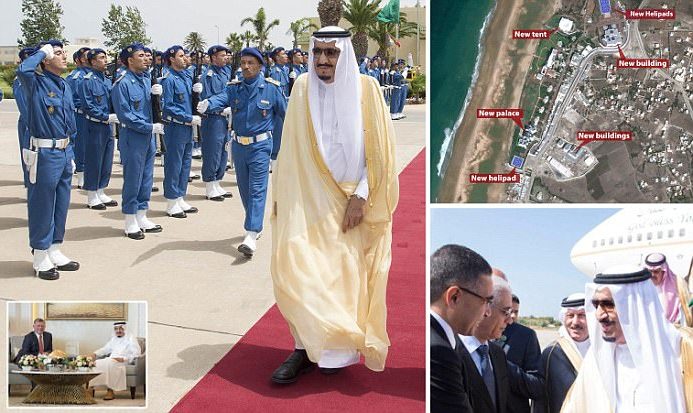 Foto2: MailOnline
DIA MEMIMPIN di sebuah kerajaan di mana gaji rata-rata sekitar $33.000, tapi itu tidak menghentikan raja Arab Saudi menghamburkan uang $100 juta saat berlibur.

Raja Salman, 81, bepergian dengan gaya ke tempat liburan favoritnya, Tangier, di utara barat Maroko, bersama dengan rombongan lebih dari 1.000 orang, dengan memesan hotel mewah.

Raja (digambarkan tiba di Tangier, kanan bawah, dan bersantai di pelabuhan Maroko, inset) tinggal di istana musim panas seluas 74 hektar, salah satu dari sekian banyak properti di seluruh dunia, yang menawarkan restoran mewah, dan pemandangan laut yang mengesankan.

Biaya libur selama selama sebulan termasuk untuk lebih dari 200 mobil. Foto satelit dari bulan Oktober 2016 menunjukkan sejumlah perbaikan dan renovasi yang dibuat Raja pada tempat peristirahatan di Maroko (kanan atas).

Kini ada tiga helipad, beberapa bangunan tambahan dan tenda seukuran sirkus besar. Itu terjadi setelah Raja Salman (digambarkan di Tangier pada 2016, tengah) membuat keputusan mengejutkan untuk menunjuk anaknya, Mohammed bin Salman, sebagai putra mahkota dan pewaris takhta pada Juni tahun ini.

Raja membuat perombakan kejutan dan menyingkirkan keponakannya, Mohammed bin Nayef, sebagai putra mahkota dan kemudian memilih anaknya yang berusia 31 tahun sebagai pewaris tahta seperti dilansir MailOnline.
HE REIGNS over a kingdom where the average salary is around $33,000 (£25,000), but that didn't stop Saudi Arabia's king splashing out $100million on holiday.

King Salman, 81, (left) travelled in style to his favourite holiday spot, Tangier, in the north west of Morocco, along with an entourage of more than 1,000, who were booked into luxury hotels.

The king (pictured arriving in Tangier, bottom right, and relaxing in the Moroccan port, inset) stayed in his 74-acre summer palace, one of his many properties around the world, which boasts lavish restaurants, and impressive views of the sea.

Expenses during the month-long break included more than 200 cars. Satellite images from October 2016 showed a number of upgrades the King made to his retreat in Morocco (top right).

It now has three helipads, several extra buildings and a tent the size of a circus big top. It comes after King Salman (pictured in Tangier in 2016, centre) made the shock decision to appoint his son, Mohammed bin Salman, as crown prince and heir to the throne in June this year.

The King made a surprise reshuffle and removed his nephew, Mohammed bin Nayef, as crown prince in favour of his 31-year-old son.