Presiden Prancis Selingkuh dengan Aktris Julie Gayet
French Magazine Reveals Hollande `Affair` with Actress Julie Gayet
Editor : Ismail Gani
Translator : Novita Cahyadi

PUBLISHED: Sabtu, 11 Januari 2014 , 05:07:44 WIB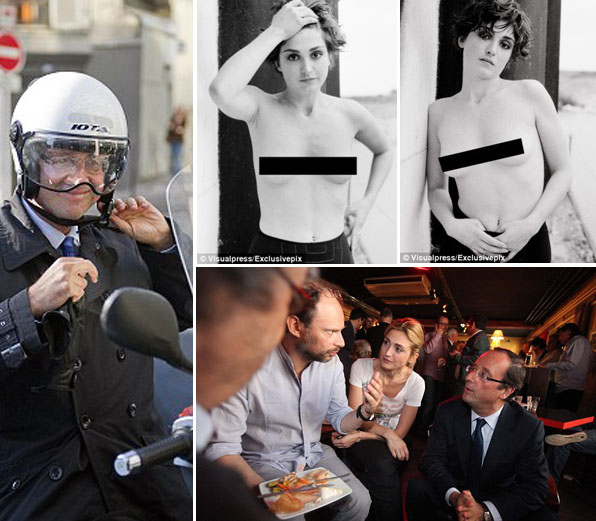 Presiden Prancis Francois Hollande gemar mengendarai skuter (kiri) Julie Gayet dikenal sebagai aktris Prancis yang gemar foto bugil (atas) dan Julie Gayet (ke-2 kiri bersama Holande (Foto2: Mail Online)
Paris (B2B) - Malajah Prancis "Closer" melaporkan bahwa Presiden Francois Hollande menjalin hubungun gelap dengan aktris Julie Gayet.

"Closer" memperkuat laporannya ini dengan sejumlah foto, setelah rumor tersebut menerpa Prancis selama berbulan-bulan.

Edisi Jumat majalah ini menurunkan laporan khusus tujuh halaman mengenai dugaan perselingkuhan presiden berusia 59 tahun itu di bawah judul "Francois Hollande dan Julie Gayet - cinta rahasia sang presiden".

Presiden Prancis segera mengadukan tabloid mingguan ini dengan mempertimbangkan langkah hukum untuk apa yang dia sebut serangan terhadap hak privasi.

Membenarkan laporan edisi onlinenya, "Closer" melaporkan bahwa Hollande rutin mengendarai sekuternya melalui Paris untuk menghabiskan malam bersama selingkuhannya yang berusia 41 tahun itu.

"Kira-kira Hari Tahun Baru, sebuah helm kepala negara bersama sang aktris di apartemennya, di mana dia biasa menghabiskan malamnya," tulis "Closer" dalam lamannya.

Hollande terang saja mengutuk laporan ini sebagai "serangan terhadap hak privasi" yang dia sebut sama dengan malam warga negara lainnya.

Melalui keterangan persnya seperti dilansir Yahoo News, Hollande mengatakan bahwa dia tengah mempertimbangkan untuk mengambil langkah hukum melawan mingguan tersebut.

Mingguan terkemuka L'Express bulan lalu pernah memberitakan bahwa para pengawal istana presiden semakin mengkhawatirkan "petualangan" Hollande.

"Closer" melaporkan bahwa foto-foto yang ada membuat para pengawal presiden prihatin setelah melihat kepala negara dikawal hanya oleh seorang pengawal pribadi memacu sekuternya membelah Paris menuju flat Julie Gayet.

"Si pengawal itu bahkan membawakan (kue) croissant", tulis Closer.

Hollande hidup bersama dengan Valerie Trierweiler, wartawati yang membuatnya meninggalkan pasangannya politisi sosialis Segolene Royal yang adalah ibu untuk empat anak Hollande.

Jika kabar ini benar, maka hubungan Hollande dengan Gayet hanya makin menguatkan perselingkuhan yang kerap menimpa para presiden dan politisi Prancis.

Mantan presiden Jacques Chirac diyakini memiliki banyak mitra selingkuh, seperti juga pendahulunya Francois Mitterrand yang bahkan punya seorang anak perempuan dari pasangan selingkuhnya.

Valery Giscard d'Estaing juga digambarkan sebagai tukang main perempuan. Dia bahkan menerbitkan buku yang diantaranya berisi perselingkuhannya dengan Putri Diana dari Inggris.

Media Prancis menghadapi UU yang keras dalam soal privasi, namun Prancis sendiri memang toleran terhadap perselingkuhan para pemimpinnya sehingga tak pernah menurunkan popularitas para pemimpin.

Sebuah hasil survey yang dirilis Kamis atau sebelum laporan tabloid Prancis ini menunjukkan bahwa hanya 23 persen publik yang bersuara positif untuk pencapaian Hollande sebagai presiden.
Paris - French magazine Closer on Friday said President Francois Hollande was having an affair with actress Julie Gayet, promising to back its claim with photographs after months of swirling rumours.

The weekly tabloid's website said its Friday print edition would feature seven pages of revelations and pictures on the 59-year-old president's alleged relationship with Gayet.

Closer, echoing reports published on various websites in recent days, said Hollande routinely drives through Paris on his scooter to spend the night with his 41-year-old mistress.

"Around New Year's Day, a helmeted head of state joined the actress at her apartment, where he has got into the habit of spending the night," Closer wrote on the website, which carries a blurred picture of the cover that appears to show Hollande.

The French presidency did not immediately respond to AFP's request for a comment.

Respected news weekly L'Express had last month reported that the presidential palace's security services were increasingly concerned by Hollande's frequent "escapades".

Closer said the pictures raise security concerns by showing that the head of state is accompanied by only one bodyguard when he treks halfway across Paris to Gayet's flat.

The bodyguard "even brings the croissants", Closer said.

Hollande lives with his partner Valerie Trierweiler, a journalist for whom he left fellow Socialist politician Segolene Royal, the mother of his four children.

Gayet, who appeared in one of Hollande's 2012 election commercials, filed a complaint in March over rumours of the affair which she said were a breach of privacy.

Gayet is an established television and cinema character actress who has appeared in more than 50 films. She is the mother of two children.

Closer's revelations set social media alight, with several politicians speculating that pressure would mount on Hollande to officially comment.

If confirmed, Hollande's relationship with Gayet would perpetuate a long French tradition of philandering presidents and senior politicians.

Jacques Chirac is believed to have had many extra-marital conquests, as was his predecessor Francois Mitterrand, who even had a daughter born to a mistress.

Valery Giscard d'Estaing was also described as an incorrigible womaniser. He even hinted in a recent book at an affair with Princess Diana.

The French are known for being tolerant of their leader's gallivanting, which has often proved to have little or no negative impact on popularity ratings.