Nato Kerahkan Kekuatan Militer Terbesar di Eropa sejak Perang Dingin
West Responds with Biggest Show of Force Since the Cold War
Editor : Ismail Gani
Translator : Novita Cahyadi

PUBLISHED: Jum'at, 28 Oktober 2016 , 06:50:00 WIB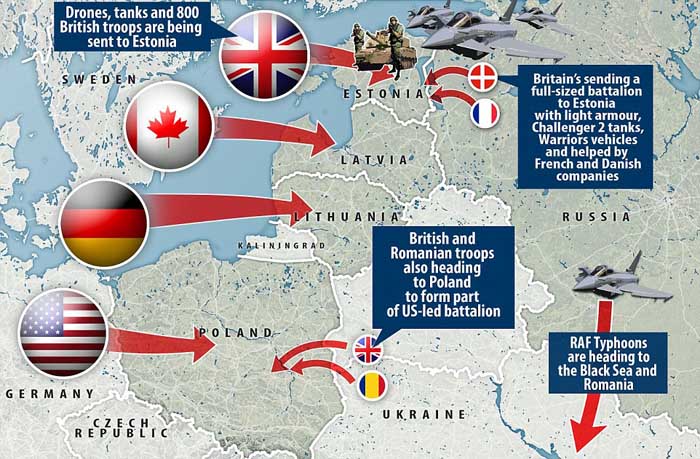 Perancis, Denmark, Italia dan sekutu lainnya segera bergabung pada empat kelompok kekuatan militer yang dipimpin oleh Amerika Serikat, Jerman, Inggris dan Kanada menuju Polandia, Lithuania, Estonia dan Latvia (Foto & Data: MailOnline)
KEKUATAN militer lapis baja termasuk 800 tentara Inggris akan dikirim ke Estonia selama enam bulan pengerahan pasukan hingga Mei mendatang. Estonia diharapkan lebih tenang atas kehadiran tentara anggota Nato untuk siaga penuh. Langkah tersebut mengantisipasi ambisi militer Putin yang meluncurkan latihan pertahanan nuklir di Rusia dan mengembangkan lebih banyak kapal perang, yang diklaim Kremlin dapat ´menghancurkan wilayah seluas Prancis´.

Perancis, Denmark, Italia dan sekutu lainnya segera bergabung pada empat kelompok kekuatan militer yang dipimpin oleh Amerika Serikat, Jerman, Inggris dan Kanada menuju Polandia, Lithuania, Estonia dan Latvia, didukung pasukan militer mulai dari infanteri lapis baja hingga pesawat tanpa awak (drone).

Ketegangan antara Rusia dan Barat telah meningkat karena pengeboman membabi buta oleh Moskow terhadap warga sipil di Aleppo.

Presiden Putin mengirim delapan armada kapal perang Rusia melalui Selat Inggris untuk mendukung serangan militer di kota Suriah yang terkepung.

Namun kemarin, menyusul tekanan dari sekutu Nato, Spanyol menarik izin bagi kapal-kapal Rusia untuk mengisi bahan bakar karena Moskow tidak mampu menjamin kapal perangnya tidak akan digunakan untuk mengebom Suriah.

Lev Gudkov, kepala kelompok jajak pendapat Rusia Levada-Center, mengatakan sebagian besar bangsanya ´percaya bahwa Perang Dunia Ketiga telah dimulai´.

Dia menambahkan: "Sekarang kami masih dalam tahap perang dingin, yang mungkin atau mungkin tidak berubah menjadi perang panas.´

Sebuah video muncul kemarin yang memperlihatkan pekerja darurat Rusia mengenakan pakaian pelindung dan masker gas sebagai bagian dari latihan menghadapi perang - yang terbesar dalam beberapa dekade.

Putin meminta dibangun segera semacam bunker bawah tanah yang cukup untuk melindungi seluruh penduduk Moskow.

Kedatangan kapal perang tambahan Rusia di Baltik semalam memicu keprihatinan di antara anggota Nato.

Sebuah surat kabar Rusia mengutip sumber militer mengatakan Serpukhov dan Zeleny Dol adalah yang pertama dari lima kapal yang akan digunakan.

Mereka membentuk divisi baru di Kaliningrad, sebuah kantong Rusia di antara Polandia dan Lithuania. Sumber lain mengatakan, kapal dipersenjatai dengan rudal jelajah jarak jauh Kalibr.

´Potensi kisaran penargetan armada ini akan secara signifikan diperluas dalam panggung militer di Eropa utara," kata sumber itu kepada Interfax.

Kementerian Pertahanan Rusia mengatakan awal bulan ini bahwadua kapal sedang dalam perjalanan ke Mediterania, namun menolak untuk mengomentari kabar tersebut.

Nato dan militer Swedia menegaskan dua kapal perang telah memasuki Baltik. ´Angkatan laut Nato sedang memantau kegiatan ini dekat perbatasan kami," kata Dylan White, juru bicara aliansi.

Rudal jelajah pada korvet kelas Buyan-M yang dikenal Nato dengan sebutan Sizzler. Militer Rusia mengatakan mereka memiliki jangkauan tembak minimal 900 mil.

Meskipun varian rudal yang mampu membawa hulu ledak nuklir, kapal-kapal perang Rusia diyakini membawa hulu ledak konvensional.

´Penambahan rudal Kalibr akan meningkatkan jangkauan serangan bukan hanya dari Armada Baltik, tapi pasukan Rusia di kawasan Baltik, hingga lima kali lipat," kata Ben Nimmo, seorang analis pertahanan.

Dia mengatakan pertahanan pesisir Armada Baltik juga akan ditingkatkan dengan sistem rudal darat ke darat, Bastion dan Bal seperti dilansir MailOnline.
ARMOURED force including 800 UK troops will be sent to Estonia for six month deployment next May. They will then be relieved by soldiers from another Nato nation to keep up a continuous presence. It comes as Vladimir Putin has launched nuclear defence drills in Russia and is building more ships. Russia has also unveiled pictures of its largest ever nuclear missile that could ´destroy France-sized area´

France, Denmark, Italy and other allies are expected to join the four battle groups led by the United States, Germany, Britain and Canada to go to Poland, Lithuania, Estonia and Latvia, with forces ranging from armoured infantry to drones

Tensions between Russia and the West have escalated due to Moscow´s indiscriminate bombing of civilians in Aleppo.

President Putin sent a fleet of eight Russian warships through the English Channel to assist the assault on the besieged Syrian city.

But yesterday, following pressure from its Nato allies, Spain withdrew permission for the ships to refuel because Moscow was unable to pledge the vessels would not be used to bomb Syria.

Lev Gudkov, head of the Russian polling group Levada-Center, said most of his countrymen ´believe that the Third World War has begun´.

He added: ´Right now we are still in the cold phase of the war, which may or may not turn into a hot war.´

Footage emerged yesterday of Russian emergency workers wearing protective suits and gas masks as part of their doomsday exercise – the biggest in decades.

Mr Putin has demanded sufficient bomb shelters to protect the entire population of Moscow.

The arrival of extra Russian warships in the Baltic last night sparked concern among Nato members.

A Russian newspaper cited a military source saying the Serpukhov and the Zeleny Dol were the first of five vessels to be deployed.

They are to form a new division in Kaliningrad, a Russian enclave sandwiched between Poland and Lithuania. Another source said the vessels were armed with Kalibr long-range cruise missiles.

´The fleet´s potential targeting range will be significantly expanded in the northern European military theatre,´ the source told Interfax.

Russia´s defence ministry, which said earlier this month the two ships were en route to the Mediterranean, did not respond to a request for comment.

Nato and the Swedish military confirmed the two warships had entered the Baltic. ´Nato navies are monitoring this activity near our borders,´ said Dylan White, the alliance´s spokesman.

The cruise missiles on the Buyan-M class corvettes are known by the Nato code name Sizzler. The Russian military says they have a range of at least 900 miles.

Though variants of the missile are capable of carrying nuclear warheads, the ships are believed to be carrying conventional warheads.

´The addition of Kalibr missiles would increase the strike range not just of the Baltic Fleet, but of Russian forces in the Baltic region, fivefold,´ said Ben Nimmo, a defence analyst.

He said the Baltic Fleet´s coastal defences would also be beefed up with Bastion and Bal land-based missile systems.