Uber Pastikan Sediakan Layanan Taksi Terbang 2020 di Dallas dan Dubai
Uber Says Its Flying Taxis will Take to the Skies in 2020 in Dallas and Dubai
Editor : Ismail Gani
Translator : Novita Cahyadi

PUBLISHED: Rabu, 03 Mei 2017 , 03:17:00 WIB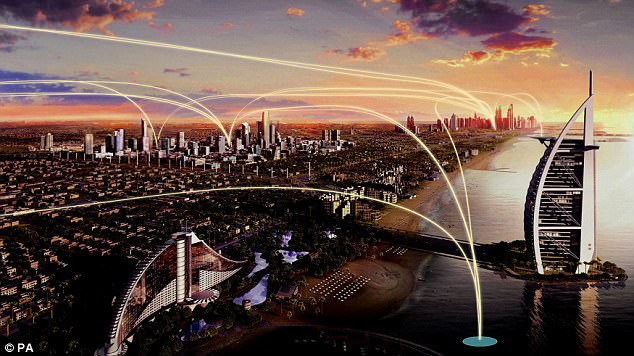 Rencana titik hub layanan taksi terbang Uber di Dubai pada 2020 (Foto: MailOnline)
SETELAH sukses menyediakan layanan taksi dan ojek online, Uber kini mengincar pasar penerbangan singkat, dengan menyediakan taksi udara.

Perusahaan tersebut mengumumkan rencananya untuk mengerahkan taksi terbangnya di Dallas-Fort Worth, Texas dan Dubai pada 2020.

Taksi terbang Uber berupa pesawat kecil, pesawat bertenaga listrik yang lepas landas dan mendarat secara vertikal (VTOL) seperti helikopter dengan emisi nol dan tanpa suara bising saat mengudara di tengah kota.

Taksi terbang akan mengurangi waktu tempuh antara Marina San Francisco ke pusat kota San Jose hanya 15 menit, dibandingkan dengan lebih dari dua jam waktu yang dibutuhkan melalui perjalanan darat, kata Uber.

Dalam operasi skala awal, perusahaan tersebut memungut tarif US$1,32 per mil untuk setiap penumpang (Rp20.000), sedikit lebih tinggi daripada menggunakan UberX untuk jarak yang sama, kata Chief Product Officer Jeff Holden pada ajang Uber Elevate Summit di Dallas.

Dalam jangka panjang, Uber memperkirakan biaya untuk taksi terbang akan jauh lebih murah.

Perusahaan tersebut bekerja sama dengan Hillwood Properties untuk menyediakan empat landasan yang dinamai vertiport - hub VTOL dengan beberapa bantalan lepas landas dan pendaratan, dan infrastruktur pengisian listrik - di Dallas mulai tahun depan, kata Holden.

Uber, dengan nilai perusahaan US$68 miliar, juga menggandeng perusahaan terkemuka seperti Bell Helicopter, Aurora, Pipistrel, Mooney dan Embraer untuk mewujudkan layanan taksi udara.

Uber juga akan bermitra dengan stasiun pengisian daya kendaraan listrik A.S. ChargePoint Inc.

Uber sedang mengerjakan pengembangan charger eksklusif untuk jaringannya.

Uber, yang bekerja sama dengan pemerintah Dubai dalam proyek ini, berharap dapat menyediakan layanan penerbangan penumpang sebagai bagian dari World Expo 2020 di Dubai.

Layanan taksi terbang pertama kali menjalani uji coba pada Oktober lalu, ang diharapkan dapat memanfaatkan pesawat terbang listrik yang dikembangkan oleh beberapa produsen berbeda untuk layanannya, yang akan disebut Uber elevate.

Uber mengklaim bahwa taksi terbangnya dapat melakukan revolusi perjalanan pulang-pergi dengan mobil selama dua jam dan 12 menit menjadi hanya sekitar 15 menit di udara.

Perusahaan tersebut menyebut rencana Uber Elevate dan telah menetapkan 2021 sebagai waktu yang tepat - namun berita terbaru tersebut mengatakan bahwa Uber sudah lebih dulu dari jadwal.

Namun, ide ini jauh berbeda dari apa yang dilihat perusahaan dengan layanan mobil taksi - Pendiri dan CEO Uber Travis Kalanick mengatakan bahwa tujuan perusahaan adalah untuk menggantikan pengemudi manusia dengan kendaraan tanpa sopir secepat mungkin´.

"Seiring waktu, sangat mungkin VTOL akan menyediakan layanan autopilot alias tanpa pilot, meskipun berharap operasi awal akan tetap memerlukan pilot," tulis surat kabar tersebut.

´Memanfaatkan pilot pada periode awal memungkinkan strategi memberi keyakinan dengan bukti statistik untuk kepentingan sertifikasi FAA dan secara perlahan melakukan layanan otomasi.´

Perusahaan tersebut juga memasukkan apa yang diyakini investasi untuk pesawat listrik - tingkat produksi rendah 12 unit per tahun, dan harga pesawat listrik seharga US$1,2 juta per unit seperti dilansir MailOnline.
AFTER upending the taxi market with its ride-hailing service, Uber is now looking to the skies for its next venture - flying taxis.

The firm has announced that it plans to deploy its flying taxis in Dallas-Fort Worth, Texas and Dubai by 2020.

Uber´s flying taxis will be small, electric aircraft that take off and land vertically (VTOL) with zero emissions and quiet enough to operate in cities.

Flying taxis would cut down travel time between San Francisco´s Marina to downtown San Jose to 15 minutes, compared with the more than two hours it takes by road, Uber has estimated.

In an early scale operation, the firm is able to get to $1.32 per passenger mile, a little higher than taking an UberX for a similar distance, Chief Product Officer Jeff Holden said at the Uber Elevate Summit in Dallas.

In the longer term, Uber expects the cost of taking flying taxis to fall below car ownership.

The company is working with Hillwood Properties to make four vertiports - VTOL hubs with multiple takeoff and landing pads, and charging infrastructure - in Dallas starting next year, Holden said.

Uber, valued at $68 billion, has also teamed up with companies such as Bell Helicopter, Aurora, Pipistrel, Mooney and Embraer to make the flying taxis.

It has also partnered with U.S. electric vehicle charging station maker ChargePoint Inc.

Uber is working on developing an exclusive charger for its network.

Uber, which is working with the Dubai government on this project, expects to conduct passenger flights as part of the World Expo 2020 in Dubai.

The ride-hailing service first released a 98-page plan for its flying taxi service last October, which it hoped to utilize electric aircraft being developed by several different manufacturers for its service, which will be called Uber elevate.

It claims the flying taxis could revolutionize commuting - completing a two hour and 12 minute car ride will only be 15 minutes in the air.

The firm called the plan Uber Elevate and had set 2021 as the ready date – but the latest news has suggested that Uber is ahead of schedule.

However, this idea is much different than what the firm sees with its self-driving ground cars - Uber co-founder and chief executive officer Travis Kalanick has said that the company´s goal is to replace human drivers with driverless vehicles as ´quickly as possible´.

´Over time it´s highly likely that VTOLs will become autonomous, though we expect that initial operations will require pilots,´ the paper reads.

´Utilizing pilots in the initial period permits a strategy of building up statistical proof for FAA certification while slowly increasing the level of automation.´

The firm also included what it believes these crafts will cost – a low production rate of 12 units per year, each unit will run about $1.2 million.