Foto-foto Ini Jawab Kecaman Feminis pada Ulah Pria di Angkutan Umum
It`s Not Just Men! The Hilarious Photographs that Show Women `Femspreading` on Public Transport
Editor : Ismail Gani
Translator : Novita Cahyadi

PUBLISHED: Selasa, 30 Mei 2017 , 00:54:33 WIB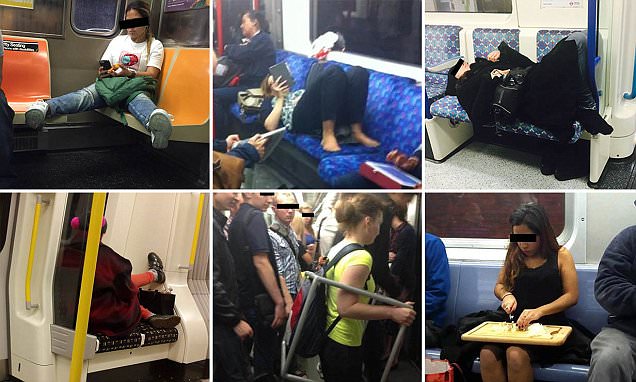 Foto2: MailOnline
PRIA kerap dituding oleh para feminis yang gusar pada tingkah lawan jenisnya ketika berada di kendaraan umum.

Kecaman dari feminis tersebut berlanjut dengan poster-poster kritik di kereta bawah tanah ew York City pada 2016 terhadap ulah kaum pria.

Namun media sosial Reddit dan Facebook mengungkap fakta yang disebut Femspreading untuk menanggapi kecaman feminis terhadap kaum pria.

Dalam memperjuangkan hak kaum wanita, feminis Barat kerap mengeluhkan tentang berbagai kebiasaan yang tidak pantas - terutama, jika dilakukan oleh pria.

Dari sebutan 'mansplaining' hingga meningkat ke julukan manspreading, penghinaan feminis terhadap kaum pria yang tidak bersalah nyaris tiada habisnya.

Namun, terlepas dari kebenaran menurut kacamata feminis, tampaknya kelompok feminis harus introspreksi dulu sebelum menyerang lawan jenisnya. Apalagi saat para wanita berada di angkutan umum.

Hal itu merujuk pada serangkaian foto yang direkam di seluruh jaringan transportasi umum di dunia menunjukkan banyak wanita melakukan 'dosa besar' ketika berada di dalam kereta: memakai senjataberukuran kereta: menyebarkan senjata, kaki dan koper dalam tawaran egois untuk ruang.

Dari New York ke London, beberapa kereta komuter tersibuk di dunia mengungkap fakta tentang ulah dari Generasi Snowflake seperti dilansir MailOnline.

Ini foto-fotonya ....
MEN ARE regularly being berated by furious feminists over how they choose to sit on public transport.

The condemnation even resulted in a poster campaign that ran on New York City's subway in 2016.

But Reddit and new Facebook group Femspreading has responded to the sisterhood with hilarious results.

In their bid for continued relevance, Western feminists love to complain about a variety of innocuous habits - especially, it seems, if they're committed by men.

From 'mansplaining' to so-called manspreading, their vilification of innocent blokes is virtually endless.

Yet, despite their righteousness, it seems the sisterhood need to look a little closer to home before dishing out criticisms of the opposite sex. Especially when it comes to public transport.

That's because a series of images captured across the globe's public transport networks show numerous women committing a carriage-sized cardinal sin: spreading arms, legs and luggage in a selfish bid for space.

From New York to London, some of the world's busiest commuter trains have offered a reality-check for Generation Snowflake.

Here's our carefully-curated selection of the very best (so far)...