Kebiasaan Tidur Warga Dunia Terungkap: Penduduk China Paling Nyenyak
Sleeping Habits of the World Revealed: China has the Best Quality Shut-eye
Editor : Ismail Gani
Translator : Novita Cahyadi

PUBLISHED: Minggu, 27 Desember 2015 , 15:55:34 WIB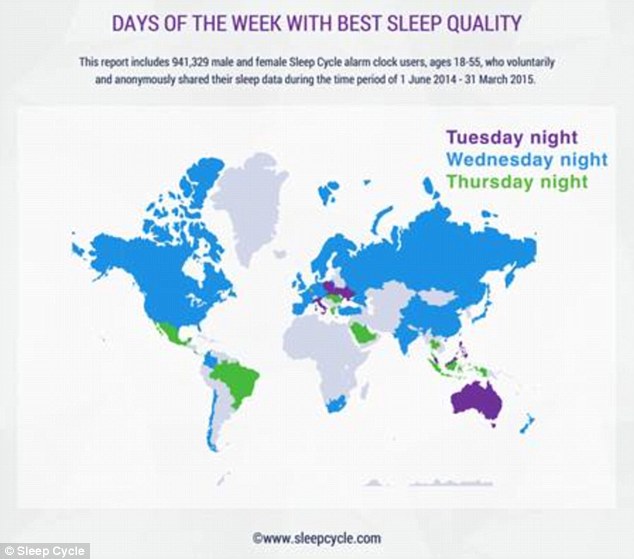 Data: MailOnline
DARI lelapnya tidur di malam hari yang dinikmati warga dunia sejak Rabu hingga Minggu dini hari, hasil riset terbaru mengungkap fakta menarik tentang bagaimana dunia tidur.

Merujuk pada hasil statistik dari pengguna aplikasi Sleep Cycle, peneliti mendapati kenyataan bahwa warga dunia yang paling awal terbangun di pagi hari adalah warga Afrika Selatan di hari Senin.

Sementara pada Selasa, rata-rata warga Amerika baru bangun pada pukul 07:00 dan berada dalam suasana hati buruk sepanjang minggu.

Warga dari negara lain yang terbangun sambil mangkel pada Selasa adalah Singapura, Spanyol, Swiss, Afrika Selatan dan Brasil.

Aplikasi Sleep Cycle Siklus mengumpulkan data tentang kebiasaan tidur dari penggunanya yang meliputi siklus fase tidur, seperti dilansir MailOnline.

Aplikasi memanfaatkan accelerometer ponsel untuk mengidentifikasi fase tidur dengan melacak gerakan di tempat tidur dan waktu bangun pengguna selama fase tidur ringan, dengan merekam data 30 menit sebelum alarm di ponsel berbunyi membangunkan penggunanya.

Aplikasi ini digunakan lebih dari dua juta pengguna aktif dan mengumpulkan data untuk riset antara 1 Juni 2014 dan 31 Maret tahun ini dari pengguna yang berusia 18 hingga 55 di 47 negara.

Fakta lain yang terungkap dari data ini mencakup bahwa kualitas tidur terbaik di seluruh dunia terjadi pada Rabu malam.

Lebih dari setengah (58%) dari negara-negara yang disurvei mengatakan mereka memiliki tidur paling tenang pada Rabu malam, sementara warga China tercatat memiliki kualitas tidur tertinggi pada malam hari.

Pada Kamis, warga di Timur Tengah bangun paling telat tapi bangun dengan bahagia, dan di Kuwait, Arab Saudi dan UEA khususnya, pengguna juga melaporkan suasana hati terbaik pada Kamis.

Meskipun bangun sambil mangkel pada Selasa, warga AS tidur paling nyenyak pada Jumat malam dan bangun dengan bahagia.

Data mengungkapkan warga biasanya tidak bangun tidur sampai pukul 08:24 pada Jumat dan juga dilaporkan mereka terbangun dengan suasana hati yang lebih baik.

Juga bangun lebih bahagia pada Jumat adalah warga Kosta Rika, Kanada, Selandia Baru dan Swedia.

Namun, mayoritas warga dunia (71%) bangun dalam suasana hati yang terbaik pada hari Sabtu.

Hampir 90 persen dari negara yang disurvei tidur lebih banyak dan bangun kemudian pada Sabtu dibandingkan dengan hari-hari lainnya dalam sepekan.

Sementara dua pertiga dari warga dunia mengatakan mereka menghabiskan waktu lebih banyak di tempat tidur pada Minggu.

Daftar di peringkat teratas menyatakan warga Korea Selatan yang menggunakan aplikasi hanya tidur lima jam dan 53 menit pada Minggu malam.

Selama sepekan, warga di Finlandia mendapatkan hasil maksimal jam tidur - pada Sabtu dengan delapan jam dan dua menit, rata-rata.

Pada malam yang sama, warga di Jepang ternyata rata-rata hanya tidur enam jam dan sembilan menit.

Dalam hal kualitas tidur rata-rata nasional, Slovakia di puncak daftar. China di posisi kedua diikuti oleh Hungaria dan Republik Ceko. Inggris berada di peringkat 45 dan Amerika di peringkat 49.
FROM THE BEST night's kip being enjoyed on a Wednesday to rising the earliest on a Sunday, new data is giving fascinating insights into how the world sleeps.

Using statistics from Sleep Cycle app users, researchers have discovered that the earliest wake-up time worldwide is on a Monday in South Africa.

While on Tuesdays, Americans rise at 7am and are in the worst mood all week.

Other countries that wake-up grumpy on Tuesdays include Singapore, Spain, Switzerland, South Africa and Brazil.

The Sleep Cycle app tracks a user's sleep as they go through a cycle of sleep phases.

It uses the phone's accelerometer to identify phases by tracking movements in bed and wakes users up during their lightest sleep phase, using a pre-defined 30-minute alarm window.

It has more than two million active users and gathered data for the study between 1 June 2014 and 31 March this year from users aged 18 to 55 in 47 countries.

Other insights from this data include that the best sleep quality worldwide occurs on a Wednesday night.

More than half (58 per cent) of the countries surveyed said they had the most restful sleep on this day, with China recording the highest sleep quality in the world that night.

On Thursdays, people in the Middle East wake the latest and the happiest, and in Kuwait, Saudi Arabia and UAE in particular, users also reported the best mood on Thursdays.

Despite waking up grumpy on Tuesdays, by Friday the US sleeps in the most and wakes up happiest.

The data revealed Americans typically don't rise until 8:24am on Fridays and also report the best wake-up mood.

Also waking up happier on Fridays are people in Costa Rica, Canada, New Zealand and Sweden.

However, the majority of the world (71 per cent) wakes up in the best mood on Saturdays.

Nearly 90 per cent of countries surveyed sleep more and wake up later on Saturday compared to any other day of the week.

While two thirds of countries said they spend least amount of time in bed on Sundays.

Topping the list is South Korea where users only sleep 5 hours and 53 minutes on Sunday nights.

Over the course of the week, people in Finland get the most hours sleep - on a Saturday with eight hours and two minutes, on average.

On the same night, people in Japan get an average of just six hours and nine minutes sleep.

In terms of national average sleep quality, Slovakia topped the list. China was in second place followed by Hungary and the Czech Republic.

The UK was in 45th place, while the US was in 49th.