Produsen Otomotif Dituding Kelabui Konsumsi BBM pada Konsumen
League of Shame Reveals Mercedes Use 54% more Fuel than They Claim
Editor : Ismail Gani
Translator : Novita Cahyadi

PUBLISHED: Kamis, 22 Desember 2016 , 17:03:27 WIB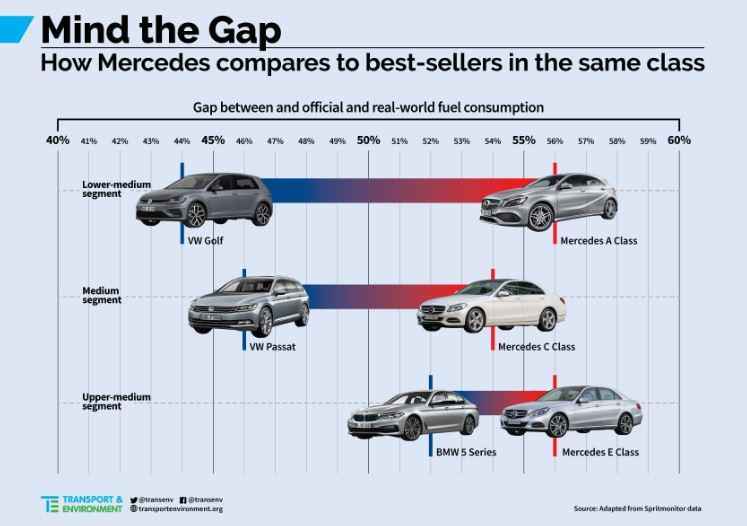 Laporan tersebut menyatakan biaya tambahan BBM yang harus ditanggung pemilik mobil hampir Rp10 juta per tahun (Tabel: The Sun)
MERCEDES dipermalukan atas fakta konsumsi bahan bakar (BBM) mobil buatan mereka setelah sebuah laporan mengungkapkan perbedaan yang mengejutkan antara hasil tes produsen otomotif dengan fakta sebenarnya.

Laporan yang dilansir oleh Environment and Transport's Mind The Gap mendapati fakta bahwa konsumsi BBM sebenarnya dari mobil Mercedes 'melampaui hasil tes yang rata-rata di atas 54%.

Konsumsi BBM terbesar adalah mobil Mercedes E dan A-Class, kelompok peneliti menemukan penggunaan 56 persen bahan bakar lebih di jalan daripada yang diklaim dalam brosur.

Laporan tersebut mengklaim bahwa produsen menggunakan celah dalam ketentuan pengujian untuk membuat kendaraan produk mereka tampak lebih hemat bahan bakar daripada fakta sebenarnya.

Hasil kajian ini menunjukkan kesenjangan fakta dan klaim perusahaan rata-rata di Eropa adalah 42% - naik dari 28% dari tiga tahun lalu.

Laporan tersebut menyatakan biaya tambahan BBM yang harus ditanggung pemilik mobil hampir Rp10 juta per tahun.

Mercedes C class membutuhkan 54% BBM tambahan daripada yang dinyatakan dalam brosur pemasaran tentang irit BBM, klaim laporan tersebut.

Hasil pengujian Mind the Gap mendapati fakta bahwa Audi berada di urutan kedua yang menutupi fakta dengan gap rata-rata 49%, Peugeot 45%, Toyota 43%, Volkswagen 40%, dan Fiat 35%.

Laporan Mind Gap juga menyatakan bahkan dengan pengujian

Pikiran Gap telah mengatakan bahkan hasil pengujian juga mengungkap kesenjangan efisiensi bahan bakar lebih dari 50%.

Greg Archer, direktur Transport and Environment mengatakan: "mobil yang menggunakan BBM lebih banyak 50% daripada keterangan di iklan dapat digolongkan menipu konsumen dan melanggar aturan lingkungan."

"Kecuali kita ingin orang Amerika melakukan pekerjaan lagi di Eropa, Komisi dan otoritas kendaraan nasional harus menyelidiki Mercedes dan Audi dan menentukan apakah mereka menggunakan perangkat khusus untuk mengelabui hasil tes," seperti dilansir The Sun.
MERCEDES have been shamed over their cars' fuel consumption after a report revealed the staggering difference between test and real world results.

The report by Environment and Transport's Mind The Gap found that Mercedes cars' real world fuel consumption exceeded test results by an average of 54 per cent.

The worst offenders are Mercedes E and A-Class cars, which the research group found use 56 per cent more fuel on the road than is claimed in brochures.

The report claims that manufacturers are using loopholes in testing rules to make their vehicles seem more fuel efficient than they really are.

Industry-wide results showed the average gap in Europe is 42 per cent – up from 28 per cent three years ago.

The report claims this is costing drivers about £460 extra a year in fuel costs.

The Mercedes C class burns 54 per cent more fuel than brochures say, the report claims.

Mind the Gap's tests found Audi was the second worst offender with an average gap of 49 per cent, Peugeot had a 45 per cent gap, Toyota 43 per cent, Volkswagen 40 per cent and Fiat 35 per cent.

Mind the Gap has said even taking into account testing loopholes it is impossible to explain fuel efficiency gaps of more than 50 per cent.

Greg Archer, clean vehicles director at Transport and Environment, said: "Cars that burn 50per cent more fuel than advertised are deceiving consumers and cheating environmental rules.

"Unless we want the Americans do Europe's job again, the Commission and national vehicle approval authorities must investigate Mercedes and Audi and determine if they are using devices to defeat the test."