Airbus Kembangkan `Taksi Udara` yang Siap Operasi 2020 dan Order via Ponsel
Airbus Unveils Its Self Flying `Air Taxi` Set to Take the Skies by 2020 and Can be Summoned by Smartphone
Editor : Cahyani Harzi
Translator : Dhelia Gani

PUBLISHED: Selasa, 25 Oktober 2016 , 18:34:00 WIB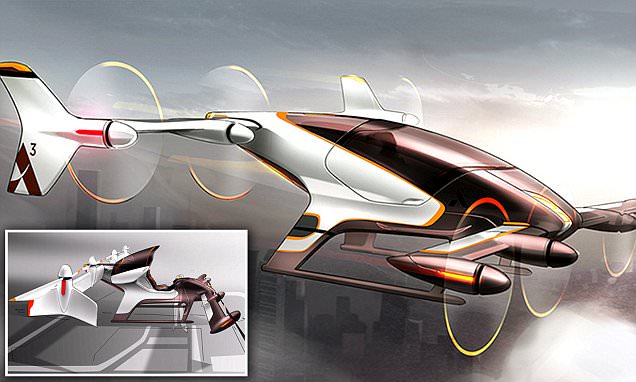 Pengujian prototipe akan dimulai pada 2017 dan Airbus berharap model yang siap jual dapat dipasarkan pada 2020 (Foto: MailOnline)
AIRBUS menciptakan taksi terbang yang disebut CityAirbus, dan pengembangan helikopter khusus dilakukan oleh proyek yang dinamai Vahana.

Kelompok usaha Aerospace mengatakan para penumpang dapat memesan pesawat tanpa pilot ini melalui ponsel pintar mereka.

Pengujian prototipe akan dimulai pada 2017 dan Airbus berharap model yang siap jual dapat dipasarkan pada 2020.

Airbus mengatakan bahwa tantangan terbesar dalam pengembangan taksi CityAirbus, membuatnya terbang tanpa pilot.

Taksi pertama akan dioperasikan oleh pilot, tapi kemudian tanpa pilot setelah ketentuan perundang-undangan memberi izin terbang mandiri.

'Banyak teknologi yang dibutuhkan seperti baterai, motor dan avionik yang menjadi fasilitas vital," kata Rodin Lyasoff, eksekutif Airbus yang bertanggung jawab atas proyek itu.
Saat ini teknologi tersebut baru diterapkan pada mobil, dan belum ada contoh serupa untuk pesawat hingga saat ini.

"Itu salah satu tantangan besar kami untuk menyelesaikan sedini mungkin," kata Lyasoff.

Airbus memperkirakan kendala itu diatasi melalui kerjasama seperti halnya taksi online saat ini.

"Kami meyakini bahwa permintaan global untuk taksi udara ini dapat mendukung jutaan armada kendaraan di seluruh dunia," kata Lyasoff seperti dilansir MailOnline.
AIRBUS is creating flying taxis called CityAirbus, and an autonomous helicopter under Project Vahana.

Aerospace group says passengers will be able to summon self-piloting flying taxi on their smartphone.

Prototype testing will begin in 2017 and Airbus hopes to have a model for sale on the market by 2020.

Airbus said that the biggest challenge in creating the CityAirbus taxi, will be making it fly autonomously.

The taxi will first be operated by a pilot, but will become self-driving once national regulations allow it.

'Many of the technologies needed, such as batteries, motors and avionics are most of the way there,' Rodin Lyasoff, the Airbus executive in charge of the project, said.

This is just starting to be introduced in cars, but no examples of it for aircraft currently exist.

'That's one of the bigger challenges we aim to resolve as early as possible,' said Lyasoff.

The company thinks one way it could work would be for group vehicles, similar to car-sharing.

'We believe that global demand for this category of aircraft can support fleets of millions of vehicles worldwide,' Lyasoff said.