Wanita Taiwan 41, Kejutkan Publik karena Sosoknya Lebih Muda dari Usianya
Taiwanese Woman 41, Who Stunned Millions of People with Her Young Appearance
Editor : Ismail Gani
Translator : Novita Cahyadi

PUBLISHED: Rabu, 28 Juni 2017 , 18:47:20 WIB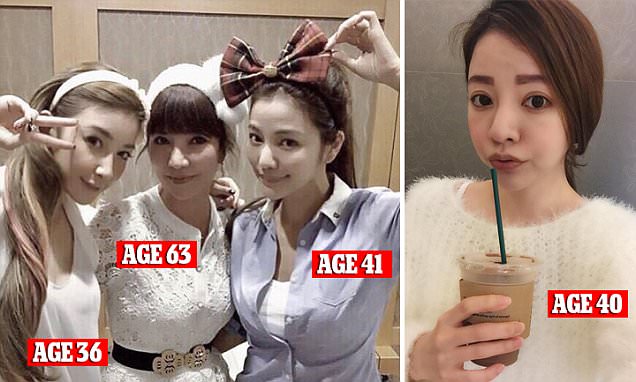 Ibu mereka, 63, dapat dengan mudah disalahartikan sebagai wanita berusia 30 tahun - jika tidak lebih muda (Foto2: MailOnline)
MEREKA bilang jalani hidup Anda lalu lupakan usia. Keluarga dari Taiwan ini tampaknya menjadi saksi hidup dari moto tersebut.

Lure Hsu, 41, telah mengejutkan jutaan orang dengan penampilan remajanya yang ternyata berasal dari keluarga yang semuanya terlihat menakjubkan.

Dua saudara laki-laki Lure, berusia 40 dan 36, keduanya terlihat setengah dari usia mereka; Sementara ibu mereka, 63, dapat dengan mudah disalahartikan sebagai wanita berusia 30 tahun - jika tidak lebih muda.

Lure, seorang desainer interior dan blogger mode, memiliki dua adik perempuan: Fayfay Hsu dan Sharon Hsu.

Fayfay, yang merayakan ulang tahunnya yang ke 40 kemarin, adalah ibu dua anak dan seorang sosialita; Sementara Sharon, yang berusia 36 tahun, adalah selebriti dan model di Taiwan.

Ibu mereka dahulu adalah guru tari.

Penampilan empat wanita yang lebih muda dari usianya ini membuat keluarga Shu disebut sebagai 'keluarga awet muda' oleh media Taiwan.

Dalam sebuah wawancara dengan MailOnline, Fayfay mengatakan bahwa dia dan saudara perempuannya mewarisi penampilan muda dari ibu mereka.

Dia berkata: 'Ketika ibu kami masih muda, dia terlihat sangat muda. Sekarang dia masih terlihat hebat."

Fayfay memiliki dua anak perempuan yang berusia 10 dan delapan tahun. Dia adalah satu-satunya dari tiga bersaudara yang memiliki anak.

Di akun Facebook dan Weibo-nya, Fayfay mengeposkan banyak foto dirinya dan anak-anaknya. Dia mengatakan bahwa saat dia pergi bersama anak-anaknya, orang sering mengira dia adalah saudara perempuan mereka - bukan ibu mereka.

Dia juga mengatakan bahwa karena dia dibesarkan dengan Lure and Sharon dan melihat ibunya setiap hari, dia tidak menyadari bahwa mereka terlihat sangat muda untuk usia mereka.

Ibu dua anak, yang dulunya adalah seorang desainer interior, mengatakan bahwa ayahnya, 74, juga terlihat bagus untuk usianya, tapi dia tidak suka memotret karena 'dia pemalu' seperti dilansir MailOnline.
THEY SAY live your life and forget your age. This family from Taiwan seems to be a living testimony to the motto.

Lure Hsu, 41, who has shocked millions of people with her teenage-like appearance turns out to come from a family whose members all look amazing.

Lure's two sisters, aged 40 and 36, both look half of their ages; while their mother, 63, could easily be mistaken for a 30-year-old woman - if not younger.

Lure, who is an interior designer and a fashion blogger, has two younger sisters: Fayfay Hsu and Sharon Hsu.

Fayfay, who celebrated her 40th birthday yesterday, is a mother of two and a socialite; while Sharon, who is 36 years old, is a celebrity and model in Taiwan.

The three siblings' mother used to be a dance teacher.

The four women's age-defying looks have led the Hsu family to be called 'the family of frozen ages' by Taiwanese media.

In an interview with MailOnline, Fayfay said she and her sisters inherited their youthful looks from their mother.

She said: 'When our mother was young, she was incredible youthful looking. Now she still looks great.'

Fayfay has two daughters who are 10 and eight years old. She is the only one of the three siblings who has children.

On her Facebook and Weibo accounts, Fayfay posts many photos of her and her daughters. She said that when she goes out with her children, people often think she is their sister - not their mother.

She also said that because she grew up with Lure and Sharon and looked at her mother daily, she didn't realise that they looked extremely young for their ages.

The mother-of-two, who used to be an interior designer, said her father, 74, also looks good for his age, but he doesn't like taking photos because 'he is shy'.