Anda Pernah Jumpai Barista Kenakan Celemek Ungu? Ini Faktanya dari Starbucks
Starbucks Reveals Hidden Meanings Behind Its Apron Colors
Editor : Ismail Gani
Translator : Novita Cahyadi

PUBLISHED: Rabu, 26 Juli 2017 , 20:22:00 WIB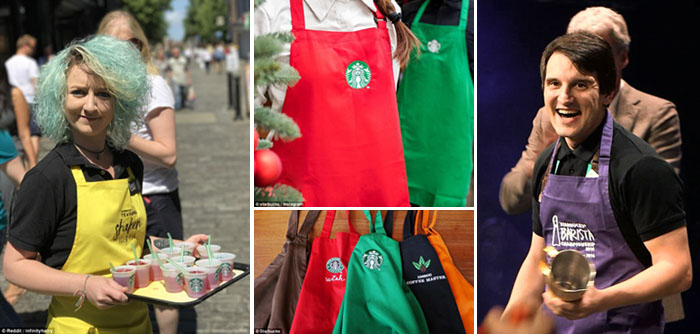 Ada juga gerai yang muncul dengan warna biru pucat pucat untuk mengingat peluncuran Frappuccino Happy Hour, warna oranye hanya tersedia di Belanda untuk menghormati Hari Raja (Foto2: MailOnline)
SEBAGIAN besar barista di gerai Starbucks memakai celemek hijau standar untuk bekerja - tapi terkadang mereka mengenakan warna hitam, merah, dan bahkan ungu.

Jaringan gerai kopi global tersebut mengungkap alasan di balik masing-masing warna dan desain, dan menjelaskan bahwa hal itu bukan tanpa alasan.

'Selama bertahun-tahun, celemek telah menjadi cara untuk merayakan acara dan tonggak sejarah dan mengenali kontribusi mitra,' tulis Starbucks dalam siaran pers yang baru.

'Celemek hijau adalah simbol Starbucks, menandai bahwa kopinya diracik secara khusus oleh lebih dari 300.000 barista yang memakai celemek," kata Starbucks.

Namun sementara sebagian besar dari baritas menyajikan macchiatos karamel ukuran besar dan Venti Americanos warna klasik, ternyata ada beberapa pengecualian.

Setelah hijau, warna baru pertama yang diperkenalkan adalah warna hitam, kembali di awal dekade 1990an. Warna hitam untuk barista yang menyelesaikan program Coffee Master, yang mendapat pengetahuan tentang kopi spesial.

Celemek merah diperkenalkan berikutnya, pada 1997. Warna merah muncul pada tahun yang sama ketika Starbucks pertama kali menawarkan cangkir liburan warna merah - tapi tidak seperti cangkir liburan, yang muncul di toko dalam jumlah besar, hanya dua celemek merah yang dikirim ke masing-masing lokasi.

Baru-baru ini, Starbuck meluncurkan teh Teavana baru, hanya gerai tertentu dengan barista mengenakan celemek bermotif Teavana berwarna kuning.

Ada juga gerai yang muncul dengan warna biru pucat pucat untuk mengingat peluncuran Frappuccino Happy Hour, warna oranye hanya tersedia di Belanda untuk menghormati Hari Raja, dan - yang paling langka, menurut Starbucks - celemek ungu untuk 'barista juara'.

Juara barista merupakan hasil seleksi di Kompetisi EMEA Barista, di mana para finalis datang dari lebih 30 negara yang maju untuk bersaing.

Pemenangnya dievaluasi oleh juri, yang membuat penilaian dari seberapa baik mereka mencicipi kopi, membuat minuman karya sendiri dan menyiapkan minuman klasik.

Kemudian muncul celemek khusus. Beberapa celemek hijau dihiasi bendera Amerika yang disulam pada celemek, menandakan sang barista adalah prajurit militer, veteran atau istri dari mereka. Yang lainnya memiliki mortarboards, menunjukkan bahwa mereka adalah lulusan dari pelatihan Starbucks yang dikenal sebagai Starbucks College Achievement Plan seperti dilansir MaiOnline.
MOST OF the baristas at your local Starbucks wear a standard green apron to work — but sometimes they wear black, red, and even purple.

Now the coffee brand has revealed the reasoning behind each of the colors and designs, explaining that it's not at all random.

'Over the years, the apron has become a way to celebrate events and milestones and recognize partner contributions,' Starbucks wrote in a new press release.

'The green apron is the symbol of Starbucks, signaling a warm welcome and expert coffee craft from the more than 300,000 baristas who wear one each day,' the piece explains.

But while the vast majority of those serving up tall caramel macchiatos and Venti Americanos wear the classic color, there are a few exceptions.

After green, the first new color the brand introduced was black, back in the early 1990s. It's for baristas who complete the Coffee Master program, which imparts special coffee knowledge.

The red aprons were introduced next, in 1997. They came the same year Starbucks first offered red holiday cups — but unlike the holiday cups, which turned up in stores in bulk, only two red aprons were delivered to each location.

Recently, to launch new Teavana teas, select stores has baristas in yellow Teavana-branded aprons.

There were also pale blue opens in honor of the Frappuccino Happy Hour launch, orange ones found only in the Netherlands in honor of King's Day, and — the rarest of all, according to Starbucks — purple aprons for 'barista champions'.

Those champs are chosen at the EMEA Barista Championships, where finalists s from more than 30 countries apply to compete.

The winner are evaluated by judges, who score them based on how well they host a coffee tasting, create their own original beverage, and prepare classic drinks.

Then there are the apron embellishments. Some green aprons have American flags embroidered on them, signifying a military member, veteran, or spouse. Others have mortarboards, showing that they are graduates of the Starbucks College Achievement Plan.