Rapunzel di Dunia Nyata ... Rambut Indahnya Berawal dari Penyakit Pemicu Kebotakan
The Incredible Real-life Redhead Rapunzel... Who Once Suffered from Alopecia
Editor : Ismail Gani
Translator : Dhelia Gani

PUBLISHED: Kamis, 21 September 2017 , 20:40:00 WIB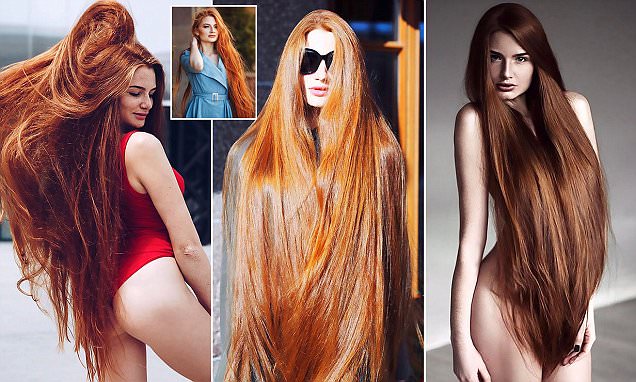 Rambut indah itu berawal saat dia remaja, setelah didiagnosa menderita androgenetic alopecia - kondisi yang mengakibatkan rambut rontok sehingga membuat kepalanya terancam kebotakan. (Foto: MailOnline)
ANASTASIA SIDOROV didiagnosa mengalami kondisi rambut rontok saat berusia 18 tahun sehingga mempengaruhi kepercayaan dirinya.

Rambut indah gadis Rusia ini terus berguguran hingga dia menderita kebotakan.

Berkat perawatan khusus dan shampo, kini dia memiliki rambut yang panjangnya lebih dari satu meter.

Dia kini berbagi tip tentang rambut sehat di media sosial dan kini menjadi pakar rambut rontok.

Ini dia sosok di kehidupan nyata dari Rapunzel - gadis berambut panjang - yang mengungkap tentang penderitaan seorang gadis akibat menderita penyakit yang dinamai alopecia yang mengakibatkan kerontokan rambut.

Anastasia Sidorov sekarang memiliki jawaban atas rambut indahnya pada usia 23 tahun yang terwujud berkat upayanya melawan penyakit yang mengakibatkan kebotakan ketika dia berusia 18 tahun.

Begitulah upaya dan kerja keras dari Anastasia dari Moskow yang kini menjadi model sampo Pantene, dan rambut indahnya terpampang di berbagai majalah Rusia.

Di halaman Instagramnya dia berkata: 'Hari ini saya mengukur panjang rambut saya untuk pertama kalinya. Saya tidak pernah bertanya-tanya tentang pertanyaan ini, tapi ada banyak pertanyaan. Jadi, panjang rambutnya kini mencapai 106 cm. '

Rambut indah itu berawal saat dia remaja, setelah didiagnosa menderita androgenetic alopecia - kondisi yang mengakibatkan rambut rontok sehingga membuat kepalanya terancam kebotakan, dan dalam beberapa kasus ekstrim, gundul total.

Tidak diketahui apa yang menyebabkan alopecia namun diyakini berhubungan dengan stres.

Meski dilanda kehilangan kepercayaan diri, Anastasia pergi mengunjungi seorang ahli trichologi, ahli rambut rontok, untuk melihat apa yang bisa dia lakukan untuk mengatasi penderitaannya.

Beruntung perawatan panjang yang berlangsung lama terbukti berhasil dan rambut Anastasia kembali tumbuh, begitu pula minatnya perawatan rambut.

Wanita muda yang menderita penyakit langka ini kemudian menjadi percaya diri dan memutuskan menjadi pakar trichologi, dan kemudian kerap berbagi tips tentang kesehatan rambut.

Dia mengatakan bahwa dia tidak pernah meluruskan rambutnya, membiarkan rambutnya mengering sampai kering 60 persen sebelum menggunakan pengering rambut di atasnya setelah mencuci dan menggunakan perawatan khusus agar tetap dalam kondisi prima.

Shampo yang dia gunakan memiliki sulfat di dalamnya dan dia menggunakan masker keratin setelah setiap kali mencuci rambut. Dia juga mengkonsumsi suplemen omega-3 tiap hari dan vitamin D.

Anastasia terus membagikan tipnya untuk memiliki surai glossy dan sehat dengan 238.000 pengikutnya di Instagram.

Dia memungut biaya hampir Rp1 juta untuk perawatan rambut melalui konsultasi di media sosial seperti dilansir MailOnline.
ANASTASIA SIDOROV was diagnosed with the hair loss condition aged 18 which destroyed her confidence

The Russian beauty's hair began to fall out in huge patches and she suffered from baldness

Thanks to a specialist treatment and shampoos she now has flowing locks that are over 3 feet long

She now shares her tips for healthy hair on social media and is now a qualified expert on hair loss

A real life Rapunzel has revealed that she has not always had these stunning flowing locks after admitting she used to suffer from the debilitating condition alopecia.

Anastasia Sidorov now boasts enviable locks at the age of 23 but has recently told how she suffered from baldness from the age of 18.

Such has been the extent of Muscovite Anastasia's recovery that she has now gone onto model for Pantene shampoo, appearing in adverts in Russian magazines.

On her Instagram page she said: 'Today I measured the length of my hair for the first time. I never wondered about this question, but there are a lot of questions. So, the length of the hair is 106 cm.'

The beauty admitted that as a teen she was diagnosed with androgenetic alopecia - a condition which leads to the hair falling out leaving huge bald patches, and in some extreme cases complete baldness.

It is not known what causes alopecia but it is believed to be stress-related.

Steadily losing confidence, Anastasia went to visit a trichologist, an expert on hair loss, to see what she could do to help.

Luckily the long running treatment of care worked and as well as Anastasia's hair growing, so did her interest in the profession.

The determined young woman has since trained to become a trichologist herself and has released her top tips for keeping a healthy mane.

She says she never straightens her hair, allows her hair to air dry 60 percent before using a hairdryer on it after washing and uses special treatments to keep it in tip top shape.

The shampoo she uses has sulphates in it and she uses a keratin mask after every wash. She also takes a daily supplement of omega-3 and vitamin D.

Anastasia continues to share her tips for having a glossy and healthy mane with her 238,000 followers on Instagram.

She charges £54 for the individual plan of hair treatment gives consultations on the social media site.