Inspirasi Hallowen, Seniman Cantik Tampil Lebih Seram dari Karakter Film Horor
Woman Creates Terrifying Halloween Looks, `I Want to Scare People!`
Editor : Ismail Gani
Translator : Novita Cahyadi

PUBLISHED: Rabu, 19 Oktober 2016 , 21:57:20 WIB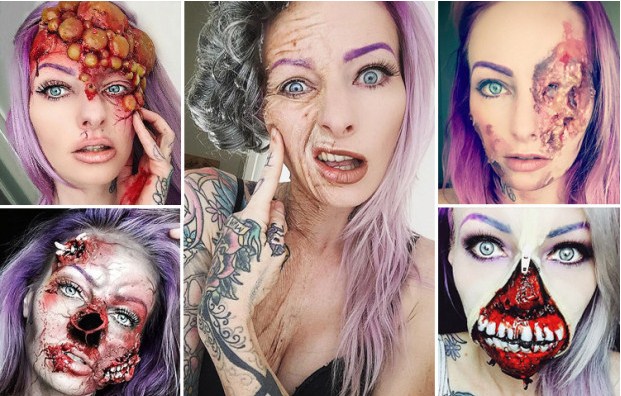 Sarah, yang dikenal secara online sebagai Pink Pirate, telah mengunggah sejumlah wajah mengerikan melalui akun Instagram, yang kini memiliki 178.000 penggemar (Foto2: The Sun)
SEORANG seniman tata rias wajah menciptakan sejumlah penampilan menakutkan khas Halloween seperti kulit terkelupas, dan bisul-bisul besar di wajah.

Sarah Mudle, model 33-tahun dari Gold Coast Australia, berharap kreasi fantastis dia akan mampu 'menimbulkan kengerian' pada mereka yang melihatnya pada 31 Oktober nanti.

Karyanya mengejutkan, belum terlihat seseram ini di film horor sekali pun, yang dikembangkan dengan bantuan efek khusus dari produk kecantikan.

Wajah Sarah terlihat seram dengan penuaan kulit dini, otak keluar, tanduk setan dan karakter kartun yang menyeramkan.

Dia mengatakan kepada pada Bored Panda bahwa dia dapat menciptakan apa saja yang terlintas di benaknya dan langsung dituangkan dengan memanfaatkan alat-alat perias wajah.

Dia mengatakan: "Inspirasi saya memanfaatkan make-up adalah untuk berfikir kreatif. Dengan alat-alat tata rias wajah saya mampu berpikir kreatif. Saya bisa menciptakan ide-ide aneh yang saya dapatkan."

Pada halaman Facebook-nya, dia mengakui: "Saya ingin menakut-nakuti orang."

Sarah, yang dikenal secara online sebagai Pink Pirate, telah mengunggah sejumlah wajah mengerikan melalui akun Instagram, yang kini memiliki 178.000 penggemar.

Dia mengatakan kepada Inked Magazine bahwa kulitnya terkena dampak dari aksinya menata rias wajah.

"Saya senang mampu berfikir dan bertindak kreatif dan ingin berbagi ide-ide saya pada dunia make up Halloween," katanya seperti dilansir The Sun.

"Saya jatuh cinta dengan Halloween."
A MAKE-UP artist has created a host of terrifying Halloween looks that include gauged-out eyes, peeled-back skin and huge seeping boils.

Sarah Mudle, a 33-year-old model from Australia's Gold Coast, hopes her fantastical creations will "scare the f*** out of people" this October 31.

The awe-inspiring designs, which wouldn't look out of place in a horror movie, have been conjured up with the help of special effects beauty products.

Sarah's scary looks feature premature ageing skin, exposed brains, demonic horns and nightmarish cartoon characters.

She told Bored Panda that she gets to create what goes on in her head through make-up.

She said: "My inspiration for make-up was to have a creative outlet. Make-up play honestly keeps me sane. I get to recreate the weird ideas I get."

On her Facebook page, she admits: "I want to scare the f*** out of people."

Sarah, who is known online as Pink Pirate, uploads snaps of her freaky looks to her Instagram account, which has over 178,000 fans.

She told Inked Magazine that her skin has taken a bashing since she started practising the looks.

"I love being creative and just wanted to share with the world my ideas for Halloween make up," she said.

"I'm in love with Halloween."

Makes you witch costume look positively dull, doesn't it?