Konsep `Rumah Burung` Solusi Atasi Lahan Sempit dan Mahal
The Three-storey Houses Could be Attached to the Side of Mountains and Cliffs
Editor : Ismail Gani
Translator : Novita Cahyadi

PUBLISHED: Selasa, 30 Mei 2017 , 22:10:11 WIB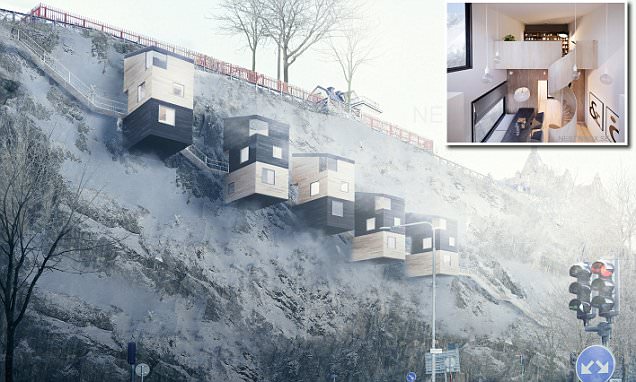 Meskipun mungkin sedikit menegangkan pada awalnya, rumah minimalis tentu menjadi alternatif yang jauh lebih menarik dengan angsuran 800 pounsterling (Rp1,6 juta) sebulan (Foto: MailOnline)
INI BUKAN rumah bagi mereka yang takut ketinggian.

Arsitek Swedia mengembangkan sebuah desain inovatif yang mereka harapkan dapat memecahkan krisis perumahan di kota-kota besar.

Tampilannya dari kejauhan mungkin terlihat seperti rumah pohon imut - namun setelah diamati lebih dekat, ternyata adalah rumah tiga lantai dengan luas bangunan 50 meter persegi.

Desain rumah minimalis modern ini disebut 'NestinBox', dan merupakan hasil kolaborasi antara Moderna Trahus (Modern Woodenhouses) dan arsitek Elisabetta Gabrielli dan Pontus OÌhman.

Rumah tersebut mampu menampung satu atau dua orang, dan berisi dua setengah ruangan, untuk dapur dan ruang tamu.

Ini juga termasuk ruang kerja/studio beserta tangga spiral.

Nestinbox mengatakan bahwa mereka bertujuan untuk menciptakan 'sense of space and airiness meskipun tergolong minimalis..

Meskipun mungkin sedikit menegangkan pada awalnya, rumah minimalis tentu menjadi alternatif yang jauh lebih menarik dengan angsuran 800 pounsterling (Rp1,6 juta) sebulan.

Nestinbox menjelaskan di situs mereka: 'Kami tidak perlu membangun rumah tapak, kita dapat belajar dari hewan. Banyak hewan, termasuk burung, membangun sarang mereka di pohon - di bawah ubin batu atau di celah batu - di atas tanah.

'Kita manusia bisa melakukan hal yang sama - membangun rumah kita di atas lahan yang semakin sempit dan mahal.'

'Sebuah sangkar burung benar-benar sebuah rumah kecil sederhana yang dibangun di atas tanah, biasanya di pohon. Kami juga bisa membangun kotak sarang besar, dengan beberapa ruangan, jendela dan kotak perlindungan iklim yang bagus untuk manusia!'

'Di Skandinavia utara, dan daerah pegunungan lainnya di dunia, termasuk di dalam dan di sekitar kota, ada banyak dinding tebing.'

'Dinding tebing akan berfungsi sangat baik untuk dipasang dan dibangun di rumah-rumah kecil jika dilengkapi dengan struktur bantalan beban yang terintegrasi.

Disain rumah-rumah tersebut hanyalah sebuah konsep pada saat ini, namun segera menjadi kenyataan untuk masuk daftar penemuan besar Swedia seperti dilansir MailOnline.
IT'S NOT a home for those with fear of heights.

Swedish architects have come up with an innovative design which they hope could solve the housing crisis in major cities.

It may look like a cute tree house from a distance - but on closer inspection it can be seen to be a three-storey, 50 square metre house.

The modern, minimalistic designs are called 'NestinBox' houses, and are a collaboration between Moderna Trähus (Modern Woodenhouses) and architects Elisabetta Gabrielli and Pontus Öhman.

They'll be built to house one or two people, and contain two-and-a-half rooms, a kitchen and a living area.

It would also include a work room/studio along with a spiral staircase.

Nestinbox say they aim to create a 'sense of space and airiness despite the compact solution'.

While perhaps a bit nerve-wracking at first, it's certainly a much more exciting alternative then paying £800 a month for a shed in Croydon.

The houses rely on cliffs to attach to. This may be a problem in central London but less so in more mountainous parts of the world.

Nestinbox explain on their website: 'We need not necessarily build on the ground, we can learn from animals. Many animals, including birds, build their nests in trees - under rock tiles or in rock crevices - above the ground.

'We humans could do the same - build our houses above the rare and expensive ground.

'A birdhouse is really a small, simple house mounted above the ground, usually in a tree. We could also build large nesting boxes, with several rooms, windows and a good climate protection - nesting boxes for humans!

'In northern Scandinavia, and other mountainous parts of the world, including in and around the city, there are plenty of cliff walls.

'Cliff walls would function exceptionally well for mounting and attaching small houses if equipped with a load-bearing structure integrated in the frame.

The homes are just a concept at the moment, but could soon become a reality to add to the list of great Swedish inventions.