Yoga di Tengah Dingin -40 Celcius untuk Awet Muda
World`s `Most Youthful` Mother, 50, Flaunts Her Super Toned Body while doing Yoga at Minuis 40F
Editor : Ismail Gani
Translator : Novita Cahyadi

PUBLISHED: Rabu, 07 Februari 2018 , 22:21:00 WIB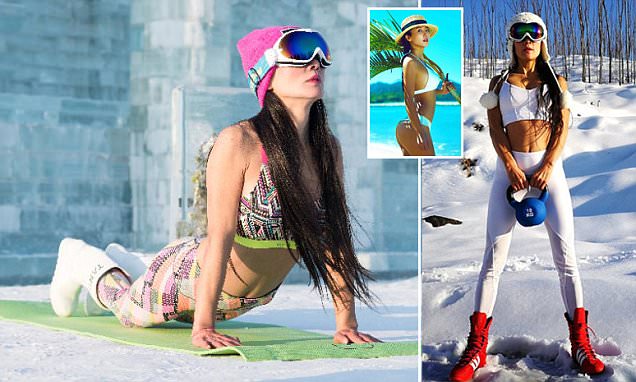 Wanita fanatik kebugaran baru-baru ini membagikan foto-foto dan rekaman video yang memperlihatkan dia tengah yoga di tengah cuaca dingin -40 derajat Celcius di salah satu kota terdingin di China (Foto2: MailOnline)
BEROLAHRAGA di tengah cuaca dingin dapat membuat Anda terlihat lebih muda - ambillah contoh dari seorang wanita yang tetap awet muda dan disebut sebagai ibu paling ´awet muda´ di dunia.

Liu Yelin, 50 tahun, kerapkali dianggap oleh banyak orang sebagai kekasih dari anaknya yang berusia 23 tahun.

Mantan pustakawan kelahiran China tersebut mengatakan bahwa rahasianya terhadap penampilannya yang patut ditiru karena puluhan tahun menjalani sesi latihan di tengah musim dingin yang melelahkan.

Wanita fanatik kebugaran baru-baru ini membagikan foto-foto dan rekaman video yang memperlihatkan dia tengah yoga di tengah cuaca dingin -40 derajat Celcius di salah satu kota terdingin di China.

Dengan kulit bercahaya, lekuk tubuh atletik dan tidak ada keriput yang terlihat, Liu Yelin benar-benar terlihat setengah dari usia sebenarnya.

Dia mengatakan bahwa dia diundang oleh sebuah program TV untuk berlatih yoga di luar rumah di Harbin, ´City of Ice´ di China, pada 24 Januari lalu untuk sesi pemotretan dan syuting.

Liu mengatakan bahwa dia tidak menganggap tugas itu menantang.

"Saya sama sekali tidak takut. Sebenarnya malah tertantang. Sangat sehat dan menyenangkan berolahraga di tengah cuaca dingin, "kata Liu Yelin kepada MailOnline.
EXERCISING in cold weather could make you look decades younger - take it from an age-defying woman who has been billed as the world´s ´most youthful´ mother.

Liu Yelin, 50, is often mistaken by the others for her 23-year-old son´s girlfriend.

The China-born ex-librarian said the secret to her enviable appearance was her decades of gruelling winter workout sessions.

The fitness fanatic has recently shared pictures and footage showing her doing yoga on a frigid -40C day in one of China´s coldest cities.

With glowing skin, a ripped torso and not a single wrinkle in sight, Ms Liu really does look half her age.

She said she was invited by a TV programme to practise yoga outdoors in Harbin, China´s ´City of Ice´, on January 24 when she had the pictures and videos taken.

Ms Liu said she did not find the task challenging.

´I wasn´t scared at all. As a matter of fact, I felt great. It was refreshing to do exercises in cold weather,´ Ms Liu told MailOnline.