Uber Sesumbar 10 Tahun Lagi Luncurkan Layanan Taksi Terbang
Up, Up and Away Uber Want to Launch Flying Taxis in the Next 10 Years
Editor : Ismail Gani
Translator : Novita Cahyadi

PUBLISHED: Jum'at, 28 Oktober 2016 , 22:38:05 WIB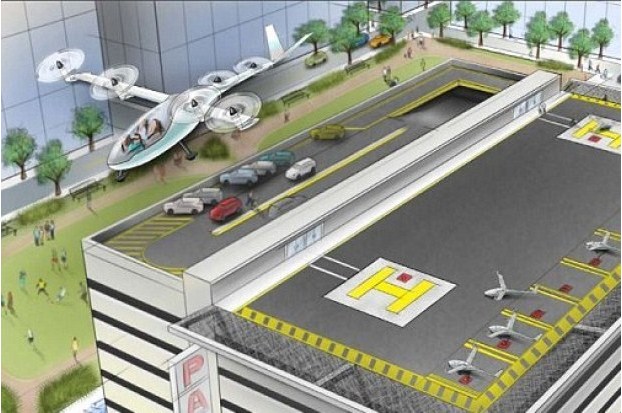 Armada taksi terbang akan dinamai Uber Elevate, dan armada pesawat listrik diharapkan mampu menempuh penerbangan 160 km dengan satu tarif dan akan dapat lepas landas dan mendarat di atas taman parkir bertingkat (Foto: The Sun)
PENYEDIA layanan taksi online, Uber sesumbar atas targetnya menjadi penyedia pertama taki terbang di dunia.

Uber mengumumkan sebuah dokumen setebal 98 halaman yang mengungkap rincian rencana mereka untuk mengangkut penumpang melalui pesawat bertenaga listrik ramah lingkungan, dan diharapkan siap beroperasi melayani pelanggan pada 2026.

Klaim Uber tentang taksi terbang bertujuan mengatasi kebutuhan komuter di darat, dan pesawat mereka akan mampu mengatasi jarak tempuh dua jam 12 menit naik mobil menjadi hanya 15 menit dengan taksi terbang.

Armada taksi terbang akan dinamai Uber Elevate, dan armada pesawat listrik diharapkan mampu menempuh penerbangan 160 km dengan satu tarif dan akan dapat lepas landas dan mendarat di atas taman parkir bertingkat.

"Permintaan penerbangan, memberi peluang untuk secara radikal meningkatkan mobilitas di perkotaan, mempersingkat waktu tempuh yang sehari-hari harus dijalani pelanggan," tulis Uber pada dokumen tersebut.

"Uber merasakan kesulitan pelanggan menghadapi jalan macet pada kota-kota di seluruh dunia merasa."

"Kami memandang perlu membantu untuk memecahkan masalah ini sebagai tujuan dari misi dan komitmen kami untuk melayani pelanggan."

Sementara Uber tidak membangun pesawat sendiri, mereka berencana menerapkan strategi stroutsourcing untuk SDM penerbangan seperti dilansir The Sun.
UBER have unveiled a plan for the world's first flying taxi service.

The firm released a 98-page document detailing their plan to transport passengers via environmentally-friendly electric aircrafts, with the option expected to become available to users by 2026.

Uber claim flying taxis would completely reduce commuting times, and say their aircrafts will be able to complete a two hour and 12 minute car ride in just 15 minutes.

Branded Uber Elevate, the aircraft are expected to be able to travel 100 miles on a single charge and will be able to take off and land from the top of multistory car parks.

"On-demand aviation, has the potential to radically improve urban mobility, giving people back time lost in their daily commutes," Uber wrote in a white paper about the service.

"Uber is close to the commute pain that citizens in cities around the world feel."

"We view helping to solve this problem as core to our mission and our commitment to our rider base."

While Uber aren't building the aircrafts themselves, they are planning out outsourcing the work to aviation specialists.