Ini Gagasan Cemerlang Tinggal di Kolong Jembatan?
The Secret Man Cave that`s Attached to the Underside of a Road Bridge
Editor : Ismail Gani
Translator : Novita Cahyadi

PUBLISHED: Selasa, 29 Agustus 2017 , 23:03:00 WIB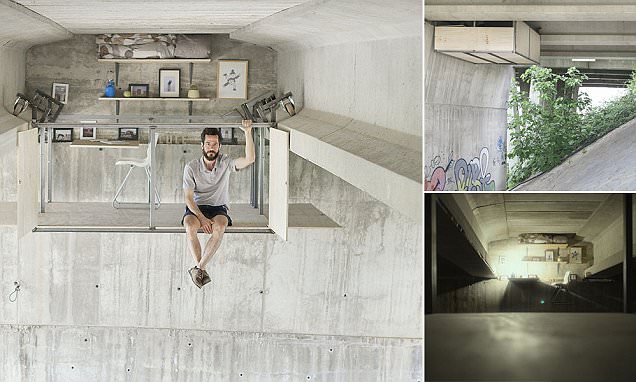 Perancang, yang tampaknya otodidak, menolak mengungkapkan lokasi tepatnya dari ´lubang persembunyiannya´ karena khawatir akan ditemukan petugas (Foto2: MailOnline)
BAGI MEREKA yang kepingin merasakan kehidupan manusia gua biasanya memilih tinggal di rumah kebun - tapi mantan tukang ledeng Fernando Abellanas yang kemudian beralih menjadi disainer.

Dia merancang studio mini kontemporer di bawah jembatan layang yang sibuk di Valencia, Spanyol.

Dia menggunakan lampu parafin sehingga bisa bekerja di sana pada malam hari dan jika dia merasa terlalu lelah untuk pulang, ada tempat tidur untuk beristirahat. Namun tentunya dia membutuhkan sepasang headset untuk meredam kebisingan lalu lintas di atas kepalanya.

Studio mini dibangun dengan platform yang bergerak yang dapat dipasang di satu sisi jalan bawah tanah dan digerakkan tangan ke tangan yang lain.

Dia pun merancang studio mini yang bergantung dari satu sisi ke sisi lain, dilengkapi bangku yang melesat ke dinding.

Alat kayu dan logam berengsel di dinding sehingga bisa benar-benar tertutup ke dunia luar.

Foto-foto dari 'manusia gua' Abellanas menunjukkan bahwa dia memiliki ruang yang memadai untuk dihuni satu orang.

Ada meja, kursi dan unit rak. Semua telah dikunci dengan aman ke sisi bawah beton jembatan.

Dalam upaya untuk memberinya nuansa menarik, Abellanas menghiasi ruang itu dengan foto-foto berbingkai dan sentuhan seni.

Perancang, yang tampaknya otodidak, menolak mengungkapkan lokasi tepatnya dari 'lubang persembunyiannya' karena khawatir akan ditemukan.

Mengungkap tentang sumber inspirasinya, Abellanas mengatakan: 'Kabin sebagai konsep penting bagi saya sejak kecil. Bukan kabin liburan idaman di hutan, melainkan tempat berlindung di lingkungan kita.'

"Keinginan untuk bersembunyi tapi tetap bisa mendengar dan melihat apa yang terjadi di sekitar kita - mengamati mobil dan kereta yang lewat tanpa ada yang melihat saya memberi saya perasaan damai."

Materi iklan menambahkan bahwa proyek ini adalah 'intervensi sementara', dan akan tetap ada sampai 'seseorang menemukannya dan memutuskan untuk mencuri materi, atau pihak berwenang menghapusnya' seperti dilansir MailOnline.
THOSE WANTING a hidey-hole man cave usually turn to the garden shed - but not former plumber turned designer Fernando Abellanas.

He has designed a tiny pop-up studio under a busy overpass in Valencia, Spain.

He has a paraffin lamp so he can work there at night and if he's feeling too weary to go home, there is bedding to nestle down on. Though he surely must need a good pair of ear plugs.

The micro-unit consists of a moving platform that can be boarded on one side of the underpass and hand-cranked to the other.

Once the decking reaches the other side, it fits snugly to a desk bolted to the wall.

The wooden and metal contraption has hinged walls so that it can be completely closed off to the outer world.

Photographs of Abellanas' man cave show that it has the perfect amount of space for one occupant.

There is a desk, a chair and a shelving unit. All have been securely bolted to the bridge's concrete underside.

In a bid to give it a homely feel, Abellanas has decorated the space with framed photographs and a sparse smattering of art.

The designer, who is apparently self-taught, won't disclose the exact location of his hidey-hole for fear it will be discovered.

Explaining his source of inspiration, Abellanas said: 'The cabin as a concept has been important to me since childhood. Not the idyllic holiday cabin in the woods, but a place to take refuge in our environment.

'The feeling of being kept hidden while still being able to hear and see what happens around us – observing passing cars and trains with no one seeing me gives me great sense of peace.'

The creative adds that the project is an 'ephemeral intervention', and it will remain until 'someone finds it and decides to steal the materials, or the authorities remove it'.