Apple Ungkap Teknologi Terbaru MacBook, Siap Gandeng Operator TV Kabel
Apple Kills Off the Function Keys and Takes Aim at Cable Companies
Editor : Ismail Gani
Translator : Novita Cahyadi

PUBLISHED: Jum'at, 28 Oktober 2016 , 04:13:53 WIB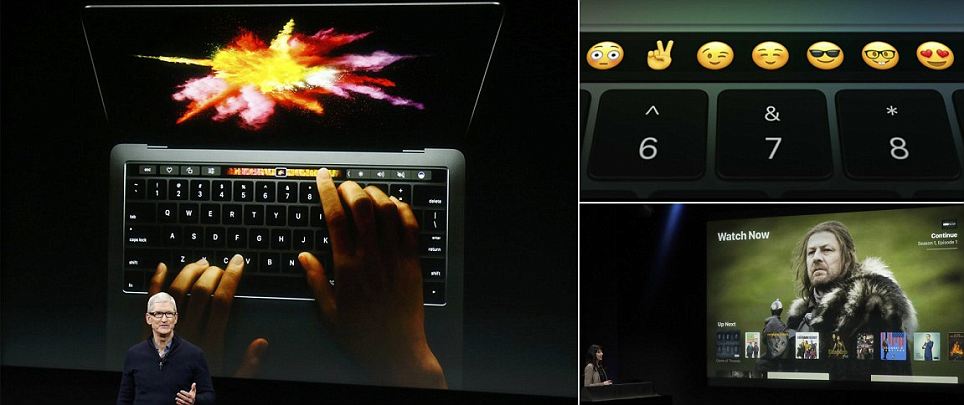 Langkah tersebut juga bertujuan membidik perusahaan-perusahaan TV kabel, yang berencana menyediakan aplikasi TV baru yang memungkinkan penggunanya dengan mudah mencari dan menonton video streaming (Foto2: MailOnline)
APPLE mengumumkan perombakan radikal pada MacBook - dan melanjutkan misinya untuk mengenyahkan teknologi usang.

Teknologi keyboard baru menghilangkan port USB tradisional dan fungsi tombol, menggantinya dengan port USB-C yang lebih kecil dan layar sentuh pintar - dan diumumkan hanya beberapa pekan setelah Apple menghilangkan headphone socket pada iPhone 7.

Langkah tersebut juga bertujuan membidik perusahaan-perusahaan TV kabel, yang berencana menyediakan aplikasi TV baru yang memungkinkan penggunanya dengan mudah mencari dan menonton streaming video dan siaran langsung televisi secara lebih mudah.

Apple awalnya menegaskan telah mengenyahkan fungsi tombol yang biasanya dijumpai pada laptop, menggantinya dengan layar yang dapat berubah tergantung pada aplikasi yang digunakan.

Tombol-tombol yang berbeda muncul tergantung pada aplikasi yang digunakan, dan bahkan berfungsi sebagai sensor sidik jari.

"Kami belum menggunakannya untuk waktu yang lama, jadi kami dipetakan fungsi lain untuk hal itu," kata Phil Schiller dari Apple.

"Kini, kami menggantinya dengan touch bar'.

Touch bar adalah touchscreen mungil, yang berubah tergantung pada aplikasi yang digunakan.

Dilengkapi pula dengan ID sensor sidik jari sentuh yang built in dengan tombol power.

Pengembang aplikasi termasuk Microsoft sudah mulai menunjukkan dukungan ke dalam perangkat lunak Apple, kata Schiller.

"Ini adalah terobosan penting pada notebook," kata Schiller.

MacBook seri terbaru akan dilpasarkan dalam 2-3 pekan ke depan, dengan harga termahal $ 2.399 (Rp30 jutaan), dan yang termurah $1499 (Rp19 jutaan), kata Apple seperti dilansir MailOnline.
APPLE has unveiled a radical overhaul of its MacBook - and continued its mission to kill off outdated technology.

The machine's new keyboard gets rid of the traditional USB ports and function keys, replacing them with smaller USB-C ports and a smart touchscreen - and comes just weeks after the firm killed off the headphone socket in the iPhone 7.

It also took aim at cable TV firms, unveiling a new TV app that will allow users to easily find and watch streamed and live TV in one place.

The firm first confirmed it had killed off the function keys usually found on laptops, replacing it with a screen that changes depending on the app used.

Different buttons appears depending on the app being used, and it even doubles as a fingerprint sensor.

'We haven't been using them for a long time, so we mapped other functions to them,' said Apple's Phil Schiller.

'Now, we are replacing them with the touch bar'.

The touch bar is a small touchscreen, which changes depending on the app being used.

It also has a Touch ID fingerprint sensor built into the power button.

App makers including Microsoft have already begun including support for it into their software, Schiller said.

'This is the gold standard in notebooks,' said Schiller.

The Macbooks will be available in 2-3 weeks, with the most expensive costing $2399, and the cheapest $1499,Apple said.

However, Apple somewhat spoiled the surprise by leaking a picture of the new MacBook in its own software.