Hankook Umumkan Gagasan Cemerlang Transportasi Masa Depan
Bizarre Concept Designs for the Future of Transport Revealed
Editor : Ismail Gani
Translator : Novita Cahyadi

PUBLISHED: Minggu, 09 Juli 2017 , 00:14:13 WIB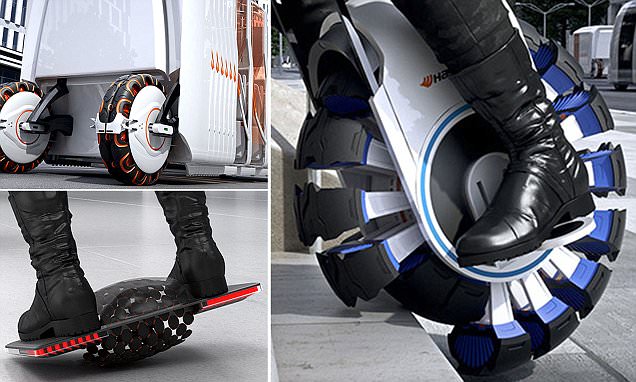 Sebanyak 34 karya diserahkan sebagai bagian dari forum Insight Design Hankook, dengan lima pemenang terpilih (Foto2: MailOnline)
IDE dari hoverboard magnetik mungkin terdengar seperti kendaraan yang digunakan di film laris Hollywood, namun sebuah perusahaan ban yakin bahwa perangkat futuristik karyanya suatu hari akan menjadi kenyataan.

Perusahaan ban Hankook mengumumkan gagasan paling inovatif dari proyek inovasi disainnya.

Desain yang menang lomba termasuk hoverboard magnetik dan bus tanpa pengemudi (otonom) yang fleksibel.

Sebanyak 34 karya diserahkan sebagai bagian dari forum Insight Design Hankook, dengan lima pemenang terpilih.

Mr Seung Hwa Suh, Wakil Ketua dan CEO Hankook Tire mengatakan: 'Forum Insight Desain yang diadakan di Hankook Technodome benar-mengusung semangat bahwa setiap orang dapat menyaksikan karya-karya luar biasa dari para desainer muda termasuk inovasi ban masa depan dari Pusat R&D Hankook Technodome.

'Hankook Tire berharap dapat menciptakan sinergi lebih lanjut dengan para pemimpin masa depan bekerja sama dengan kepemimpinan teknologi Hankook Tire melalui Design Insight Forum.'

Pemenang pertama adalah 'Flexup', satu roda tunggal yang bisa bergerak bebas, bahkan mampu menaiki tangga.

Roda mengembang dan berkontraksi melalui prinsip tapak terbagi, memungkinkannya untuk secara bebas memutar di tikungan dengan menggunakan teknik miring yang mirip dengan ski, dan naik turun tangga.

Desain 'Magfloat' menyerupai skateboard, tapi bukannya menggunakan roda, ia menggunakan ban medan magnet dan prinsip roation.

Hal ini memungkinkan pengguna untuk bergerak bebas dengan kecepatan hingga 20 km per jam.

Perangkat pemenang ketiga adalah 'Autobine' - konsep bus otonom di mana bingkai utama dapat berkembang dan berkontraksi.

Dan ban di bus otomatis dapat dilepas dan dipasang sesuai jumlah penumpang.

Berikutnya adalah 'Shiftrac' - roda yang dirancang khusus untuk mobil polisi.

Ban memungkinkan mobil untuk berlari kencang di jalur cepat dan dengan mudah berbelok di tikungan, melalui prinsip skating yang mendorong roda ke luar.

Pemenang terakhir dalam kompetisi desain Hankook adalah 'iPlay' - perangkat satu orang dengan dua roda besar.

Kendaraan bisa mencapai performa optimal, bahkan pada kecepatan tinggi, dan bisa mengubah sudut roda tanpa kehilangan kecepatan.

Sementara konsep desain saat ini, mereka memberikan sekilas tentang masa depan yang mungkin bertahan untuk desain kendaraan dan roda seperti dilansir MailOnline.
THE IDEA of a magnetic hoverboard may sound like a vehicle from a science fiction blockbuster, but a tire firm believes the futuristic devices could one day become a reality.

Hankook Tires has revealed the most innovative proposals from its design innovation project.

The winning designs include a magnetic hoverboard and an expandable autonomous bus.

A total of 34 works were submitted as part of Hankook Tires' Design Insight forum, with five winners chosen.

Mr Seung Hwa Suh, Vice Chairman and CEO of Hankook Tire said: 'The Design Insight Forum to be held at Hankook Technodome is truly meaningful that one can witness fine works of young designers of the future tire innovation at the new and state-of-the art R&D center, Hankook Technodome.

'Hankook Tire expects to create further synergies with the future leaders in collaboration with Hankook Tire's technology leadership through the Design Insight Forum.'

The first winner was the 'Flexup', a one single wheel that can move freely, even on stairs.

The wheel expands and contracts through a principle of divided treads, allowing it to freely turn corners by using a tilting technique similar to skiing, and go up and down stairs.

The 'Magfloat' design resembles a skateboard, but instead of using wheels, it uses a magnetic field extension and roation principle.

This allows the user to move freely at speeds of up to 12mph (20 km/h).

The third winning device was the 'Autobine' - an autonomous bus concept in which the main frame can expand and contract.

And the tires on the bus automatically attach and detach, according to the number of passengers.

Next is the 'Shiftrac' – a wheel specially designed for police cars.

The tire allows the car to make quick lane changes and easily turn corners, through a skating principle which pushes the wheel outwards.

The final winner in Hankook's design competition was the 'iPlay' – a one-man device with two huge wheels.

The vehicle can achieve and optimum performance, even at high speed, and can change the wheel angle to take corners without losing speed.

While the designs are currently concepts, they give a glimpse into what the future might hold for vehicle and wheel design.