Raja Salman Bertemu Putin, Ini Fakta Kemewahannya di Rusia
Inside the Astonishing Entourage Saudi King has Brought with Him to Moscow
Editor : Ismail Gani
Translator : Novita Cahyadi

PUBLISHED: Minggu, 08 Oktober 2017 , 00:04:00 WIB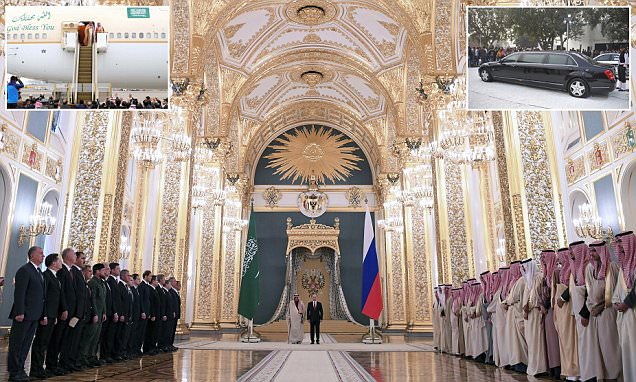 Rombongannya menempati semua kamar hotel yang tersedia di hotel bintang lima di sekitar Kremlin. Total tagihan untuk hotel diperkirakan Rp39 miliar (Foto2: MailOnline)
PASPOR, mata uang asing, dan laptop adalah beberapa hal penting yang harus tersedia bagi mereka yang melakukan perjalanan bisnis ke luar negeri.

Namun jika Anda menjadi Raja Arab Saudi, daftar bawaan itu juga akan mencakup 1.500 staf, perabotan, karpet, hampir satu ton makanan, dan eskalator emas.

Itu adalah rangkaian barang menakjubkan yang berkelana bersama Raja Salman saat dia tiba di Moskow pekan ini untuk kunjungan pertama seorang raja Saudi ke Rusia.

Sumber yang tak mau disebut namanya mengatakan kepada Bloomberg bahwa rombongan Raja sangat besar sehingga dia memesan dua hotel penuh untuk menampung mereka.

Para tamu di Ritz Carlton dan Four Seasons telah membatalkan pemesanan mereka dan penghuni tetap hotel bahkan rela mengungsi sementara untuk memberi jalan bagi para tamu Raja, yang tiba pada Rabu dan akan menginap sampai Minggu.

Rombongannya menempati semua kamar hotel yang tersedia di hotel bintang lima di sekitar Kremlin, seperti dilaporkan kantor berita RIA Novosti yang dikelola negara. Total tagihan untuk hotel diperkirakan sekitar Rp39 miliar (US$3 juta).

Pada kesempatan sebelumnya, ikut serta dalam rombongan Raja adalah 25 pangeran, yang kerap bertugas sebagai menteri pemerintah, di samping 125 koki, asisten pribadi, dan petugas keamanan, seperti dilaporkan Telegraph.

Banyak pangeran juga menggantikan staf hotel dengan pelayan mereka sendiri sehingga kopi mereka bisa dibuat seperti yang biasa.

Perabotan dan karpet juga diganti dengan barang-barang dari rumah tangga kerajaan Saudi untuk memastikan sang Raja senyaman mungkin.

Sebuah pesawat diperkirakan terbang bolak-balik ke Riyadh setiap hari untuk mengangkut barang, termasuk sejumlah besar daging buah dan halal untuk memastikan delegasi mendapatkan makanan sesuai Syariah Islam.

Ketika Raja melakukan perjalanan ke Indonesia pada awal tahun ini, dia membawa dua Mercedes Benz S600 bersamanya, bersama dengan 459 ton barang bawaan.

Tidak semuanya berjalan sesuai rencana, bagaimanapun, karena eskalator emas tidak berfungsi saat Raja Salman turun dari situ.

Sebuah video memperlihatkan ketika sang Raja turun dari pesawat pribadinya di atas eskalator sebelum berhenti di tengah jalan. Setelah menunggu beberapa saat, tampak jelas bahwa tangga itu macet, dan dia turun sendiri.

Sementara perjalanan ini tidak diragukan lagi mahal, jumlah yang dihabiskan tidak sebanding dengan kesepakatan senjata dan perdagangan yang diyakini telah ditandatangani Raja Salman dan Presiden Putin.

Kontrak kesepakatan untuk Rusia memasok sistem pertahanan rudal S-400 kepada Riyadh dan perangkat keras lainnya diperkirakan bernilai US$3 miliar, sementara kesepakatan energi dan petrokimia diperkirakan akan meningkat hingga US$2 miliar lagi.

Sementara Raja Salman adalah salah satu raja terkaya di dunia, dengan perkiraan kekayaan pribadi sebesar US$17 miliar menurut Forbes, Vladimir Putin diyakini sebagai orang terkaya di dunia.

Meskipun kekayaannya tidak tercatat secara resmi, karena diyakini banyak beredar melalui kegiatan ilegal, Presiden Rusia bisa memiliki kekayaan pribadi mendekati US$80 miliar seperti dilansir MailOnline.
PASSPORT, foreign cash, and a laptop are some of the travel essentials you might expect to find people taking on an overseas business trip.

But if you happen to be the King of Saudi Arabia, that list will also include 1,500 staff, furniture, carpets, 1,800lbs of food and a golden escalator.

That is the astonishing array of items that traveled with King Salman when he arrived in Moscow this week for the first ever visit by a Saudi monarch to Russia.

An anonymous insider told Bloomberg that the King's entourage is so big that he has booked out two entire hotels in order to house them.

Guests at the Ritz Carlton and the Four Seasons had their bookings canceled and permanent residents were even moved out to make way for the King's guests, who arrived on Wednesday and will be staying until Sunday.

His entourage occupied all the available hotel rooms in five-star hotels around the Kremlin, the state-run RIA Novosti news agency reported. The total bill for hotels is thought to be around $3million.

On previous occasions his entourage has included 25 crown princes, who often serve as government ministers, alongside 125 chefs, their personal assistants, and security, the Telegraph previously reported.

Many of the princes also replaced hotel staff with their own servants so they could have their coffee made just the way the like it.

Furniture and carpets were also replaced with items from the Saudi royal household in order to ensure the King was as comfortable as possible.

A plane is thought to be flying back and forth to Riyadh each day in order to ferry goods, which includes and enormous amount of fruit and halal meat to ensure the delegation are properly fed.

When the King traveled to Indonesia earlier this year he took two Mercedes Benz S600s with him, along with 459 tonnes of luggage.

Not everything went to plan, however, as the golden escalator malfunctioned as King Salman was coming down it.

Video of the moment shows the King descending from his private plane on the escalator before it stops halfway down. After a wait of several moments it becomes apparent that the stairway is broken, and he descends himself.

While the trip is undoubtedly expensive, the amount spent pales in comparison to the arms and trade deals that King Salman and President Putin are believed to have signed between them.

A deal for Russia to supply Riyadh with S-400 missile defense systems and other hardware is expected to be worth $3billion alone, while energy and petrochemicals deals are expected to add another $2billion to that total.

While King Salman is one of the wealthiest monarchs in the world, with an estimated personal fortune of $17billion according to Forbes, Vladimir Putin is believed to be the world's richest man.

Though his wealth is not officially recorded, as much of it is believed to come through extortion rackets, it is thought the Russia President could have a personal wealth approaching $80billion.