Kisah Heroik dari Tragedi Pembantaian di Las Vegas
Heroes of the Vegas Massacre
Editor : Ismail Gani
Translator : Novita Cahyadi

PUBLISHED: Rabu, 04 Oktober 2017 , 00:51:00 WIB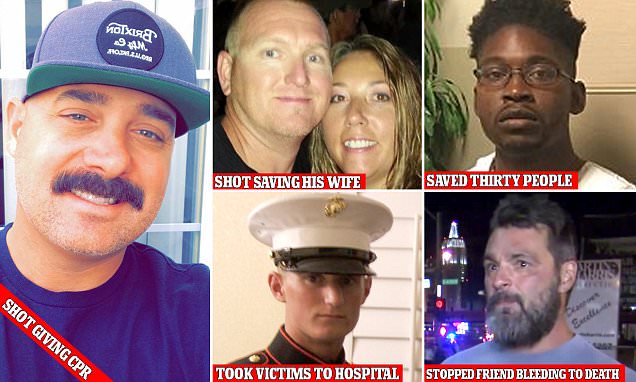 Foto2: MailOnline
PULUHAN kisah heroik terungkap di tengah suasana mencekam dari tragedi pembantaian di Las Vegas pada Minggu.

Pihak berwenang mengatakan bahwa sedikitnya 59 orang tewas dan 527 terluka setelah Steven Paddock berusia 64 tahun melepaskan tembakan dari lantai 32 Hotel Mandalay.

Namun jumlah korban bisa saja bertambah apabila tidak ada aksi heroik beberapa pemberani yang membantu melakukan pertolongan pertama kepada para korban yang terluka.

Petugas pemadam kebakaran Glendale Steve Keys (kiri) ditembak saat memberikan pernapasan buatan pada seorang wanita di tempat konser.

Petugas pemadam kebakaran Arizona Kurt Fowler (kiri atas) ditembak di kaki setelah melindungi istrinya dari tembakan.

Jonathan Smith (kanan atas) berhasil menyelamatkan sekitar tiga puluh orang sebelum ditembak di lehernya.

Mantan anggota marinir Taylor Winston (kiri bawah) mencuri sebuah truk yang ditinggalkan pengemudinya dan menggunakannya untuk mengangkut korban ke rumah sakit.

Mike Cronk (kanan bawah) menghentikan temannya dari pendarahan berat yang bisa memicu kematian setelah temannya ditembak tiga kali di dada seperti dilansir MailOnline.
DOZENS of stories of heroism have emerged amid the horrifying mass shooting in Las Vegas on Sunday.

Authorities say that at least 59 are dead and 527 are injured after 64-year-old Steven Paddock opened fire from the 32nd floor of the Mandalay Hotel.

But the number of casualties could have been much higher had it not been for the brave few that helped first responders tend to the wounded.

Glendale firefighter Steve Keys (left) was shot while performing CPR on a woman at the concert venue.
Arizona firefighter Kurt Fowler (top left) was shot in the leg shielding his wife from gunfire.

Jonathan Smith (top right) saved around thirty people before he was shot in the neck.

Former Marine Taylor Winston (bottom left) stole an unattended truck and used it to transport victims to the hospital.

Mike Cronk (bottom right) stopped his friend from bleeding to death after the friend was shot three times in the chest.