Paul Pogba Umroh di Mekkah Awali Ramadan
Paul Pogba Marks the Start of Ramadan as Travels to Mecca
Editor : Ismail Gani
Translator : Novita Cahyadi

PUBLISHED: Senin, 29 Mei 2017 , 01:42:41 WIB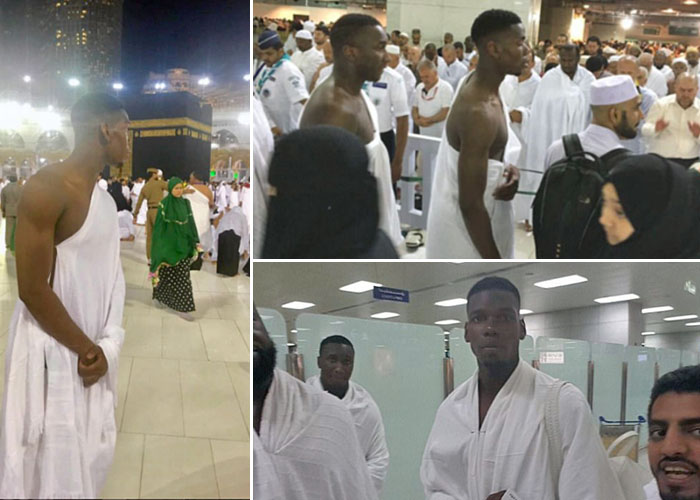 Dalam foto-foto di Twitter, Pogba mengenakan pakaian putih ihram mengawali ´umrah´, untuk tawaf di Mekkah bahwa - tidak seperti haji - umroh dapat dilakukan kapan saja sepanjang tahun (Foto2: MailOnline)
PAUL POGBA tengah melakukan Umroh ke Tanah Suci Mekkah dan Madinah di awal bulan Ramadan. Bintang Manchester United ini mengawali ibadah di bulan suci dengan menunaikan Umroh. Pogba terbang ke Arab Saudi untuk mengucapkan syukur atas karunia Allah SWT. Pesepakbola Muslim 24 tahun ini pada Sabtu melakukan Tawaf di Masjidil Haram.

Penyerang MU Paul Pogba terbang ke Arab Saudi untuk menandai dimulainya bulan suci Ramadan atau tiga hari setelah mengangkat trofi juara Liga Eropa setelah mengalahkan Ajax di Stockholm.

Pogba mengenakan pakaian Ihram serba putih dengan gaya kesehariannya saat ia mengawali ibadah Umroh dekat Kabah di ke Mekkah setelah Sabtu menandai dimulainya bulan kesembilan dalam kalender Hijriah.

Pria berusia 24 tahun ini tergolong Muslim yang taat beribadah dan berharap tetap melaksanakan ibadah puasa dengan posisi pemain termahal di dunia di timnas asuhan Didier Deschamps untuk pertandingan Prancis melawan Paraguay, Swedia dan Inggris pada Juni mendatang.

Pogba mengunggah sebuah video di Instagram tentang kegiatannya menenteng barang bawaannya di Manchester, dan mengatakan kepada followers-nya: "Dalam perjalanan untuk mengucapkan syukur pada Allah atas musim ini. Sampai jumpa lagi di Manchester! Dalam perjalanan menuju Umroh."

Dalam foto-foto yang diunggah di Twitter, Pogba terlihat mengenakan pakaian putih ihram mengawali 'umrah', untuk tawaf di Mekkah bahwa - tidak seperti ibadah haji - umroh dapat dilakukan kapan saja sepanjang tahun.

Mantan gelandang Juventus yang mencetak gol pembuka United untuk kemenangan 2-0 MU atas Ajax di Friends Arena pada Rabu lalu, telah mempersiapkan perjalanan umrohnya.

Penampilan yang jauh berbeda dari gelandang bernilai transfer £100 juta jauh dari pesta kemenangan di Swedia hampir 72 jam yang lalu saat ia bergabung dengan keluarganya untuk memperingati piala Liga Eropa pertama dalam karirnya.

Pogba berharap dapat istirahat panjang setelah meneken kontrak internasional bulan depan, untuk mendukung MU dalam enam laga pra-musim di Amerika Serikat dan Norwegia.

Pesepakbola Prancis ini akan kembali ke Old Trafford pada Juli di mana dia akan bergabung lagi dengan Michael Carrick, yang telah menandatangani perpanjangan kontrak satu tahun dengan The Red Devils seperti dilansir MailOnline.
PAUL POGBA has been spotted making the pilgrimage to Mecca during Ramadan. Manchester United star is embarking on holy month as part of his Muslim beliefs. Pogba travelled to Saudi Arabia to pay thanks after first season at United. 24-year-old is a practising Muslim and spent Saturday in simple white garments

Manchester United star Paul Pogba has flown to Saudi Arabia to mark the start of the Muslim holy month Ramadan just three days after lifting the Europa League trophy with victory over Ajax in Stockholm.

Pogba wore simple white garments and sported a new low-key hairstyle as he was spotted ahead of his pilgrimage to Mecca after Saturday marked the start of the ninth month in the Islamic calendar.

The 24-year-old is a practising Muslim but it is not known if he will spend the next month fasting with the world's most-expensive player named in Didier Deschamps' squad for France's games against Paraguay, Sweden and England in June.

Pogba posted a video on Instagram of him twirling his luggage outside his home in Manchester, telling his followers: 'On my way to go say thank you for this season. See you soon Manchester! En route to my prayers.'

In pictures posted on Twitter, Pogba is seen dressed in all white ahead of 'umrah', the non-mandatory lesser pilgrimage to Mecca that - unlike Hajj - can be performed at any time of the year.

The former Juventus midfielder who scored United's opening goal in the 2-0 victory over Ajax at the Friends Arena last Wednesday, was later spotted ahead of his period of introspection.

The more subdued appearance from the £100million midfielder is a far cry from the energetic celebrations on the pitch in Sweden barely 72 hours ago as he joined his family to toast the first European trophy of his career.

Pogba can look forward to a prolonged break following next month's international commitments, with United due to play six pre-season fixtures in the United States and Norway.

The Frenchman will return to Old Trafford in July where he will be joined again by Michael Carrick, who has signed a new one-year contract extension with the Red Devils.