Perjalanan Berat Baling-baling Turbin Angin Diangkut Truk
How Enormous Blades Have been Transported by Road
Editor : Ismail Gani
Translator : Novita Cahyadi

PUBLISHED: Minggu, 24 September 2017 , 17:16:00 WIB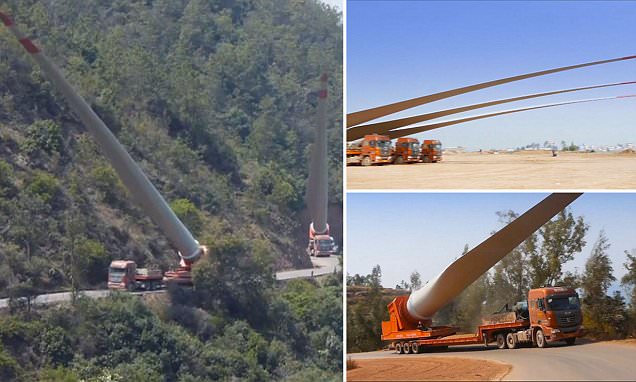 Foto-foto memperlihatkan bagaimana armada truk perlahan-lahan mengatasi rute berbahaya tersebut, yang meliputi 212 belokan dan lereng yang sangat curam (Foto: MailOnline)
KIRIMAN harus tetap diantar, pengangkutan satu bilah dari baling-baling turbin angin menjadi salah satu tugas terberat.

Foto-foto ini menunjukkan betapa besarnya baling-baling turbin - ukurannya mulai dari 52,4 meter sampai rekor dunia 88,4 meter - diangkut dengan jalan di bagian belakang truk dalam iring-iringan yang menyerupai gerakan mekanis surealis.

Perusahaan angkutan truk di China - CIMC Vehicles - ditugaskan mengangkut 90 baling-baling turbin angin ke puncak gunung Baoding setinggi 2.900 meter di provinsi Yunnan pada 2015.

Foto-foto memperlihatkan bagaimana armada truk perlahan-lahan mengatasi rute berbahaya tersebut, yang meliputi 212 belokan dan lereng yang sangat curam. Satu di antaranya lebih dari 30 derajat.

Ini adalah tugas yang rumit dan sulit, tapi armada truk tersebut harus tetap bekerja mengangkut baling-baling - panjang 52,4 meter, berat 12 ton bertumpu pada trailer khusus yang dilengkapi dengan sistem hidrolik sehingga bisa menyesuaikan tinggi dan sudutnya.

Tanpa ini pengemudi truk akan kesulitan menjalani tugas mengangkutnya.

Setiap perjalanan memakan waktu lima jam.

Pada 2016, sementara itu, LM Wind Power, di Denmark, berhasil mengangkut pisau turbin angin terbesar di dunia melalui jalan darat.

Tugas itu memakan waktu sembilan bulan hingga sukses dilaksanakan.

Pekerjaan berat tersebut mengangkut bagian baling-baling sepanjang 88,4 meter dalam perjalanan sejauh 218 km, yang difilmkan oleh pesawat tak berawak.

Tak perlu dikatakan lagi, truk yang mengangkutnya harus menempuh perjalanan berat yang melelahkan.

Turbin angin yang dipasang adalah salah satu struktur mekanik terbesar yang pernah ada seperti dilansir MailOnline.
AS DELIVERY jobs go, transporting wind turbine blades is one of the toughest assignments.

Incredible clips show how enormous blades - ranging in length from 52.4 metres to a world-record 88.4 metres (288 feet) – have been transported by road on the back of trucks in manoeuvres that resemble surreal mechanical jousting competitions.

One trucking firm in China – CIMC Vehicles – was tasked with transporting 90 wind turbine blades to the top of 2,900metre-tall (9,500ft) Baoding mountain in Yunnan province in 2015.

Footage shows trucks slowly negotiating the treacherous route, which contains 212 turns and very steep slopes. One is over 30 degrees.

It was a tough tricky task, but the trucks had a trick up their sleeves – the 52.4metre, 12-tonne blades rested on a special trailer fitted with a hydraulic system that could adjust their height and angle.

Without this the drivers simply wouldn't have been able to go around all the corners.

Each journey took five hours.

In 2016, meanwhile, LM Wind Power, in Denmark, managed to transport the world's biggest wind turbine blade by road.

The task took nine months to plan.

It involved taking an 88.4metre blade on a 218km journey, which was filmed by a drone.

Needless to say, the truck that hauled it went straight over roundabouts it encountered.

The off-shore wind turbine that it was fitted to is one of the biggest mechanical structures ever built.