Maksud Hati Kuras Isi Truk, Apa Daya Malah Celaka
Thief`s Accomplices Lose Control due to the Force of Jump and Crash on to Road
Editor : Ismail Gani
Translator : Novita Cahyadi

PUBLISHED: Selasa, 05 September 2017 , 17:19:00 WIB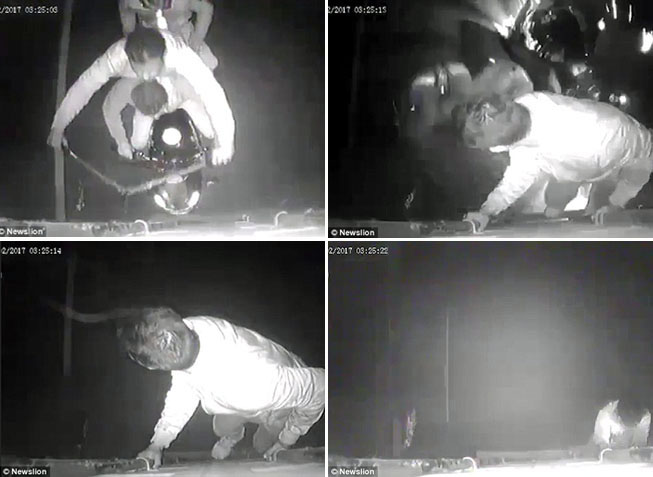 Kamera CCTV menunjukkan pengemudi yang beringsut semakin dekat dengan truk yang bergerak saat orang kedua berdiri di sandaran kaki truk dan berupaya membuka kunci kargo dengan gunting besar (Foto2: MailOnline)
AKSI NEKAT sangat mengejutkan, upaya berani mencuri dari truk yang berlari kencang dan berakhir tragis bagi pelakunya.

Tiga pencuri di dekat Indore, India, mencoba membuka bagian belakang truk sambil mengendarai sepeda motornya dengan susah payah menyeimbangkan sepeda motor.

Kamera CCTV menunjukkan pengemudi yang beringsut semakin dekat dengan truk yang bergerak saat orang kedua berdiri di sandaran kaki truk dan berupaya membuka kunci kargo dengan gunting besar.

Dia kemudian melompat ke atas truk, menginjak tangki bahan bakar dan menempelkannya ke truk yang sedang bergerak.

Tapi dia kemudian kehilangan kendali karena terlalu kuat melompat dan mengakibatkan kecelakaan tunggal.

Penjahat nekat ini kemudian membatalkan rencananya untuk mencuri kargo dan melompat dari truk yang berlari kencang.

Perampokan semacam ini kerap terjadi di India, yang mendorong pemilik truk memasang kamera CCTV untuk melindungi muatan mereka dari geng Kanjar.

Kelompok ini beroperasi dari wilayah Malwa di Madhya Pradesh dan beroperasi di Maharashtra, Rajasthan, Gujarat, Delhi dan bahkan beberapa negara bagian di India Selatan.

Geng tersebut terutama menargetkan truk kargo yang membawa obat-obatan, rempah-rempah, rokok dan mobil. Anggotanya berasal dari komunitas Kanjar, suku nomaden, yang tinggal di tenda darurat dekat jalan raya.

Geng tersebut tercatat terlibat kasus pembunuhan dan penjarahan dan tersimpan di data sekitar 100 kantor polisi di beberapa negara bagian.

Di masyarakat Kanjar, kejahatan telah menjadi cara hidup. Adalah wajib bagi laki-laki untuk melakukan kejahatan sebelum dianggap layak untuk menikah.

Ketika para tetua berangkat untuk melakukan kejahatan, mereka membawa yang lebih muda untuk memberi mereka latihan langsung tentang bagaimana melakukan pencurian yang sukses.

Geng ini terkenal karena mencuri truk kargo yang bergerak dan memindahkan barang-barang itu ke truk mereka sendiri seperti dilansir MailOnline.
THIS IS the shocking moment a daring attempt to steal from a fast moving lorry went horribly wrong.

Three thieves near Indore, India, tried to open the back of the lorry while riding up to it precariously balanced on a motorbike.

CCTV shows the driver inching dangerously closer to the moving truck as a second man stands up on the foot rest and breaks the lock of the cargo with a huge cutter.

He then hops over the rider, steps on the fuel tank and latches on to the moving truck.

But his accomplices lose control due to the force of his jump and crash on to the road.

The burglar then aborts his plan to clean out the cargo and jumps off the moving truck on to the road.

These sorts of burglaries have become more common in India, prompting truck owners to install CCTV cameras to protect their cargo from the so-called Kanjar gang.

The group operates from Malwa region of Madhya Pradesh and has its operation in Maharashtra, Rajasthan, Gujarat, Delhi and even a few states in South India.

The gang mainly targets cargo trucks carrying medicines, spices, cigarettes and automobiles. Its members belong to Kanjar community, a nomadic tribe, that lives in makeshift tents off the highways.

The gang has cases of murder and loot registered against its members in around 100 police stations in several states.

In Kanjar community, crime has become a way of life. It is mandatory for men to commit crime to be considered eligible for marriage.

When the elders go out on missions, they bring the younger ones along to give them hands-on training on how to carry out a successful heist.

The gang is infamous for cleaning out moving cargo trucks and shifting the stuff into their own trucks.