Turis AS nyaris jadi Korban Monyet `Sange` di Thailand
Cheeky Monkey Tries to Pull Tourist`s Top Down
Editor : Ismail Gani
Translator : Novita Cahyadi

PUBLISHED: Sabtu, 17 Maret 2018 , 17:24:00 WIB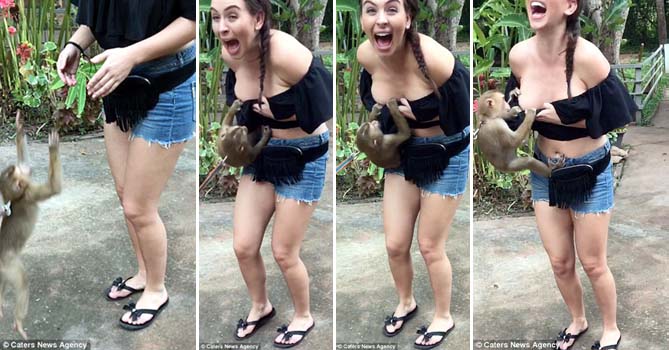 "Saya sangat ketakutan ketika sang kera mendadak melompat ke tubuhku sehingga saya tidak sadar kalau dia akan menarik bajuku." (Foto2: MailOnline)
KALAU MONYET birahi begini nih jadinya, ketika sang hewan mamalia itu nyaris menarik baju sang turis cantik yang tidak curiga ketika sang kera berdiri di depannya.
Peristiwa menggelikan itu dialami Brittany Bowman ketika bersama teman-temannya mengunjungi pusat penangkaran kera Chiang Mai di Thailand dalam rangkaian perjalanan wisatanya.
Warga Los Angeles, AS tersebut membiarkan sang kera naik ke tubuhnya setelah bertumpu pada kaki si nona cantik untuk menarik bajunya.
Namun sementara kera itu berusaha menjangkau bahunya, dia malah menarik bagian atas baju sang gadis dan hampir menariknya ke bawah sehingga payudara kanannya nyaris menyembul keluar.
Beruntung Brittany cepat menarik bajunya yang nyaris dipelorotin sang kera.
Brittany berkata: "Kami semua tertawa terbahak-bahak, hampir meneteskan airmata."
"Saya sangat ketakutan ketika sang kera mendadak melompat ke tubuhku sehingga saya tidak sadar kalau dia akan menarik bajuku."
"Pemilik kera bilang hewan peliharaannya ingin netek."
"Kejadiannya mendadak, saya senang karena kami dapat merekamnya di kamera ponsel," katanya seperti dilansir MailOnline.
THIS IS the hilarious moment a cheeky monkey nearly exposed an unsuspecting tourist after it pulled down her top.
Brittany Bowman was travelling with friends when she visited Chiang Mai monkey centre in Thailand to visit the local macaques.
The Los Angeles native let the baby monkey clamber over her after it jumped onto her leg.
But while the macaque was attempting to swing up to her shoulders, it grabbed on to Brittany´s off-the-shoulder top and almost pulled it down.
Luckily Brittany pulled it back in time and managed to avoid embarrassment.
Brittany said: ´It left all of us laughing hysterically, almost to the point of tears.´
´I was just so scared that the monkey was jumping on me that I didn´t even consider it would pull down my top.
´The owners said he must have been looking for breast milk.
´It was all just so random, I´m just glad we caught it on camera.´