Buaya Kembalikan Jasad Pria yang Hilang di Sungai setelah Dipanggil Pawang
Crocodile Returns the Body of a Man it Killed a Day Earlier after it is `Summoned` by a Witch Doctor
Editor : Ismail Gani
Translator : Novita Cahyadi

PUBLISHED: Jum'at, 21 Juli 2017 , 20:42:00 WIB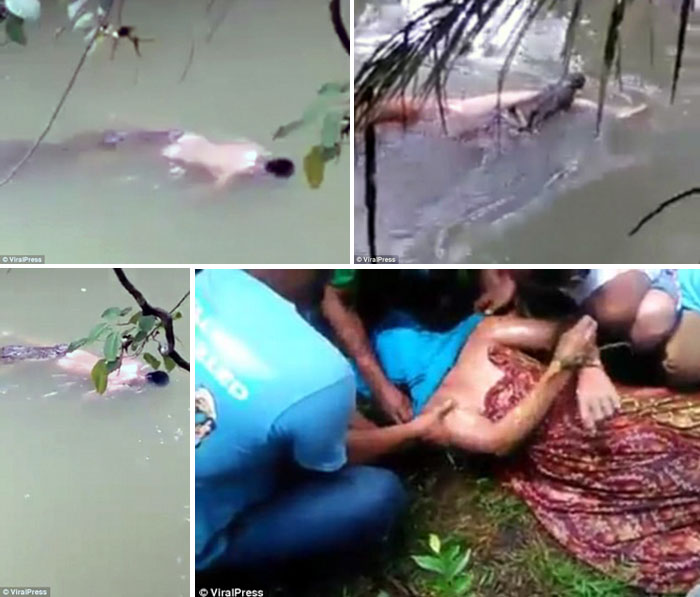 Hewan pemangsa ini terlihat mengapung ke tepi sungai dengan mencengkeram jasad Syarifuddin di rahangnya saat kerumunan berkumpul melihat, seperti tampak pada foto-foro dari rekaman video. (Foto2: MailOnline)
PERISTIWA langka terjadi ketika seekor buaya mencengkeram jasad seorang pria di rahangnya setelah seorang pawang buaya memanggilnya untuk mengembalikan jenazah pria malang tersebut.

Pria yang hilang, yang diidentifikasi sebagai Syarifuddin, 41, sedang mandi di sungai bersama teman-temannya saat binatang itu menerkam dan menyeretnya ke bawah air di Berau, Kalimantan Timur pada Selasa petang pukul 18:20 waktu setempat.

Keluarga korban yang panik dikabarkan nyaris putus asa mencari korban dan diperkirakan jasadnya tenggelam di dasar Sungai Lampake setelah polisi gagal menemukan korban.

Penduduk desa menghubungi 'pawang buaya' dan diyakini sang dukun merapal mantera khusus memanggil sang buaya untuk mengembalikan Syarifuddin dalam keadaan hidup. Luar biasa, jasanya kemudian muncul beberapa hari kemudian.

Hewan pemangsa ini terlihat mengapung ke tepi sungai dengan mencengkeram jasad Syarifuddin di rahangnya saat kerumunan berkumpul melihat, seperti tampak pada foto-foro dari rekaman video dari tempat kejadian.

Sang buaya kemudian melepaskan jasad korban yang diperkirakan adalah buaya laut, yang tubuhnya bisa mencapai 5,2 meter di usia dewasa, dan sang buaya tampaknya berupaya menjaga jasad korban agar tidak dimangsa oleh buaya lain.

Teman korban bernama Andi Resmin yang bersama Syarifuddin saat diterkam oleh buaya mengatakan: "Dia sedang berada di air saat disergap buaya dan kemudian membawanya pergi."

Penduduk setempat, Eet, mengatakan ada mitos lokal bahwa siapa pun yang mandi dengan pakaian di sungai akan baik-baik saja - tapi mandi telanjang akan diserang buaya.

Dia bilang: 'Jika orang mandi telanjang, pastilah akan dimakan buaya, pasti. Kalau berenang memakai pakaian tidak akan disergap buaya."

Syarifuddin ditemukan tewas dan mengalami luka pada tulang rusuk di bagian kanan tubuhnya.

Kepala Polsek Talisayan Iptu Faisal Hamid mengatakan saat ini pihaknya sedang menyelidiki kejadian tersebut, dan mengatakan: 'Teman korban melaporkan ke polisi bahwa dia diserang seekor buaya. Malam itu kami melakukan pencarian.'

Polisi mengatakan bahwa tidak ada yang dikembalikan malam itu dan oleh karena itu penduduk menghubungi seorang pawang buaya dan mayat tersebut muncul keesokan harinya pada Rabu.

Iptu Faisal Hamid mengatakan bahwa 'sangat aneh' bahwa tiga buaya muncul dari sungai, menunjukkan bahwa mayat orang tersebut terlindungi sehingga 'korban dikembalikan'.

Dia mengatakan: 'Orang juga mandi di air, jadi sekali lagi, dia sial karena disergap dan dibunuh oleh buaya.'

Inspektur Polisi Hamid mengatakan bahwa 'yang penting adalah mayat ditemukan' dan bahwa penduduk setempat sekarang 'berburu buaya yang menyerang' korban seperti dilansir MailOnline.
THIS IS the astonishing moment a crocodile clutches a missing man in its jaws after a witch doctor claimed he summoned it to return the body.

The missing man, identified as Syarifuddin, 41, was bathing in a river with friends when the beast pounced and dragged him beneath the water in Berau, Indonesia, on Tuesday at 6.20pm.

Desperate relatives reportedly searched in vain for him and it was assumed that he had been taken into the depths of the Lempake River when police failed to find him.

Villagers contacted a local black magic wizard who specialises in 'crocodile witch craft' and it's claimed they cast a spell for Syarifuddin to be brought back alive. Incredibly, his body is said to have emerged in Wednesday morning.

The predator is purportedly seen floating to the banks with the naked body of Syarifuddin in its jaws as the gathered crowd looks on, in video footage from the scene.

It then dropped off the corpse sparking suggestions the saltwater crocodile, which can grow up to 5.2m as an adult, had actually been guarding the victim's body from other predators seeing as it hadn't been eaten.

Friend Andi Resmin who was with Syarifuddin when he was captured by the croc said: 'He was just in the water and the crocodile humped at him and took him.'

Local resident, Eet, said there was a local myth that anyone bathing with clothes on in the river would be fine - but bathing naked would result in a crocodile attack.

He said: 'If the person bathes naked, they will be definitely be eaten by crocodiles, for sure. If they wear clothes they will not be ambushed.'

Syarifuddin was found dead and had injuries to his ribs on the right side of his body.

Police chief Inspector Talisayan Faisal Hamid, who is now investigating the incident, said: 'The victim's friends report to the officer he was attacked by a crocodile. That night we did a search.'

The officer said nothing was returned that evening and so residents contacted a crocodile charmer and the body appeared the next morning on Wednesday.

Hamid said it was 'very weird' that three crocodiles emerged from the river, suggesting the body of the man was being protected so that 'the victim could be delivered'.

He said: 'People also bathe in the water, so again, it is unlucky that he was killed by the crocodile.'

Police Inspector Hamid said the 'important thing was that the body had been found' and that locals were now 'hunting the crocodile that attacked' the man.